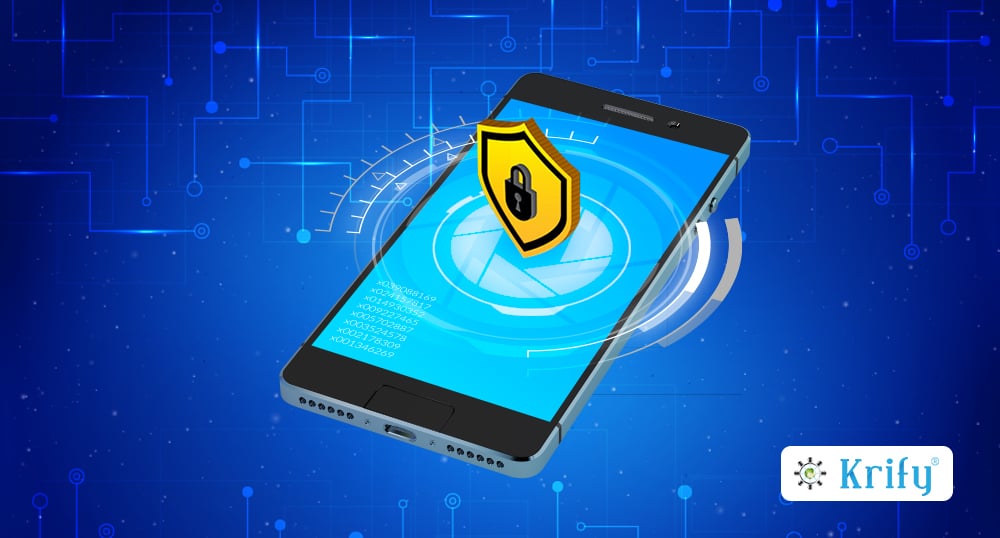 The banking and financial system has encountered an extraordinary revolution with the transfer of upgraded and advanced technologies. The arrival of innovative techniques such as the Internet of Things, the Block Chain Technology, the entrance of the various cryptocurrencies, the Fintech and digital transformation etc. have all shared their role in this escalation.
Assume you are paying for your shopping at some shop while paying that shows your debit card was declined. Ouch! Many thoughts will run in your mind like someone hacked my bank account? Is there something wrong with my card? Is it an error on my side or the restaurant? Theirs begins your investigation, either you will call your bank and wait for the customer help representative to assist you. All the while you are panicking and imagining. There is an easy way to deal with this! There is! If your bank has a mobile app. You can cross check your balance within 10 seconds; no waiting on the phone, no unnecessary heart palpitations, no extras stress!
Mobile Applications have provided so much to simplify many aspects of our daily lives. The above point that we should all agree. Proof of this is that the constant rise in the number of mobile app users over the past few years. So is carrying this kind of technology to the financial sector advantageous? The answer to that question is honest. Yes, there are so many roles that can be incorporated into a mobile banking app to expedite the various services.
Most of the significant financial systems around the world have already begun offering internet banking and now mobile banking app services to their customers. According to Gartner, 25% of the top 50 global banks have native mobile banking facilities. Mobile banking is not only just limited to developed nations; even countries like India and China are also boosting their economies through mobile banking services. As more and more people are opening accounts and getting close with the banking system, the future of the mobile app banking looks to be bright and productive.
McKinsey pointed out that the current banking system is increasing at a slow movement with over 37% population using it, despite the mobile app banking has reached out to 50 % users on the other hand at the same time.
Why would you develop a secure mobile banking app?
When it comes to banking, details are vital and because there are so many functions that need to be just perfect to run correctly and smoothly. The primary reasons for developing the banking app is to simplify the involved amount of work and also to simplify the complexity of the work. Let us check some other points what the benefits of developing the banking applications are.

Nowadays people can use iPhone and Android devices, and the apps are created especially for these devices prioritising simplicity while developing the Mobile Banking app. The user experience with the mobile banking apps counts and these applications are straightforward when it comes to usability. The user can perform a particular action without any problem.
Imagine a world without mobile banking apps. Well, that was not that much hard to do as it was the case until recently. Mobile banking apps have enabled the clients as well as the bank employees to save a lot of time, that usually spent standing in queues. The mobile banking app development has brought drastic changes. Now, most of the transactions are done online to save time.
Less cost to the customer
In reality, when mobile apps are not in use, the customer needs to go the bank to make any particular payment or carry out any transaction. In such a situation, the charges on the customer will be very high compared to the use of the mobile banking app.
Internet Banking vs Mobile Banking
A few years back internet banking is considered as a revolution. The range of changes it made to the banking industry had not reached the customers in comparison to mobile banking and this is because internet banking required a computer and also good internet speed. Whereas for a mobile app you need a smartphone or a tablet. The connection of the internet has come a long way with Wi-Fi technology.
The one-stop shop to avail all banking services is the banking mobility solutions. You can operate many accounts and services like various schemes, transfer money to someone, receive money, deposit fund, apply for loans, check balance, get the mini statement and get support from customer service in case of any issues.
Finally, you fixed to develop a banking app, but do not get excited just by setting to create the mobile app for the bank and dive straight away into the development process. It is a good idea to take one step at a time. So for this first, you need to define the target audience. Getting familiar with who your target audience is imperative. In today's scenario, mobile banking apps usage is not just limited. There are other millennials also relating to different age groups who are interested in using banking apps.
The above are some of the many benefits of secure mobile banking app to the user and also to the bank. Many mobile banking app developers also grab a lot of the work solely on demand. Now, what goes into developing a successful mobile banking app? Let us have a discussion:
Ensure Secure Mobile banking apps
Security is the priority thing to list in every mobile banking app development. It is a must one to integrate into any banking app development. For instance, where N numbers of users will be precisely securing their complete confidential data such as ATM card details, Credit card details and online passbook.

Despite, Statista indicated that 72.7% of Americans are worried to use mobile banking apps because of the security issues. So you need to eliminate this concern factor by providing them with a robust, secure mobile banking app that cannot get hacked easily. So you need to take some essential steps while implementing the security features in your banking app.
Thoroughly access and examine the app security terms and conditions to ensure that they keep strict vigilance and control on how the application is getting operated on the network.
Need to have the configuration of the application servers. The spam emails and phishing emails should not send to mobile devices.
Your app needs to be updated at regular intervals. You need to implement the latest trends and technologies accessed mandatorily. Make to get notifications regarding this to the users.
Developing the right tool to check the strength of the password. The power of the passwords is difficult to crack. In the actual case, the secure password length varies from six to ten characters. But as it is a mobile banking app, the minimum length of the password should be not less than 12 characters and must be a mixture of small, large caps, special symbols and numbers.
Need to send regular emails and SMS to the users to get allured by fraud calls, emails, fake prises and rewards that ask the users to share their bank and card details.
There are some other factors to identify are:
Registration: which is activated using activation code sent via SMS
Authorisation: Just by connecting a mobile banking app to the user's device
Accomplishing the list of devices with the account access
Approval of the transactions
Pin change
Let us check our blog: How Much does it cost to develop Uber-like App?
Types and Features of mobile banking apps
The custom mobile banking app solutions aligned with customers' specific requirements, and not with the general application. Depending on the demands various types of mobile banking apps are there that support you in picking the functional scope for your mobile banking app.
Basic Mobile Banking Apps
These types of apps allow following the WE-TOO plan to fulfil up with mobile banking adopters or to test on the market with low prospects. For this, we can present the following basic mobile banking App features:
Account Management: To check the account balances and transaction history
Money Transfer: Transfering money to another person and between the owner's account at different banks with the option of an instant transfer
Mobile RDC: Used to check deposits using a mobile device camera
GPS Navigation: Helps to find the nearest service point or ATM
Payment Scheduling: Used to make regular payments and pay bills in a snap
Customizable Alerts: Using this we receive text, email and push notifications such as account alerts, bill pay reminders, security alerts and many more.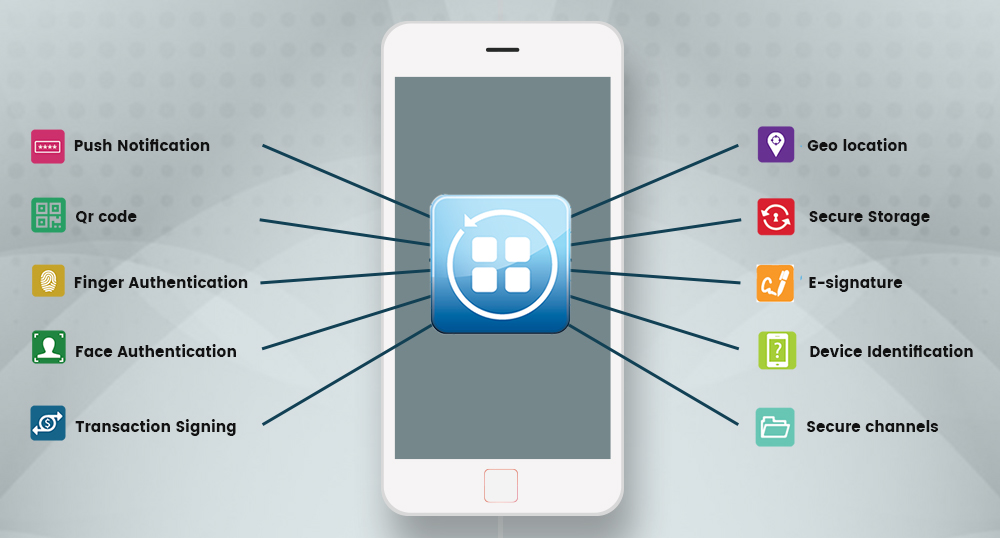 Advanced Mobile Banking Apps
Advanced banking apps will bring personalised, differentiated mobile banking experiences by adding some extra features like:
Personal financial management
A customised bank product offering
Loyalty program integration
A-class Mobile Banking Apps
A- Class mobile banking apps help to achieve leadership in client service by introducing a powerful and full-featured digital platform with seamless transaction experience. It is the combination of both Basic and Advanced mobile banking apps with some more extra features like:
Cardless ATM withdrawals with QR Technology
Self-service features
Voice Navigation
Natural Language searching ability
Biometric Authentication
Pre-login functionality
Appointment Scheduling
Live Chat
Forecasts of customer spending
Standard features for a Mobile Banking App
The standard and key features of mobile App Banking are:
Login or registration page
Creating the user profile
Transaction history or online passbook
Host to other services
Push Notifications
Accessing offline account
Customer Support
Geolocation facility
Go through our recent blog: Cost estimation for developing News app Development 
Technology Stack For developing Mobile Banking App
Cross-platform – Xamarin, Native code
Native:
Cost Estimation for Banking app Development
The cost of developing a secure mobile banking app will entirely depend on a concept and unfold essential mobile banking features. The mobile banking developers will closely work with your subject matter specialists through the whole development process to convert your idea into a well-thought mobile banking software. The mobile app developers (Android Developers and iOS Developers) will ensure the smooth integration of your app with other banking systems. After delivering a ready to use app will guarantee its maintenance and support.
The above all mentioned factors will determine the cost of developing a secure mobile banking app.
Apart from that, various other factors are deciding the cost of the projects such as platform, number of features, app design and others.
When starting a collaboration with a mobile banking app, developers always remember to engage security experts with the experience in the financial domain and invest in preventive security measures.
Also go through our Blog on On-demand App: Cost estimation for food ordering app like Zomato
Conclusion
The mobile banking took the chance of having drastic changes in the way the people used to avail the services. Mobile banking apps have grown tremendously to reach different sections of the people. They can receive many benefits and also make payments in real-time without any hassle. To still the banks are working hard to intensify and increase the security and also trying to add more amenities in the existing list.
If you are in search of an adept mobile app development company to develop your mobile banking application at most affordable rates, Krify is here to assist you in the best way who is the leading Mobile App development company in UK and India.
Want to about our cost estimations for various App development go through this blog:
Our knowledgable and skilled team of developers will create tailored mobile banking software solutions with the highest security measures to empower your customers to conduct financial transactions from anywhere at any time while blocking hackers from intercepting sensitive data, then reach us today!