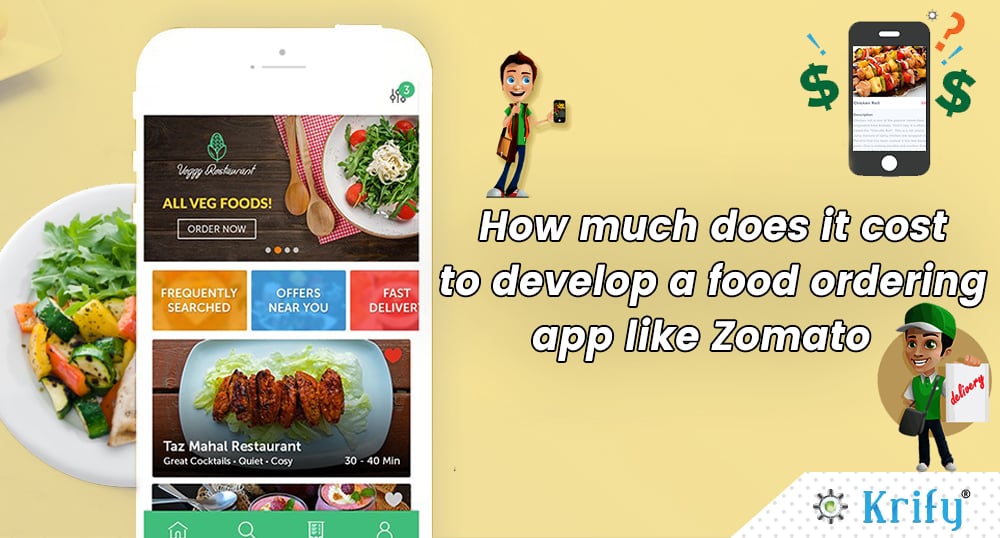 How much does it cost to develop a food ordering app like Zomato? is a general question that every entrepreneur or company who want to develop a similar app. In this article, we are writing an answer to the biggest question in your mind.
             Zomato is a social application that connects both the food lovers and restaurants. The core feature of this app is to discover the restaurants and the user reviews and ratings. It allows the user to find the nearby restaurants, order food and reserve table. The Ad engine and complicated backend being the most expensive part of developing the app like Zomato. 
Have a glance at one of our On-Demand Food Ordering App here
Benefits of Food ordering App
It allows the user to book a table, order food online, rate the restaurant and many more services

— sales Medium

It just not only focus on the targeted user but also helps them to be at the top of their customer's mind by showcasing the food deals, meal offers, discounts in food delivery and many more services

— Retargeting User

It's just not the sales channel but to build the trust among the customers thereby creating the business brand

— Brand Building
Top Features to Develop a Food Ordering app
          Here we are listing the most integrated features of food ordering app on a module wise. To start with their 4 modules to consider in major cases of food ordering app development.
User Module

Driver Module

Admin Module

Restaurant Module
          Being a business we are more curious to engage custom, organising staff, organising orders and delivering items on time and more. So we would like to share the most feature that admin module will be consists.
Admin Module
Robust Log-in

Restaurant Management

Application Management

Order Management

Technical Payment

Finance Management
User Module:
      This user module gonna play a vital role in terms of user engagement and food ordering.
Homepage

Menu (for user navigation)

Cart section

Search by Food Category

Checkout Process

Choose Payment Method

Order Status and Tracking

Help & Support

Wishlist

Previous history

Social media login

Estimated delivery time

Registration

Filter restaurants by cuisines

Current offers

Address book

Rewards, loyalty, and coupons

Place order
On order placing successfully, Admin will further process the order to the restaurant desk.  
Restaurant Module
          In restaurant module, we do see the smoother order process followed by preparing the food order and making sure to deliver the same with the help of a delivery boy.
Admin Panel

Registration

Login

Payment process

Order management

Content management

Dashboard

Accept or decline
Driver Module
      Delivery has developed for a delivery boy. Where admin can assign the order to deliver, track the orders for making sure to deliver in time.
Registration

Login

Order management

Status update

Sos service

Booking history

Option to check the shortest pickup and delivery route

Navigation from pickup to the delivery route

COD

call/ chat

Push notification

Withdraw payment

Online support

Order delivery

Wallet

Tracking
The cost to develop a Food Ordering App like Zomato
The development price for a food ordering app like Zomato, Foodpanda, Swiggy, Uber Eats, Domino's, Pizza Hut, JustEat, Faaso's, TastyKhana, FoodMingo, can be determined mostly by the key factors as:
To develop a food ordering you need to decide whether to develop the app for all types of the platforms like iOS, Android, Web and the cost will depend on the type of platform you choose.
Design plays a key role. The design for the app should be user-friendly so that the app can engage the prospective customers and existing food lovers, with all the advanced technologies that are required. The design cost may vary from case to case depending on the requirements.
Every app has their own unique features and functionalities that will be based on the domain of the industry.
It's important to test the application before deployment.

In general contractual model food ordering app development model, the estimation is given based on fixed functionalities that which need to be developed in the app.

To Hire a food ordering app developer, the complete scenario of food ordering app estimated amount will be changed based on the level of expertise of a developer who has hands on a particular platform.
These apps are the one junction that will satisfy your query department whether it is related to the location, ambience, menu, rating, pricing, home delivery and much more. So, don't waste any more time and get your app which is much like Zomato at price hard to believe. Contact the app developers at Krify today!  
             Well, the cost of food ordering app mainly depends on the type of functionalities to implement in your app. Here are the cost details as per work and time estimation for each section of the development. However, to give an approximate value for a simple food delivery app may cost around $10,000 – $15,000 USD and the below-defined estimate for your app as well
Mockups and Graphical designs for Users Android, Driver Android, Users IOS App, Driver IOS App and Admin modules – 12 Working days –$800USD
Native Users Android App development – 32 Working days –$2200USD
Native Drivers Android App development – 28 Working days –$2000USD
Native Users IOS App development – 32 Working days –$2200USD
Native Drivers IOS App development – 28 Working days –$2000USD
5 Payment gateway integration with 5 currencies(USD, INR, Euro, CAD, GBP) for Android & IOS apps – 13 Working days –$800USD
Backend Admin module with – Chief Master Admin, Unit Master Admin, User Admin with reports, Statistics and Analytics – 35 Working days –$2500USD
Web APIS and Database – 18 Working days –$900USD
Alpha & Beta Testing – 15 Working days – complementary
Deployment to App Store, Play store – 2 Working days – complementary
In India, the cost of developing the on-demand food ordering mobile app will be very low for full stack app development. When coming to Krify, we have a in-depth research expertise & real-time expertise on-demand food ordering app development with new technologies available.
We suggest you take a good consultation before stating your food delivery business in any area and of course it is very important to engage thorough research about the companionship.