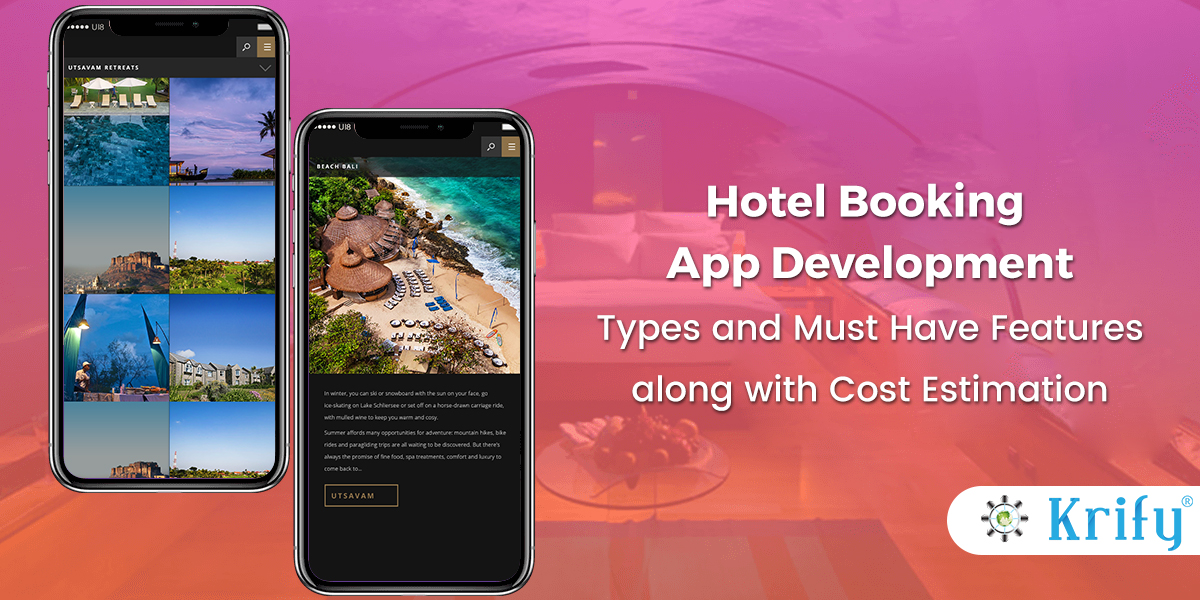 The travellers worldwide are becoming friendlier with the upcoming technologies and so if you're looking for guidance on how to improve the hospitality industry, consider these recent trends to catch-up with your tech-savvy audience hotel booking app development is the best practices.travellers.
Considering the truth that 60% of customers are more likely to opt a smartphone-enabled hotel over a traditional location, we have only one thing to say to you: go for it!
How much does it cost to create a hotel app and what features should it have to increase occupancy rates and justify mobile app development expenses? When it comes to hotel apps, entrepreneurs treat mobile as another opportunity to simplify the booking process and subsequently fail to deliver the ultimate guest experience. Guess why?

According to a recent estimate, the travel and tourism industry is expected to contribute about $817.54 billion by the year 2020 from $470 billion in 2014. In fact, according to the statistic of the Travelport Digital, 53% millennials admitted that they use the mobile applications to search for proper accommodation.
In this Article, We would like to discardable about Top 8 Consideration for the Business Owner who is looking for
Types of Hotel Business Models

Common mistakes made by customers in Hotel Booking Apps

A Case Study, of Booking.com hotel booking app

Benefits of having a Hotel Booking App

How to make a successful booking app

Creating a custom Hotel Booking App

Technology Stack for the development of hotel booking app

How much does it cost to develop a hotel booking app
Every Hotel and Hospitality business had strategic way organisation with Internationally proven standards to manage and run the show, so it important that before we develop an online hotel booking app.
Types of Hotel Business Models
The business owner needs to understand the type of business model his business is working and decide on a specific business model work online hotel booking system. So, it varies from Merchant Model, Aggregator Model, Advertising Model, and Dedicated Model. Let's understand each of them:
What actually happens with this app is that the app owner will have an agreement with the hotel to get the rights to a number of rooms then there you get on discount due to the wholesale rate. Which you can sell these rooms to the guest through your application. Now the price of each of the room and hotel can be very flexible and may change as per the travel demands. Expedia is the one which uses this model very effectively. Which controls a huge part of world digital travel business, i.e 17% and it offers myriad choice in more than 200 countries across the world.
Aggregate Model
This is the one best widely used a model with simple logic. These types of apps are connected to online booking services, hence as a user starts looking for a place for his/her stay, a unified list of hotels are displayed to him but with several price options from numerous reservation platforms. You click on the option that satisfies your needs and the app will redirect you to the application of the preferred booking platform. This model works for audiences that like comparing prices to get the best deal possible. Booking.com and HotelLook are the best examples that use this model.
Advertising Model:
This model is similar to the aggregate model because it also involves listing rooms at many different hotels. This is the third party type which allows making money on your own hotel booking app. Hotel booking app that uses this model earn on a pay-per-click basis. Owner will get the specified amount on each user that has been redirected on to hotel apps. These sites display buttons that let users go to the booking page of an accommodation provider. On an aggregator platform, customers can read what other travellers say about the accommodation and view ratings. When an accommodation provider gets a lead, the platform gets a fee for converting the user to a lead. The best example of this model is Tripadvisor it gets most profits from advertising models as it charges cost-per-click.
Dedicated Model
If you are already established business who have their own apps and a lot of repeat customers, then this business model may be the best fit for you. These apps aren't just for scheduling purpose, as they also take in special requests made by users during their stay. Your app can offer extra perks such as concierge services and loyalty programs. You can think of many more ideas, like including car rentals or booking tables at a restaurant. In other words, you're free to implement any features you like to help your clients get the best service imaginable. The best example of this model is Hilton
Common mistakes made by customers in Hotel Booking Apps
A reservation mode on a hotel's app and a booking portal attempt almost the same goals:
making sales

increasing awareness

gaining customer loyalty

Increasing profits.
Wondering how to make an online hotel booking app and reach all of these goals? We'll tell you about typical flaws in reservation system/booking portal development and provide tips to dodge them.
They execute a booking module "because everyone already has it."


Solution:

First, you need to know your specific customers. The only guarantee of profitability of internet support is web analytics data. Studying your audience and your application is the only way you can efficiently increase profitability.

They don't pay attention to the preferences of their

web development company.
Solution:

Look for a complete

digital marketing agency

with experience working with hotels that can help you to increase your sales.

They ignore the analysis of pointers (both visitors and bookings).


Solution:

A bet on advertising in search engines, getting into the top 10 in search results, and getting a large number of visitors to the site is an important success circumstance, but it's not yet an indicator of RoI. You should examine real bookings via your application module as well.

They think that an overpriced site means a professional one.


Solution:

Grants in web analytics and useful functionality pay off — not in fashionable tools. So make sure to stress these two things.
Benefits of having a Hotel Booking App for a Hotel Business 2019
If you're developing a hotel Booking app, then you are benefiting as a business owner in well organising and improved bookings. Yes, Here are a few surprises to check.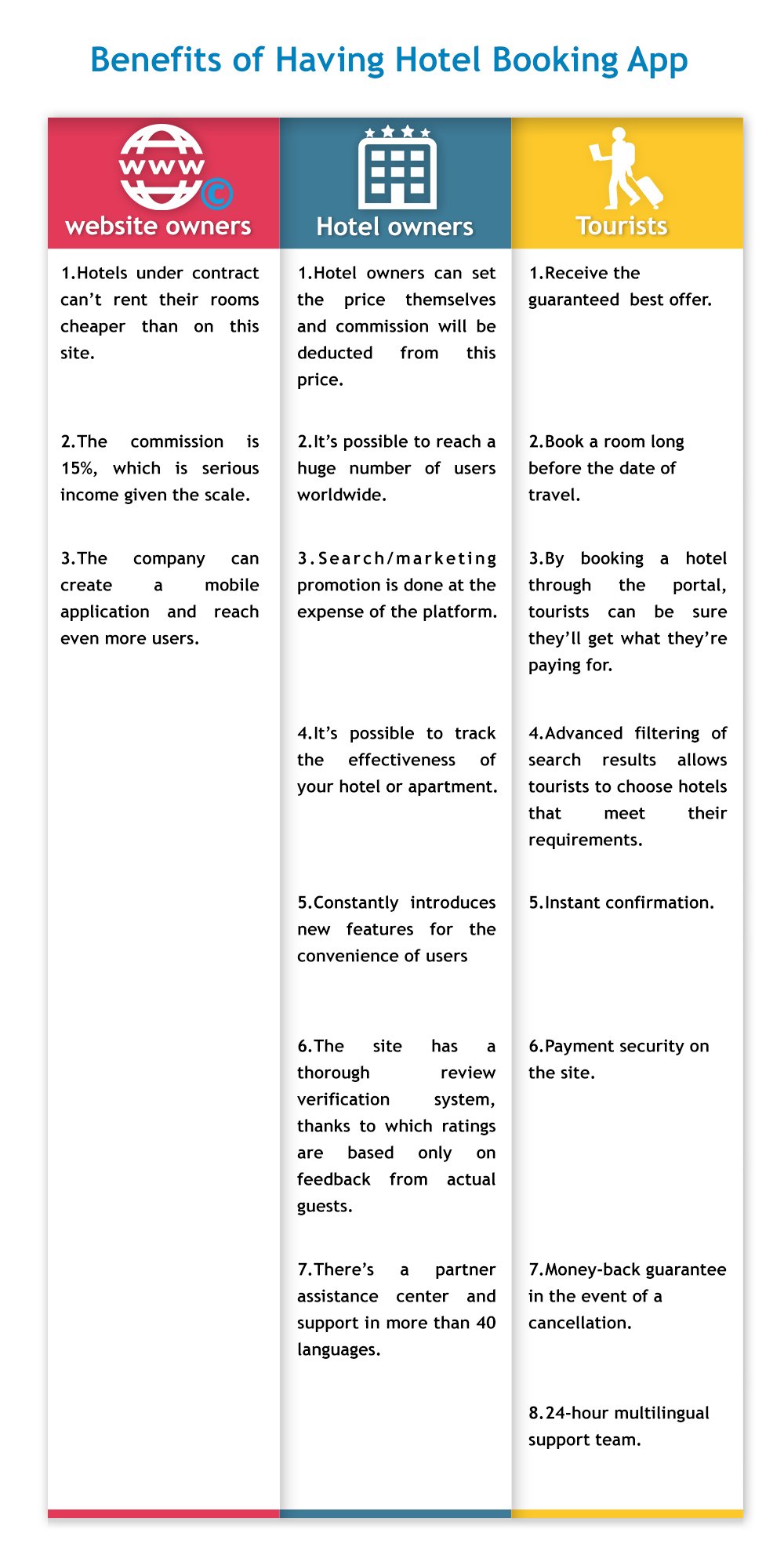 Easies front Office Tasks  –
A hotel booking system will provide the real-time status of the hotel rooms. Front desk staff can draw the booking directly on their front desk console and update them with complete ease. Even you can have Dynamic Room Allocation Manager which automatically allocates rooms to guests by scanning through various parameters, such as cleanliness, availability, occupancy and so on.
Authorizes Distribution –

Hotel booking software allows hotels to be present in the global marketplace in real time. As competition is extremely stiff in the hospitality industry, and your guests have numerous hospitality options when they are travelling – B&B's, hostels, hotels, and soon to stay ahead of the competition, you need to assure that your hotels are as visible as possible. The hotel booking software, your hotel can manage all the channels – OTA and GDS. Also with the booking software, your hotel can manage all the channels via one interface, therefore maintaining their room inventory and rate parity uniformly across all channels via one platform.
This helps to clarify operations for your reservations team and also ensures that issues such as double or overbooking are eliminated.

Improves guest reservations –

Many OTA's now improve their site by offering free cancellations or changes in the booking up to a certain date. If your hotel doesn't have its own booking system and has to deal with different vendors manually this can create a lot of confusion in bookings and result in huge losses. An integrated booking system enables data to be synced via all systems, so any reservation that is cancelled or changed via the OTA gets updated in real time.
Increases multi-tasking –
With booking system, a hotel with minimal staff can effectively manage several tasks simultaneously. They can handle group check-ins, check out of other guests, confirm reservations and so on all at the same time.
Centralizes hotel Management –
The booking system with a centralized approach helps to keep everyone informed. Housekeeping can update rooms which are ready for check in the front desk, in turn, inform which rooms have been checked out and tasks can be assigned quickly and easily. This guarantees complete transparency and reduces the chances of any crucial information being lost due to lack of communication.
If you talk in point of all the users of the app like the customer, hotel, travel Agent, app business owner
To Customer: They get many perks like Security, Convenience, Discounts, Efficiency, Reliability, Best value for money, and whatnot. It's a one-stop resolution (entire trip can be arranged from the app itself).

To Hotel: It's beneficial to draw direct bookings as you can sell at higher rates. Then there is a lot more like, Automation, User-Data, Direct Spread out, Brand Promise, Customer Faith.

To Travel Agent: You can give aid to your business as an app allow for Newmarket exploration, unleash creative spirit, user data, user engagement, and brand recognition.

To App Business Owner: They get to explore endless benefits ranging from user engagement, user variety, multiple revenue streams (subscription, commission, ads, fees, etc.).
A Case Study, of Booking.com hotel booking app
The business model of a hotel booking company is quite easy. A hotel booking company connects hoteliers and those who want to lend hotel rooms. The portal provides a summary of all hotels in an area, shows all prices and visitor reports, and offers a suitable interface for booking and paying for rooms. In general, a hotel booking app offers benefits for the app owners, hotels, and tourists.

 Hotel Booking App Features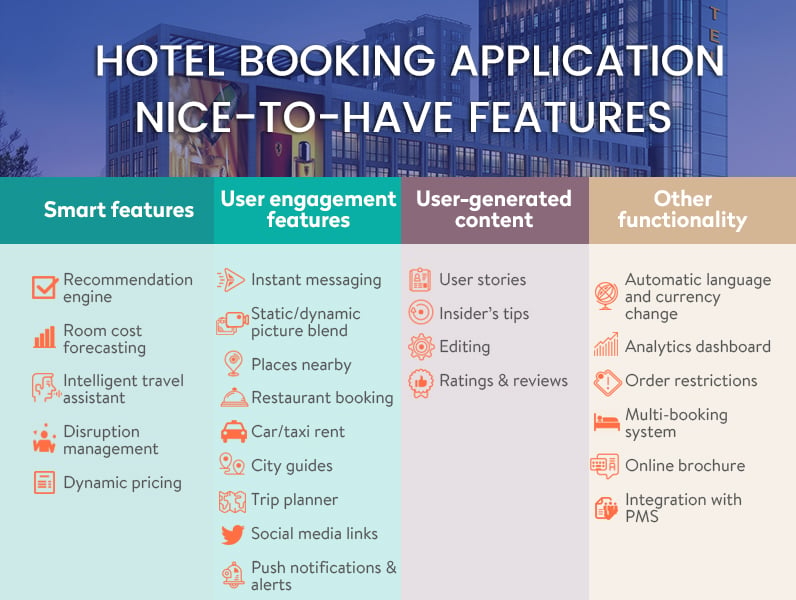 Recommendation engine: Based on the users' previous searches, the app providers tailor advice, like TripAdvisor offers "Just for You" personalized hotel recommendations, while Booking.com offers alternative destinations. With more and more personal data accrued, the algorithm will be able to generate tremendous results.

Room cost-forecast: To deal with the regular fluctuations in flight and hotel costs, users can have a cost forecast and then plan accordingly. With their data story, an algo is built taking account of demand growth, airlines special deals and offers, seasonal trends. With ominous analysis, users can book cheaper flights and hotel rooms.

On the go travel assistant: With intelligent travel mates such as Chatbots, Google Assistant, WeChat, Messanger, customers are provided better customer experience 24/7. Users can easily navigate through common problems with their help.

Language & Currency Converter: The app easily sets language and currency based on the customer location. It's also a part of a personalized tact.

Virtual Tour (Using VR): Users can have their way around the hotel by searching still photos, immersive videos, and also virtual tours with 360 photos. This way they get to see various parts of the hotel dynamically.

Analytics Dashboard: Admin is allowed to have a view at the customer dashboard, hotel dashboard, and this facilitates real-time decision-making. For instance, a low booking price can be offered when the bookings at lesser in some city during a special season.

Enhanced Features
Places Nearby: Using the geolocation tracking features, customers can easily explore the places nearby, such as tourist destinations, restaurants, movie theatres, malls, etc.

Car/Taxi Booking: With third-party synthesis with Uber, Ola and many alike, the app owners allow users to book taxi and cabs easily during their travel.

Trip Planner: The app doesn't just book hotels, but it also helps the users in drafting out their entire trip and provides a personalized trip planner.

Restaurant Booking: Using the third-party app union feature within the app, users can also book restaurants during their trip from the app itself. Thus, making it super-convenient for the users.

Hotel Comparison: The app expedites this feature where you can compare the hotels within the app and can choose the one that fills your requirements accordingly.

User Contribution: The app enables users to contribute to the app by making them share their experience with travel blogs, vlogs, pictures, reviews, etc.
Trip Stories

Travel Tips & Advice

Community Portal

Rating & Reviews

Photo Galleries
How to make a successful booking app
To develop a portal capable of at least locally competing with such a giant of the tourism industry you need a large team of professionals and huge investments. While developing a hotel booking app you need to keep in mind that the project to be developed have to be supported, developed and advertised for a long time before it turns a profit. It also makes no sense trying to reduce the cost to create a hotel booking website or app since it will come at expense of must-have functionality.
For the reasons, before starting development of a hotel booking app you need to have a clear:
Idea;

Concept;

understanding of competitors;

list of your competitive advantages;

business plan.
We've already discussed expanding a business plan and designing a business model canvas. Doing these things will enable you to verify your ideas, draw up a business strategy, and predict your actions in a changing market.
Successfully creating a custom Hotel Booking App
As a practice, the development process consists of the following stages: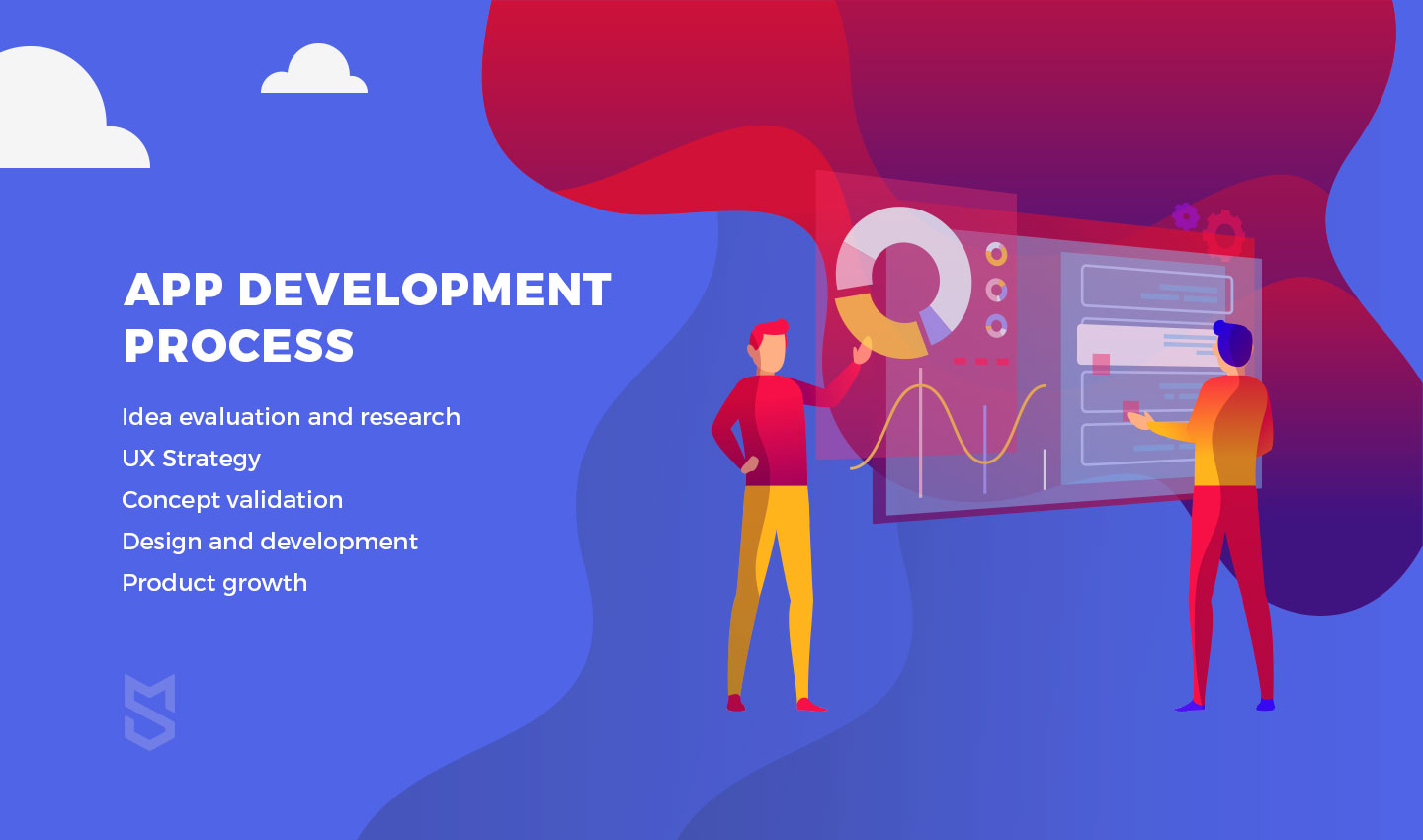 Idea evaluation and research: Before we begin development, we must be sure that the idea has potential. To do this, we create a business type of canvas, conduct marketing analysis, get feedback, and evaluate the idea.

UX strategy: At this stage, we think over how to make the answer as functional and user-friendly as possible and also comply with all the necessary conditions.

Concept validation: At this stage, we once again authenticate that potential users really need the product by giving a prototype to the test group and getting real reviews.

Design and development: Now we start to deem through the best visual implementation of the project and create a demo version that's gradually turned into a real application.

Product growth: When propelling a product on the market, we carefully track the acknowledgement of users to react to changes and adapt the project to real needs.
By designing the proper project architecture in advance, we look forward. We are creating booking platforms in order to make you able to expand their abilities in the case of necessity without spending lots of money. This makes it possible to develop a mobile reservation application affordably.  

It's worth remembering that the application needs to associate with a huge number of users, as it loses its meaning on a smaller scale. Therefore, most likely the deals to develop an app will be beneficial for booking startups but will be a waste of money for hotel owners.

Don't goof out on our latest article: https://krify.co/restaurant-table-app-development-company-in-india/
Integrating with the Third Party App
Taxi App: Users can hire taxi and cabs within the app itself during their trip.
Navigation: Google maps and Apple maps are blended into the app so that users don't face any problem in finding locations during the trip.
Weather Forecast: With Google Apps integrated, users can monitor the weather forecast and plan the day accordingly.
City Guide: It guarantees that users have a good experience while travelling across the city without any hurdles.
Rating-Review API: For instance, often the app owners combine Trip Advisor's API in the app so that users can read the other users' ratings and reviews from the app itself.
Aggregator APIs: Aggregator's API is integrated to support customers and other app users.
Payment API: To assure easy payments, Payment APIs of various modes such as Braintree, Stripe, &Paypal is integrated.
User Data Protection (GDPR): It is vital to assure data protection as a lot of sensitive user information, such as their phone numbers addresses, bank account information, is shared by the users during the booking. The General Data Protection Regulation (GDPR) (EU) 2016/679 has already been introduced to Europe and might soon reach in the USA. It supports users get back in control of their personal data. Having said that, mobile app security is vital and hence assure these aspects are taken care of
Customer Data Safety: An app design should be such that it blocks storing sensitive user data on devices. With Appcelerator platform offering encrypted SQLite module, the safety of data stored locally is guaranteed.
Secure Servers: On the back-end, the network kinships should be secure. The security of servers can be checked with insertion testing. Besides, the practice of encrypting database, TLS, SSL, VPN connection is advised.introduced to Europe and might soon arrive in the USA. It helps users get back in power of their personal data. Having said that, mobile app security is important and hence assure these aspects are taken care of:
Safe App Code: Go with this best usage of Algorithmic code encryption along with API encryption. Source code must be constantly scanned as well.
Customer Data Safety: An app design should be such that it precludes storing sensitive user data on devices. With Appcelerator platform offering encrypted SQLite module, the safety of data saved locally is ensured.
Secure Servers: On the back-end, the network links should be secure. The security of servers can be checked with insertion testing. Besides, the way of encrypting database, TLS, SSL, VPN connection is advised.
Technology Stack for the development of hotel booking app
Platforms:  Android, iOS, and Cross Platforms
Web / Mobile App Development Languages: JavaScript, Java, Php, Python, Objective-C, Swift, Kotlin, Nodejs, Xamarin
Interface: Rest API, Slim Framework
Database: Firebase, MySql, MongoDB, Redis, MySqli
Web Servers: Apache HTTP Server
Payment Gateways: Braintree & PayPal, Stripe, eWallets
Cloud Environment: AWS
Real-time Analytics: Hadoop, Spark, BigData, Apache Flink, Cisco, IBM
Streaming Media System: Helix Universal Server, Wowza Streaming Engine, Nimble Streamer
Weather Forecasts: OpenWeatherMap API
Maps: Google Maps API
Nearby Places: Google Places API
Hotel metasearch data: HotelsCombined Data Feeds and Skyscanner Affiliate API
Aggregator APIs: Expedia Affiliate Network API
How much does it require to develop a hotel booking app?
This is the favourite question of all startup founder since, as a rule, they begin to raise their ideas with a limited budget. But it isn't possible to evaluate the development cost precisely right here and now.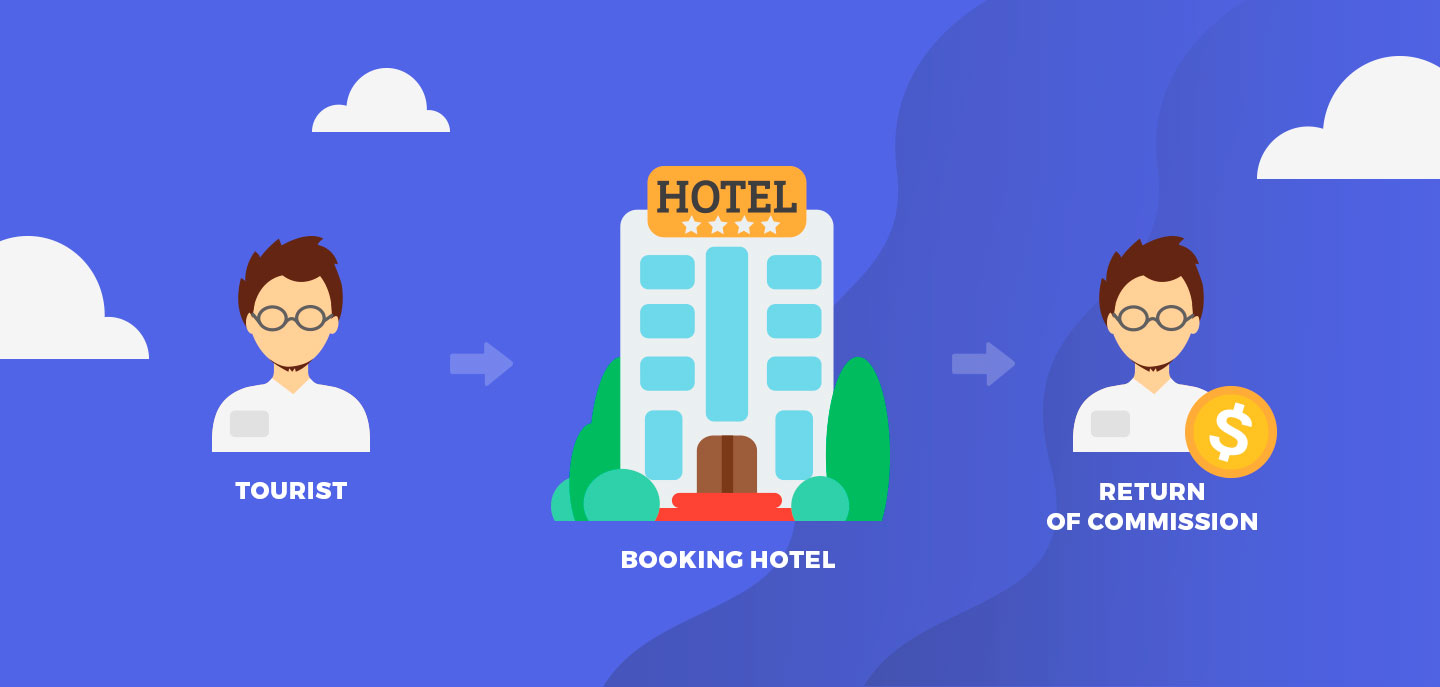 According to preceding estimates, the cost to develop an online hotel booking app can range depending on the following factors. The cost is based on:
Project functionality

Design

The development company and its location

The technology used

The number of hours that programmers and other professionals work on the project

Technical difficulties that may arise
Squeezing opportunities in hotel booking app development
Applications are already supporting many guests find lodging. Forward-thinking hospitality brands have applied mobile-first strategies to their campaigns to deliver the best user practices while achieving high brand advocacy. You can break into this industry with your resolution, and Krify is here to help! Hotel Booking Mobile Apps require constant innovation as the industry is ever evolving. Hence, the mobile app development partner must do the market analysis from time to time. Download new mobile apps and go through them for reform and gain knowledge of how to improve your own product. Eventually, never give up on a cast to surprise your users by enhancing existing solutions.
Needless to say, online- and mobile-all are the new rules of the travel & hospitality industry. And tech innovations aplenty are reshaping the market. Very often just one decision determines whether you're part of the future or a thing of the past. Let this decision be smart and well-thought out.

If you want to perceive a really cool project, make sure that you entrust your development to a team that knows what they're talking about. If you have some ideas you want to implement, don't hesitate to share your ideas of a hotel reservation application with us. 
Krify is one of the top mobile and web development company in India and UK having expertized team of developers who can work on most trending technologies to develop the application. Reach us now for free quotation.