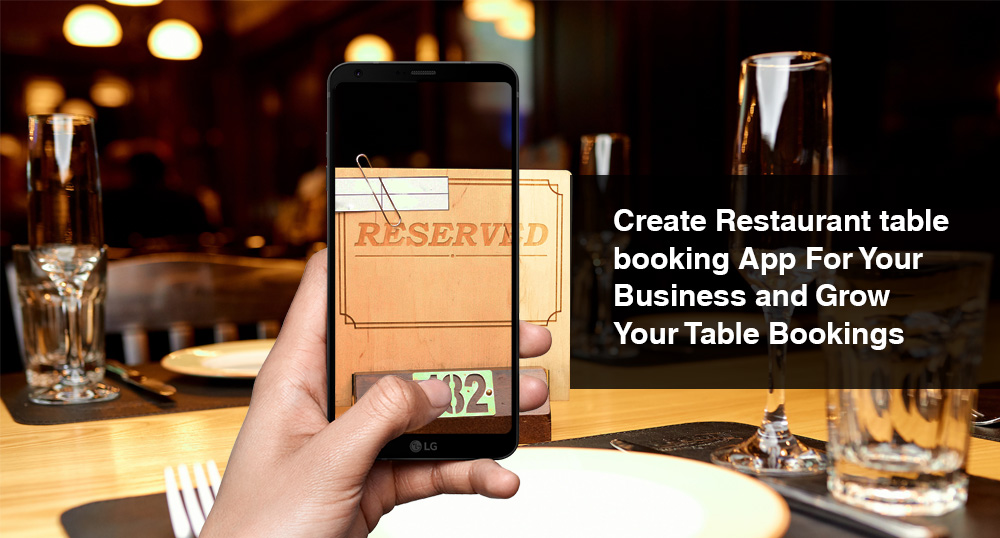 Restaurants mobile app development is one of the best tools for businesses with limited budgets to take the restaurant reputation and business to the next level. Today's mobile generation has varied needs and demands and the digital world must meet them in order to meet and win the heart of their customer base. With all of us going digital way and there being online platforms controlling in every arena, it is not unusual to have an online restaurant and table booking platform. They absolutely meet the growing and changing demand of people across the globe and hence there are more and more firms joining this bandwagon.
Now, these facts and figures are certainly enticing for the aspiring entrepreneurs out there and if you too consider yourself to be in that same zone, with you contemplating to start this same kind of business. It is most convenient for a user to reserve a table or order food by making an online payment. Such restaurants mobile app development helps to retain your customer, reach out to a larger audience and increase sales.
The app can be developed in both Android Restaurant app development and iOS Restaurant app development platforms which majorly depends on the audience network and the geographical area to whom you are targeting. If you are thinking for a US-based audience then you should go for iOS. If you are planning for India, UK, or Singapore audience then the Android platform is preferable. If you are one among them looking for the development of Restaurant app, then this post will prove to be a lot helpful for you. So, let's begin this journey!
For this, we can develop two separate apps for this one for business owners and the other for consumers.
Business Owners App

should be specific to maintain restaurant information and to facilitate quick services.

Consumer App

should have a listing and order booking plan with payment functionality.
One other important hook point is that we can merge two applications in order to monitor both the consumer and business owner app, and the Admin portal is a must which maintains the consumer and generating statistical reports.
How the Restuarant App works
The fame of the restaurant mobile app development depends upon the quality, performance and better UX of the app.
Important Features for Business owner app
Settlement

Booking history

Rewards points

Customer details

Manage promo code

Upload menu items with price

Push notification upon booking

Business/Restaurant owner registration

Add and manage Restaurant information

Create Serving Table layout and pricing
Important Features for Customer App:
Book order

Signup / login

Account settings

Restaurant listing

Restaurant details

Filter restaurant listing

Find nearby restaurants

Push notification to win promo discount and other information

Order history

Payment page

Order confirmation

Search by food type

Usage of discount voucher

Add rating and reviews for a restaurant

Updates on delivery and billing details

Social authentication like Facebook, Twitter & Google+
OTHER FEATURES

Help Section & Blog

Dine out Plus

See Dining History

Smart Pay

24 hours Booking

Real Time Availability

Instant Confirmations

Notification

Simple Cancellations
ADVANCED FEATURES
Upload Bills for Extra Cashback

Advance Prepayments

Dining area selection

Group Bookings

Table Combinations

Drag & Drop Reservations

QR Code
Let's understand
how actually the restaurant booking System
It is the dining table which always looks to bring people together be it your first date, anniversary, lunch with friends or dinner with family, employee interview or office brunch, it keeps us intact! Hence, it is the responsibility of the restaurant owners to streamline their means for our convenience and we must say they have done a superb job!
In order to make things organized, limit the number of open tables, as well as to reduce waiting time for their customers, most of the restaurants are developing and maintaining an efficient and reliable restaurant reservation system. This way they streamline the restaurant operations with online reservations and real-time table, waiting list and booking management, accessible from any device.
Generally, Restaurant Booking System is a convenient self-service table booking system that can be efficiently embedded on any given website. The reservation system is further important in customizing the booking process, in enabling people to book a table through your website, in managing restaurant availability, and reservations.
Check how restaurant Booking System proved to be beneficial?
There was a time when the restaurant business was a hated term, as it implies an empty seat in the dining room. It was due to the reason that restaurant pay up all type of charges like electricity, food, etc. and in any case, if a seat remains unfilled it signifies a loss of profit, as the aforementioned bills don't lower depending on how many customers they had in a day. Thus in order to deal with all the issues an reduce the number of open tables in a restaurant, as well as to limit the waiting time for paying customers, restaurants started taking reservations. So, here we explore how reservations prove to be beneficial to customers, owners and staff.
The

nights going to be too busy

, it's an unknown fact, when it is to take reservations it gives a better idea to owners of how busy or quiet the nights are going to be. If we maintain a

restaurant table booking app

when there a low number of reservations, the restaurant's owners will have enough time to come with some special idea to market on social media accounts that encourage the customers to come out and spend money.

In the case of a

rush, the chefs prepare in advance,

 on some lucky day when reservations schedule shows that it will be a packed schedule, the chefs and kitchen staff have a fair warning and enough time to prepare themselves up for an incoming rush at a particular time. In situations who are making reservations, or are seating walk-in customers, can space the seating times out enough as that way the kitchen won't get hurled all at once.
What to thins to consider while developing a Restaurant Booking App?
Once if all the crucial features needed for the creation of sophisticated and quality-rich mobile app have been gathered, it's time to start off with the development proceedings. Here we discuss the aspects that are required to be covered during this while:
Concept

Analysis

Design

Development

Quality Assurance

Launch
Structured team for App Development

Development of a Restaurant Booking app requires a lot of efforts as one has to cover various aspects from the user side, owner side as well as from third-party service providers. By having the support of the exact mobile app development team that excels in the arena of Hospitality in IT service development is essential. Once you have a pool of specialist managers, mobile app designers, developers and testers, you are good to go as it is the first milestone towards the creation of a brilliant and a successful mobile app. Here is the team that you require:
Project Manager:

Well-equipped with managerial skills and good intellect, after all these traits prove significant to identify the best in the mobile app industry landscape. Your project manager must find the most fruitful solutions effective for the accomplishment of business goals and insights.



Developers Team: Android App Developer, iOS App Developer

,

Back-end App Developers

Designers:

Expert UX/UI designers, Graphic Designer



Testers:

A team of proficient and skilled QA experts helpful to deliver a smooth and rich experience to users.
Overall Cost to Develop Restaurant Table Booking Mobile App:
Now the cost of Restaurant Table Booking app development depends on the size & complexity of your mobile app. Other than that, a physical location of the developers and number of hours consumed in the app creation play a crucial role in deciding over the restaurant booking app development cost. Based on different zones, here we have drafted the cost to develop a featured restaurant booking mobile app.
Average price for development of mobile applications by an expert team at US market starting from 300 to 1500 US Dollars depending on the number of features.
How to get a "Table Reservation App"?
After long planning, if you are deciding to invest money in your mobile app then careful about choosing the right mobile app development company. Look for the good recommendations through reviews.
The chance of getting a high-quality app development service as per your business requirements.
UX Design, functionality, visibility and security are important factors and be sure to have those in your mind when making an agreement with the expert team who will be responsible for developing your mobile application. Preferably, it is very important that your mobile application helps almost all mobile devices, or at least several of them, as this will quickly win the market and expand.

At Krify have already developed a prototype of the table reservation app on Android version. So, we can use our existing codes with some customization to begin your dream app which saves a lot of time and money. Our hourly price is very competitive as compared to that of other markets because we can get the app done in offshore yet without compromising the quality. In addition, we maintain the security and intellectual property of the customer by signing NDA. Contact us today.