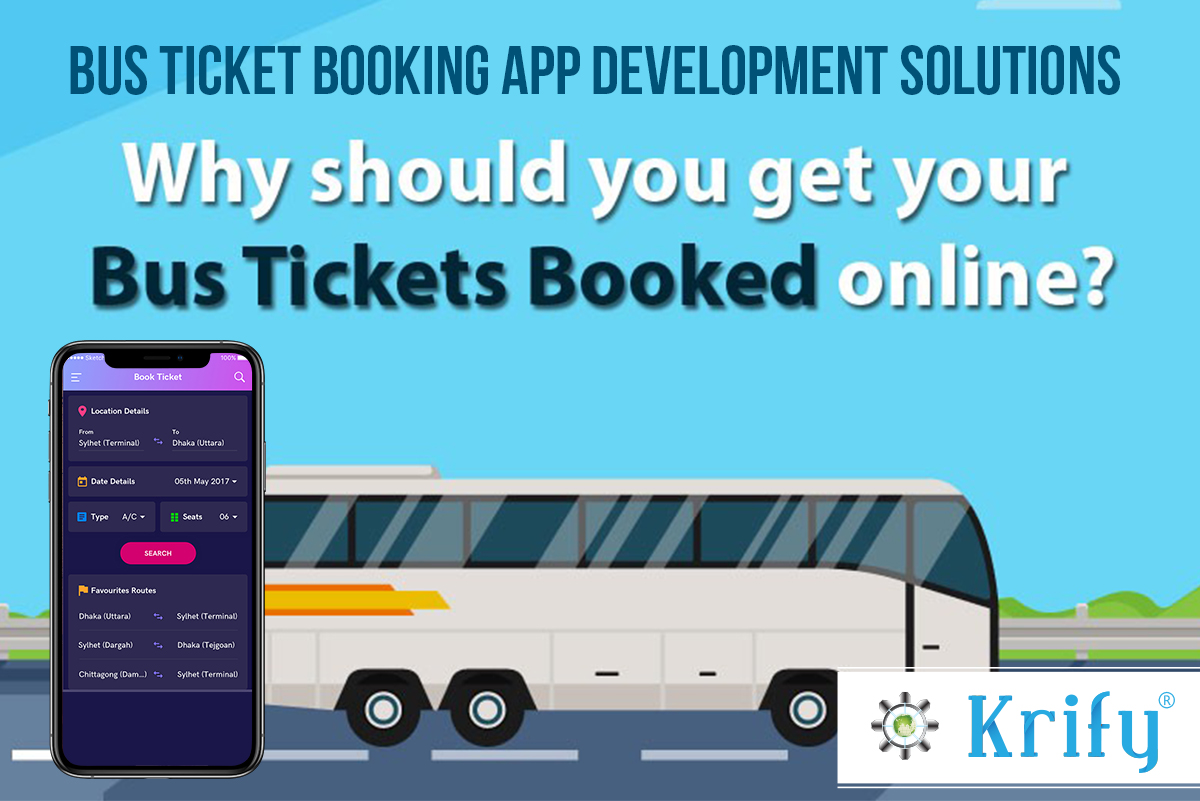 Technology is the foremost thing that represents an era and the age you live in. In today's time, the pace at which the world is moving has made technology decide our living system and the quality of life we lead. Today the mobile app development company is purveying the requirements of every sector by contributing unique and highly-functional apps to various businesses. If you went through the app store will find lots of competitive apps which are presently running in the market to serve the basic ticket booking requirements of users.
Travelling is a passion for many people. But there were times when the bus journey was not preferred by most of the people owing to the lack of luxurious facilities, poor road infrastructure and inefficient system of ticket booking. One must be required to stand in long queues to purchase the tickets and it was really time-consuming. In fact, ticket booking on the telephones was also quite challenging as often the lines remained busy or out of service. But times have changed now, and there are plenty of luxury buses offering great services to its travelling owing to a wide network of the road infrastructure and online ticketing system. In order to make their travel comfortable, they make a variety of organisations like hiring a vehicle or book tickets to reduce hassle. Travel and ticket booking mobile apps like MakeMyTrip, goibibo, etc. have made excellent motilities to gain amusing and delighted travel customers.
Mobile apps are notably necessary for every industry in order to compare with the tough business world. In every market field, mobile apps play a notable role whether it is an e-commerce app, online food ordering app, ticket booking app, taxi booking app or any others. As you can observe enormous demand for mobile apps in all sectors. Just by considering this, the travel industry is also trying to make huge out of it that too just by using several apps in order to speed up their travel management and also customer services. And amazingly, the industries have come out on the top as now, almost all the users love to book the tickets in progress through the popular travel and ticket booking apps.
The rise of Mobile Apps for Online Ticket Booking
At present, the bus ticket booking mobile app company is overwhelmed with a myriad of such apps being available out there. Basically, this Bus Reservation System is an automated system that allows acquiring online bus tickets. The system has the history of each passenger consisting of the details of the schedule of each bus. Thus, this system allows to schedule the customers to select the seats themselves.
The Bus Ticket Booking Software Solution enables users to reserve the ticket by selecting their seats using the internet. These Bus Ticket Booking Solution will help you to know the availability of the bus as per your suitability. Many of this bus ticket booking mobile app development companies are creating these type of apps for travel agents or agencies, who are most interested in developing their own bus ticket booking mobile apps or bus ticket booking mobile portal. Mian featured functions like route creation, route allocations to various vendors and various buses, booking, seat selection, etc are being offered.
Essential Features of Bus Ticket Booking Mobile app
The basic idea behind the mobile app development for Bus Ticket Booking app is to do paperless work. It not only allows you to just for online booking and cancellations but also enables you to track the real-time location and trip updates in the form of push notifications. It was very important to offer extraordinary and useful features for a Bus Booking Mobile App in order to develop a ground-breaking system that is capable of revolutionizing the bus industry.
When we think in terms of security Bus ticket booking solution breakthrough as well, by enabling the bus driver to verify passengers identity and board them through a QR-code based mobile interface.
Usually, the Bus ticket booking mobile app has 3 modules such as :
Customer Module
Operator Module
Admin Panel
So, let's explore some of the necessary features that must be present in a Bus Ticket Booking Mobile App:
Customer Module
Registration

Login

Home (top routes, top cities, offers)

Search bus availability by origin, destination, stop, date/ date range

Resultant transport Company with their bus availability

Varieties of filters

And Many More…
Operator Module
Login

Manage profile

Dashboard (Seat graph, total booking, refund, total revenue)

Manage bus routes

Manage Bus Booking

Manage ticket booking

Reporting & analytics

And Many More…
Admin Panel
Login

Manage profile

Dashboard

Manage users

Manage brand master (for show ad on the website)

Manage business partners (for loyalty points)

And Many More…



Benefits of having a Bus Ticket Booking App
Now everything is done on the app right from buying clothes, accessories, jewellery, groceries, train tickets, flight tickets, and even bus tickets. Now, the question that will wander in your mind is that train and flight ticket bookings are fine but why bus ticket booking. The solution is very simple and it is just the same as train and flight booking. If you want to know further reasons to solidify your intentions for maintaining the bus ticket booking app then go through the below list of advantages which you get while doing booking on bus ticket booking app:
Open 24/7 for Reservation

Commission Free

Good Customer Care

Discount codes

Simple and clear Process

Get the seat of your choice
Advanced Features For Bus Ticket Booking App
Don't just limit your app to the basic features. Get the app to the next level by fixing the advanced features into the app.
Real-Time Seat Chart

Co-traveller Management

Make Bookings on-the-go

Go Cashless

Real-time Location Tracking

Journey Alerts

Centralized Booking Management

Ticket Validation

CMS Integration

CRM Integration

GPS Tracking

In-app chat integration

Seat Maps

Boards

Cab Booking app Integration

Hotel Booking API

Bus Route Information

Marketing Tools
These were the advances features that you can integrate into your bus booking mobile app including these features will make your bus booking mobile app interesting and unique and it will be able to give a difficult run to your competitors.
Technology Stack for developing the Bus Ticket Booking Mobile App
For developing the featured rich and a robust bus booking app, right technology is a must. In order to make the app design unique and also to make the app one of the industry niches, selecting the right technology in a very smart way plays a key role in the whole development process.. We would like to share few of the expert chose tech specs in 3-tyre architecture.
Level 1: In the User Interaction layer for the Bus Booking Application, we have an interaction for web admin panel (User Number One), Android & iPhone App users(User Number Two), also if there are any Web Application interaction (User Number three, will be involved) and a web admin panel.
Level 2: In the Middle layer acts as a communication layer between layer 1 and layer 2 as a middle interface which will actually provide the way to interact with an API's / Web / SDK's Sockets / Live Server Client Service which is software as a service model.
Level 3: In a Physical Layer maintain the major connection with the database to operate the information for the server with a strong link-ups among.
Mostly the technicalities inside are defined with respect to the functionalities that expected by the end client.
Development Process for Bus Ticket Booking Mobile App
Estimation For Design and Development of Bus Ticket Booking Mobile App
When it comes to the Development point of view of a bus booking mobile app,  the crucial factors to consider is the choice of platforms, i.e iOS App Development or Android App Development or both, Functionalities, UX and UI design and etc. However, upon finding the expert bus booking mobile app development company you can get the exact figure. Anyhow the cost may vary based on the number of booking API that needs to be integrated for your project.
Choosing the top bus ticket booking mobile app development company
Choosing the right mobile app development company will make all the difference in your app quality that has years of experience in delivering the best-in-class apps. The company will be able to create excellent robust and customized bus ticket booking mobile app for you as per your business requirements. They can know the complexity of your product and can also comprehend your business objectives through the app. The good mobile app development firms will be able to offer you a brilliant set of professionals, comprising of knowledgeable and skilled dedicated app developers, QA testers etc. If the company has high experience the company will readily provide you to hire dedicated Android app developers or hire dedicated iOS app developers for your bus ticket booking mobile app development. Now the ball is in your court. So, think wisely and place your project in a safe hand and get the best bus ticket booking mobile app for you.
Thus, it is important to get in touch with a reliable mobile app development service provider for this purpose. For live chat support, https://tinyurl.com/y74bgyb9 and chat to our agent. Krify is one among the top Mobile App develpment company who are expertized in developing the best mobile apps for your business requirements. Reach us today.