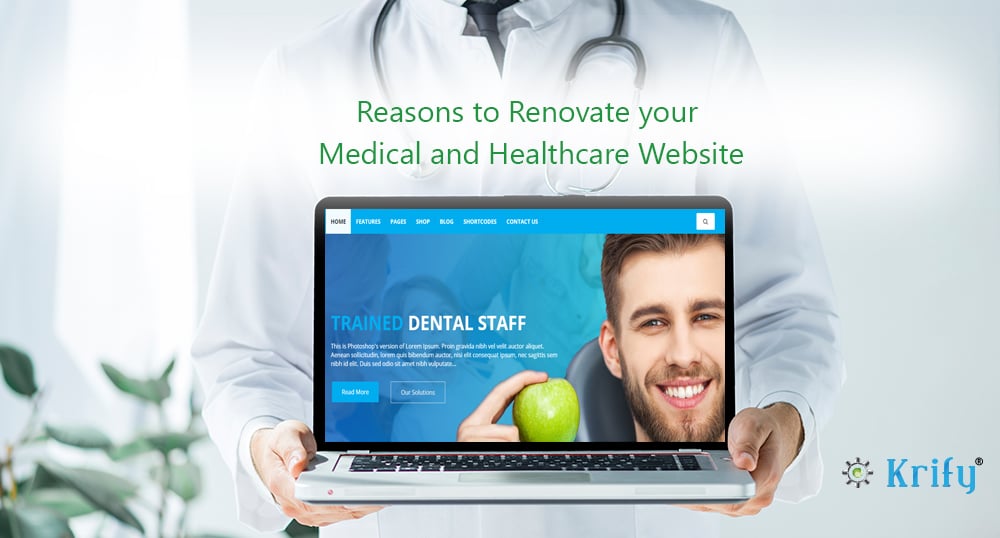 Medical and Health care organisations are facing expanded challenges as digital presence is growing and it made a vital for the industry. Health care organisations, pharmaceutical companies and emergency care all are facing Biggest Challenges to Redesigning Health Care website.
There is a situation we went through when visited hospitals for health checkup waiting for an appointment and doctors. It's been a long process to complete the consultation and prescription right. But nowadays the medical organisations transformed into digital, and everything was done in a minute making it very easy to manage. So, to change your hospitals, medical practices into digitally, you require a better website.
It's remarkably vital for any business to have a nice look and secure medical websites to utilise. Your business website is the essential element that user's first impression to move on your business further. A Medical website tends to a lot of work, but it does not matter when you select the best company to revamp your site. A redesigning Medical website involves time and budget.
So let consider some of the reasons why it is important to redesign the Medical website.
Reasons to consider before redesigning Healthcare website
So the best part of it should know the ideas that help why you should redesign your medical website. So let us see the Reasons for Redesigning Healthcare Website in 2019.
Is your website stacks up against competitors?
Is your website is drawing more patients or not, compare with your competitors? Make a list of their sites and evaluate them critically in terms of design, functionality and looks. And work on that to achieve the same points your competitors doing. Look for competitors what they are missing. And find a solution to overcome that weakness of your competitors and implement it effectively.
Pre-registration forms of patients can fill out before an appointment can save time. An online appointment system and screenshots of the design features that you think it will work well and how can you incorporate them in your site can help you out.
Are users quickly find what they are looking for?
When the users land on your medical website and they are looking for specific information. Easy navigation and navigation accessibility are more critical to the patient than reputability. Ask yourself how easy and how can I obtain essential data to implement on the site. How many clicks does guest have to make to get data they are looking.
So think about the data someone is searching for when they visit your medical website and make it easy to find for them. If your site has tons of data, then create a separate landing page for particular conditions.
Check out our blog: Types and Importance of Healthcare Facilities in Medical and Healthcare Services
Is your bounce rate is high or not?
A reasonable implication of your medical website effectiveness is your bounce rate. In which the percentage of clicks on where one page has visited before someone leaves the medical website. The page on which the customer lands, it depends on the content you provide. It based on also whether the site is attractive or unattractive and even if the content is lacking or unclear then bounce rate falls, and there are a variety of reasons people bounce.
Is your medical website communicate the value?
To pull patients to the site then you have to add more value in sort of information. Recognise more specific asked questions in your medical practice, design videos, images for your Medical websites can add more value to your site.
Is your website is performing well?
Many of the clients don't know the idea of their website is attracting their visitors or not. Unless you track your website performance, you have no idea that you are getting results or not.
Using a tool Google analytics can track and monitor sites performance. It gives you update such as are people coming to your website or not if yes how the bounce rate is, the decline rate over time, site search rank, amount of time visitor and their stay. It gives you all the information. It also tells search engines that you do not have useful information on your site based on traffic.
Is your site is optimised for search engines?
If you want more traffic to the website, then you require to optimise your site. You can check your website using SEO tool to reveal on page issues and but depending on how significant the problem is to fix them.
Various fractions changes during redesign including pages and code, In case, if you do not deal properly then the negative influence on site's SEO resulting for long term growth to the site.
Is your website taking a lot of time to load images and content?
A good website loads in 2 seconds how fast the website loads is the point. A single second delay in loading the site can reduce traffic and conversation by 7%. If your website takes longer than actual time 3 seconds around 40 per cent of users leaves the website.
Is social media incorporated with your website?
Patients use social media channels to search for healthcare information. So it is better to include prominent social media icons and links that direct to. Your visitor will never share unless you make it easy for them.
Is your site is responsive?
As the user looks the site from tablets, pc, phone, desktop and laptop etc. the visitors expect a seamless experience from all the devices they are using. So while watching in a device, the screen of the mobile device and your Medical website should act according to it and should display in a better way and more conveniently. To make the user more engaged you should go for a responsive site.
Go through our recent blog : Healthcare mobile app solutions
Digital marketing is highly intrinsic and measurable in the emerging market place. The organisation benefits a higher proportion of digital when compared to traditional methods. So, the primary point is a digital marketing tool that retains and attract patients. Your Medical website should be an initial lead source to your health organisations. If you are seeing no conversations going on then Redesign healthcare website. Most of the medical departments looking for digital transformation and are focused on emerging technologies for revamping their websites.
Bottom Line
By following these tips for redesigning Hospital websites can help to reduce the consequence. By keeping an old site you miss out organic SEO, leads, call to action conversions, Google Ad words, Google ranking. An outdated website can cost your business. Critical Steps for Preparing Healthcare Website Redesign can help you to some extent.
Krify is Hospital Website Redesigning services company India and UK. It has done many of the typical Medical websites which increased many of the client businesses and traffic. It utilises all the recent technologies during the Development of Redesign healthcare website. Even we work for the medical mobile apps. If you require any help with your revamp of your healthcare website, then contact us we will help you or get a free quote.