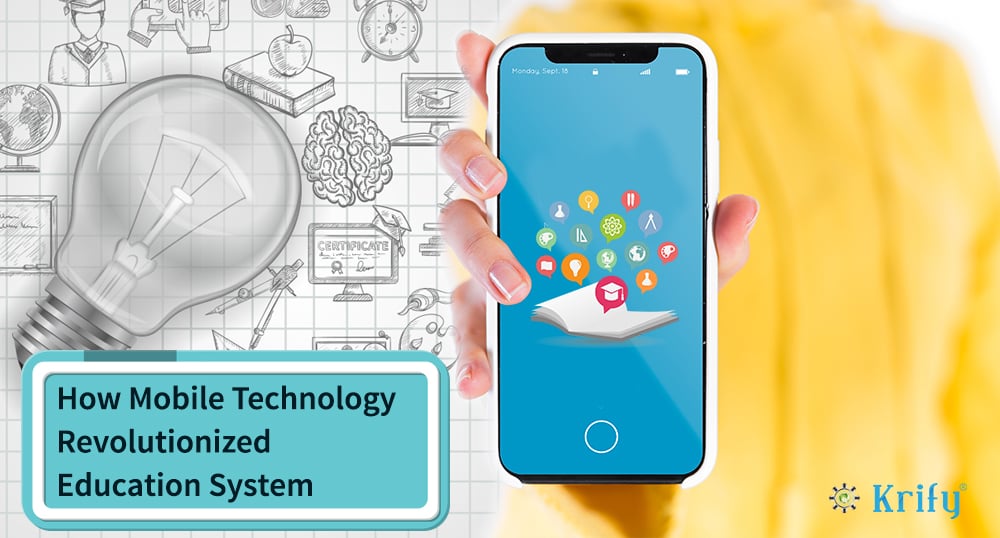 Blackboard, chalk and duster all this stuff were replaced by e-boards and projectors in this 21st century and is an unusual change in the field of education and vouchers for the remarkable effects of technology on learning. Technology has influenced every aspect of life today, and education is no exception. Mobile technology is booming the world, and it is playing a significant role in the education sector too. The mobile revolution is now changing the education dynamically like never before. Smart mobile technology is transforming the way kids are getting an education. A decade ago, Education websites sprouted all over the internet; today it is the time for mobile education apps for smartphones and tablets which are championing the cause of boredom-free education. Mobile services are helping institutions to break the boredom and reach out to students and developers are discovering ways of building apps that can function as a part of the classroom. The role of emerging technology in the education of the future has brought dramatical changes in the whole education system.
Many education App development companies have produced a variety of educational apps. These apps are more successful at attracting any age group than books. When kids do their study work on mobile devices, they look at it as fun and playing. It doesn't make them feel like they are studying; instead, they think that they are entertaining themselves. Technology has enriched a significant part of the education sector as kids feel like reading the books to be uninteresting or even they may feel sleepy and bored. So the mobile app developers are researching in many ways to develop the educational apps that make the kids spend most of the time in studying via mobile app with some gamification in between while they read. There are many educational apps benefits. Emerging technologies for teaching and learning are an effective way to grab the kids attention towards their studies. When education and technology come close with each other, these leads to another world. Let us take a glance at some advantages and  features of educational apps in this infographic below:
Benefits and Features of Educational App design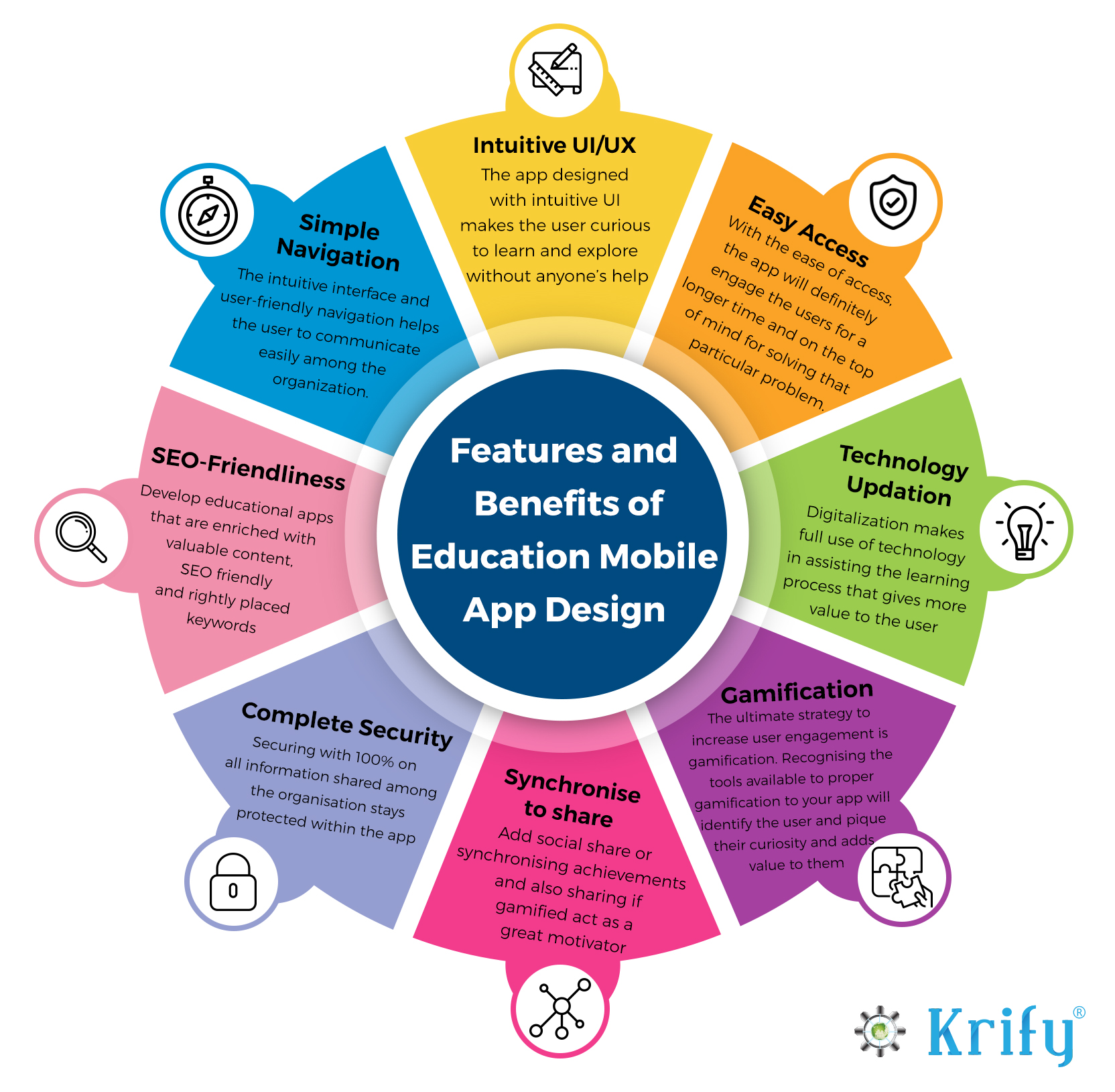 Emerging technologies in education can be much more and so much reliable than the stereotypical cell phone running off in the middle of the class.  Both in terms, of pedagogical resources and connecting with the younger generations, technology is a significant tool. But we need to know how does this work? Here are the top concepts to understand when examing the use of technology for educational or institutional purposes.
Top ways that mobile technology is impacting modern education
Active engagement with learning material: Technology is interactive, and students never learn just by blindly reading the documents. They do research and receive feedback. All these help students to be enthusiastic about what they are learning. For instance, if a student wants to study geography, then they use interactive software like Google maps or Google Earth rather than looking at an image.
Discussion, debate boards and Forums: Students create web pages, online groups, virtual communities by using the internet or educational software tools which connect them in real time with students and teachers anywhere around the world. Using this the students can get the feedback, share questions and concerns about their lessons from their teachers. They can listen or read other's opinions and feedbacks so that the students can refine their thinking, can reach higher levels of comprehensions and deeper understanding. Even this will provide the opportunity to interact with others around the world.
Use real-world issues: This will help the student by comparing the real world issues that are related to the classroom curriculum. By this, the students can understand that lesson taught refers to real problems and real people.
Modelling and Simulation: Simulation and modelling software, brings real activities to the classroom that are impossible to see without technology. The evolution of technology in the classroom brought many changes in the whole scenario of the education system. By using precise simulation tools, students can see particular movements like How dinosaurs live or how tornados develop.  All this will help the students to understand the concept very clearly with dynamic characteristics of models.
Formative Assessment: Teachers can ensure that students are learning with full excitement not only the concept but also emerging educational technologies and how they are being used. Technology focused activities mostly need critical thinking and problem-solving skills. Teachers work as facilitators by providing constant feedback encouraging the students to achieve deeper levels of understanding.
Check out our Blog: Readymade School Management Solution
Conclusion
Teaching is about introducing students to a whole world of concepts that they don't know yet. Technology in the classroom is like a venture into a modern invention. Rather than observing digital devices and internet spaces as intimidation to your duties, mark them as unexplored areas of extension for both you and the young minds trusting you to show them what's out there
If you an edtech based app idea, share with Krify, and we will create the best product for you that would undoubtedly create new milestones in the app world. We have an established track record of accouching successful apps and are one the ace education app development companies. Our ambidextrous and ever-energetic team of developers and designers do their best to create an app that is unbeatable in every aspect and also works hard for digital transformation trends in the education system. Talk to us here.