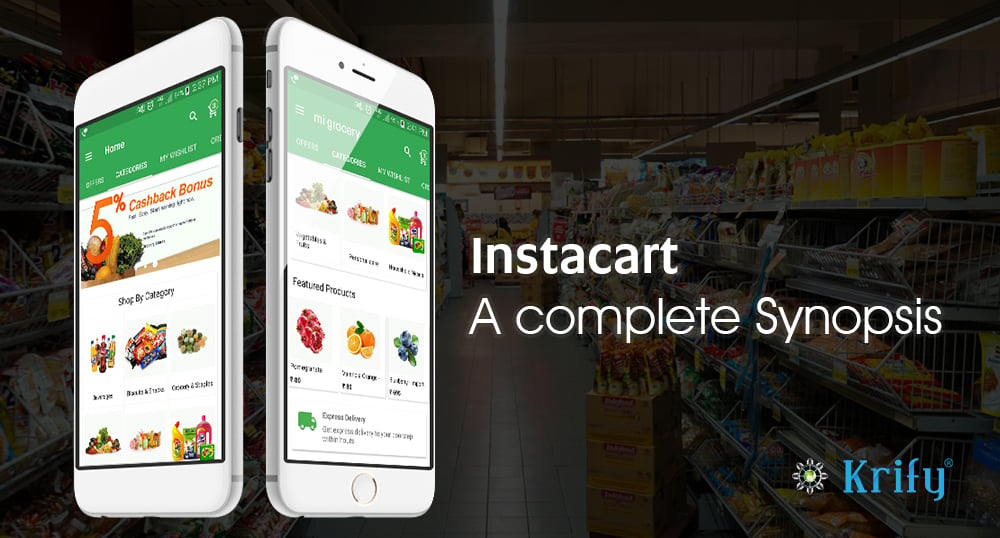 It's a bit difficult to maintain a long note for grocery list, sticky notes on refrigerators; If they missed somewhere and again going for another sticky note look for the list blah blah aaa, it could be tiresome to get the groceries list, shop for it right! Well, it would be great if we have an app or website that someone buys for you that adds to cart and deliver to you at your doorstep right. Instacart is a grocery shopping site. Unlike other grocery delivery services, Instacart lets you shop for main local stores nearby.
On-demand grocery delivery service Instcart became popular in the modern market economy. The journey of Instcart inspires many business people. If you are one in among and want to know more about Instacart and trying to Build Grocery Delivery Apps Like InstaCart for Grocery Shopping, then you are in the correct path. In this, we will let you know about the whole scenario of Instacart.
About Instcart
   Instacart is an online grocery delivery company that works with local stores to deliver groceries to your doorstep, which we can place an order, and someone shops all the grocery items. And within a few hours, your groceries delivered at your doorstep. It is the best-adapted grocery solution for a busy lifestyle. The Instacart suffices the need for busy people who prefer more to be healthier and thinks that it saves lots of time.
   Instacart enables us to shop the grocery store from your comfort zone, i.e., from the house using a tablet, system, smartphone or any other device. Choose the items you require and schedule a delivery. You can also request for delivery to provide for the next day and even schedule a delivery up to 6 days of extension. You can have an option of picking up groceries by yourself in store. It still saves you from the annoyance of walking in paths in search of desired items.
Works
   Let's understand the following points on how Instacart works.
A buyer can place his order for groceries and pays online.

A shopper receives the order and starts to collect the items according to law.

The shopper pays the bill through Instacart's prepaid debit card which accepts at the store.

Then shopper goes to deliver the groceries to the customer as per the address is given in order.
If any tip given during delivery goes directly to the shopper and that offered tip to a shopper during checkouts gets save in his Instacart account and can collect at the end of the week along with salary.
Who shops in place of you
   A personal shopper will choose all your groceries for you, selecting carefully fresh items on behalf of you. You can also give a list on note specifying the ripeness of veggies and fruits depending on when you use, i.e., the next day or week. Shoppers are more concerned about expiry dates, fragile items. So you need not to worry about expiry items. If any ordered items are out of stock, the shopper finds a close replacement.
Who involves in the Instacart Business Model
Instacart is the combination model of Uber and Airnub and can also Build Instacart Like App. It created its sharing revenue model to run the business. In this model, three-person involves one is users, shoppers and stores. So let's see each one in detail:
User
Customers can place the order through a website or app. They can select their preferable stores to order grocery items, pay on online, write delivery instructions, mention tips for shoppers.
Shoppers
Shoppers are part-time workers, and they are contract employees. They receive grocery order to their mobile and should shop all necessary items what user has opted. They collect the items list and deliver it to users at the doorstep in less period.
Stores
Instacart provides a platform for local stores to enhance their revenue growth through a sale online. Many local stores be a partner to Instacart. So that user can quickly check out the list of store names who are partnered with Instacart to place an order.
What Activities Instacart do
How the Instacart business model gets revenue
It gets on the following factors.
Delivery payment.

Membership fees.

Mark up prices.

Insta and customer relationship.
Pros and Cons
Pros
If you are sick, have kids, cannot go out. Cannot shop then Instacart is very convenient.

You can order at once from multiple local stores.

It is Comfortable ordering experience and friendly personal shoppers.

It is very close in finding in-store nearby and through online.

Without membership, you can even access Costco.
Cons
Instacart does not take coupons, store sales, reward into account.

It cannot be selective regarding the product.

The markup prices vary from store to store, and even sometimes it's not clear why some of the items are less and more expensive.
Go through our recent blog: Beginner guide for developing on-demand delivery app
Difficulties and solutions
Let us know about problems that come under and On-Demand Grocery Delivery App Solutions.
Recall
All shoppers work part-time; it is a tough task for retention for a more extended period. To increase the earnings of shoppers, Instacart joined an alternative to pay a tip to the shopper in the check-out section of a website.
Delivery time
Delivering in less time is an excellent challenge for Instacart. To minimise this issue, Instacart places shoppers outside the stores where it has tie-ups. When a shopper receives an order, he/she will be at the store already saving 50 % of the time.
Shortage of shopper
As shoppers work freelancers in Instacart with flexible schedules. It is hard to manage freelancers fleet and assigns instant tasks to them. To deal with the functions, it introduces a busy pricing policy which adds a few dollars as delivery chargers to customers bill depending on factor how busy they are. A part of addition price paid to shoppers to boost up to work as quickly as possible they can.
Wrong item delivery chances
Shopper sometimes picks up the wrong item and delivers it. To handle that cases Instacart has a support team it can reach over the phone or through email. if shopper missed an item in the list then automatically refund will process.
Out of stock items
Items can go out of sale in such cases shoppers replace the non-available items to available details. To deal with this Instacart allow customers to add notes and also click 'often out of stock' button on such things for reference of customers.
Final Thoughts
On-demand grocery business has a great future as many people want the easiest and convenient way to purchase grocery items. Instacart has become a better solution in the USA. So, Create On-Demand Grocery Delivery App may turn out to grow your business. 
Now that you know how Instacart works and How to start up an app like Instacart. The amazing technology can be used to create a similar business model on-demand segment and Develop An Grocery App like Instacart.
Krify is a Grocery App Development Company India. It has well-experienced designers and developers of both Android and iOS app development services. It helps you in developing these on-demand grocery apps and develops a clone app like Instacart. It is well known for best on-demand apps like food ordering, delivery apps, grocery delivery apps, shopping apps etc. Contact us.