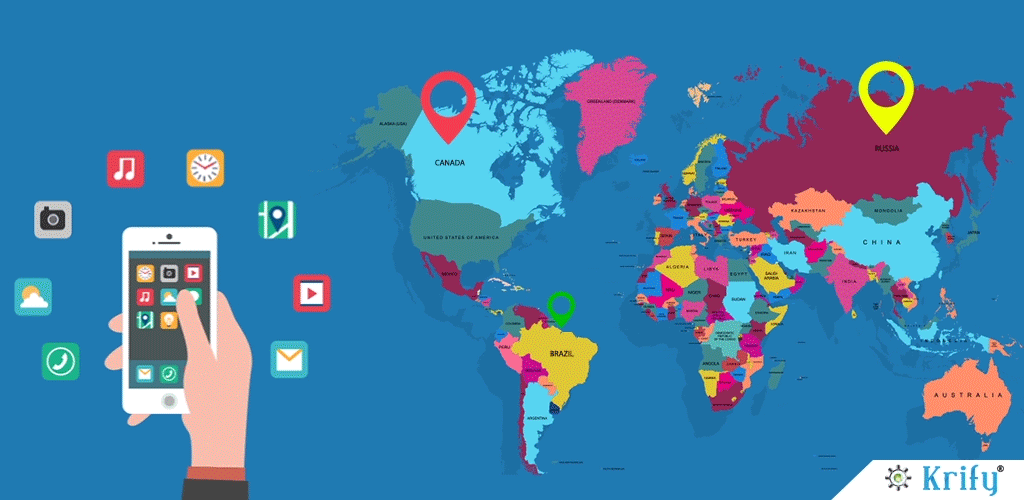 Location based marketing is a growing trend which is a direct marketing strategy taking personalized marketing to next level. Geofencing in location based marketing provides the ability to personalize content based on the context of the individual user. Geo-fencing uses mobile device location to alert the user about the offerings of a nearby business.
How Geofencing works in location based marketing?
Geofencing in location based marketing will deliver a personalized message to customers near your retail store. The message may consists of offers to those people who just visited your competitors, services provided and many more. Location based marketing has an extraordinary capability to engage potential customers for a targeted campaign.
According to a survey by Skyhook, Brands can expect as much as 20% increase in conversion by adding location data to their ad data.
Geofencing technologies like GPS (Global Positioning System) and RFID (Radio Frequency Identification) have a tremendous benefit of targeting minute locations like a building or a street. They even set up a location like, 'within 2 miles of Central Park' to identify and define radius in which a targeted marketing message is displayed.
Want to develop a mobile app that can use geofencing? Get in touch.

Krify has developed the custom geofencing apps as desired by our clients. We have developed some apps based on geofencing that can constantly monitor the location of User, Children, Employee or Students. Thus helps in tracking and monitoring the entry and exit of people and assets from the designated region.
Some of our work are as follows:
Toyota Landcruiser is the app we have developed for Toyota Australia. Its key features are: Reward points mechanism; Geofence technology Scoring system; 3G or Wifi technology auto-detection.

5 benefits of geofencing in marketing
Better Targeting
You can increase the possibility of attracting more number of people to your outlets by targeting people in the nearby location of your store personalizing your marketing messages. This improves your business as you focused on targeting and personalization of marketing messages.
Engagement
People are more likely to engage with your brand on smartphones incase your app provides them with relevant offers at the right time and right place. This increases your brand loyalty and advocacy by ensuring better engagement with the the customers.
Return On Investment (ROI)
Geofencing allows you to send offers to people who are in the nearby area of your store. This enables you to analyze the response and effectiveness of your campaign more easily and quickly. This is the reason why a better Return On Investment (ROI) is achieved.
Efficiency
You can improve the impact of your collaboration and communication on the buyers by delivering specific offers to people based their location. By doing so you can improve the efficiency of the Location-based marketing.
Better Data
You can get access to plenty of data once you start implementing location-based marketing. This data helps you to generate insights like
Which locations are more suitable for expanding your business

Which target segment is more approachable

Which stores are performing better and what is the point to be considered from the competitors.
How industries use location based marketing
Location is the key component of of mobile context whether determined through GPS or through proximity to a beacon. Mobile marketers are using location more often to engage with the users who are in a particular location.
In retail industry, it is intuitive to think of how marketing can able to send actionable information to mobile users those who are looking to do product research in-store.
Sports and Hospitality venues are recognizing and utilizing the power of location based marketing. Below are the list of the applications that rely on location data to optimize mobile engagement strategy.