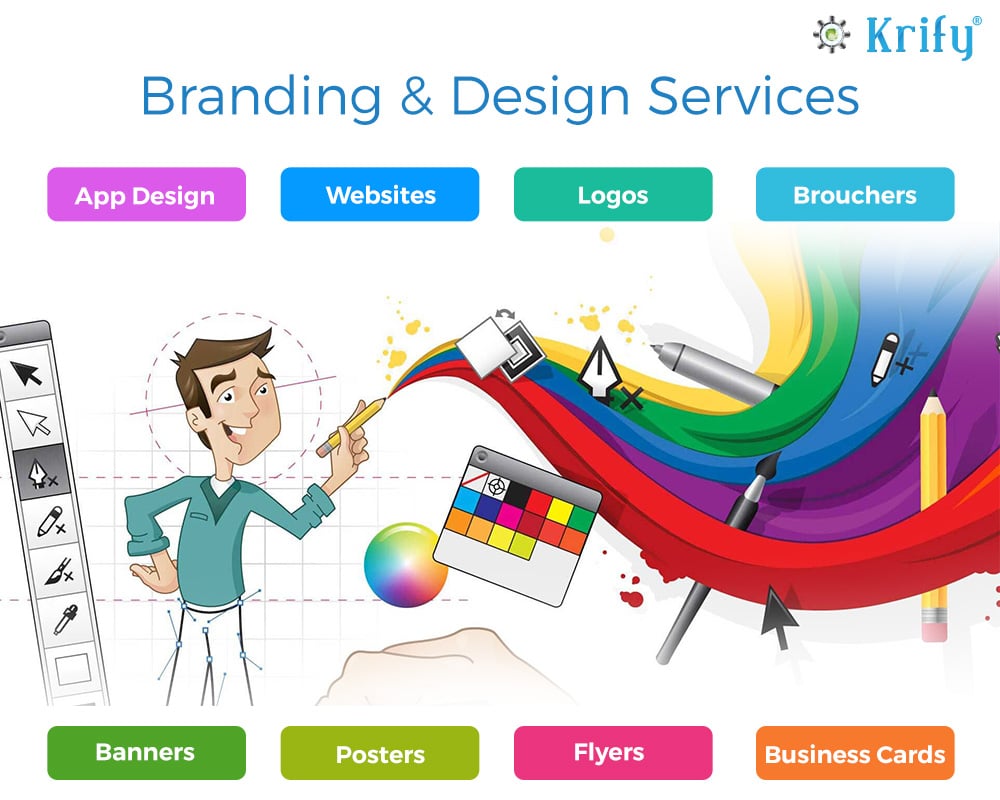 To promote your business more effectively, Branding and design services play an important role. The services include designing logos, websites, business cards, and many more. These services reach people by the means of visuals on advertisements, services, products, hoardings, leaflet etc. Challenge your competitors by promoting business which allows you to create a unique brand identity.
This is achieved by implementing promotion strategies which play a crucial role in the success of your business. The reason behind implementing these strategies are, in today's competitive world you are the one responsible to stand first by marketing your business aggressively and conveying your brand message to the targeted customers.
Branding and design in now the integral part and best tool for marketing your business. It is an established fact that most of the marketing strategies will be aware and pay attention to create logos, business cards, etc.
A well-thought-of design concept can contribute a lot toward the success of a marketing campaign.
Top 4 tips to use Branding and  Design As A Tool To Promote Your Brand
Create A Memorable Brand Identity
Brand identity is the unique and memorable design concept which will emotionally connect with the customers leaving a long lasting impression. The brand identity is built upon the value of trust.
Graphic designers in order to build a brand identity use several design elements to convey the brand message. A unique logo design will help to evoke the customers emotions and helps in targeting them.
Strengthen Your Business Position
Are you aware where your business stand in the market? This is answered by knowing the measure of the customers your business is reached or heard. If people are not aware of your business then generate it, in order to strengthen your business in the target market.
For example, branding and design services help here by creating an impressive website design that has all the relevant and updated information about your company. The site will also convey the customers about
new developments happening in your companies
Salient features of your business
Instructions to use the products
Set your business apart from competitors
Today's businesses have a really tough competition and it is a hard note for them to compete. People will only notice your business if it is unique. Branding and design services will help you to stand unique by
Highlighting the key features of your products
Creating distinctive images
Designing variant brochure with unique concept to get the impression of the customers.
Promote your business to different audience
In the previous days newspapers are the tools used by businesses to reach the audience. Now the days are changed and the tools too. Social channels have come into existence which are used to convey the messages to millions of people. The best ways to reach the customers by social channels is by
Creating Facebook, Twitter, LinkedIn and Instagram pages.
Designing social media pages
Each social channel will address the audience in its own way.
Looking further

A memorable graphic design is a way to promote a business. A uniquely designed logo, brochure, business card, website, and host of other designs can even convert prospects into potential buyers. You can create a unique brand identity and reach to different audience with a design that stands out in the crowd.

Well, you can crowdsource your design work to Krify, which is a leading online marketplace that helps business owners get designs. In a short period of say a couple of weeks, you get a memorable work of graphic design from our graphic designers.