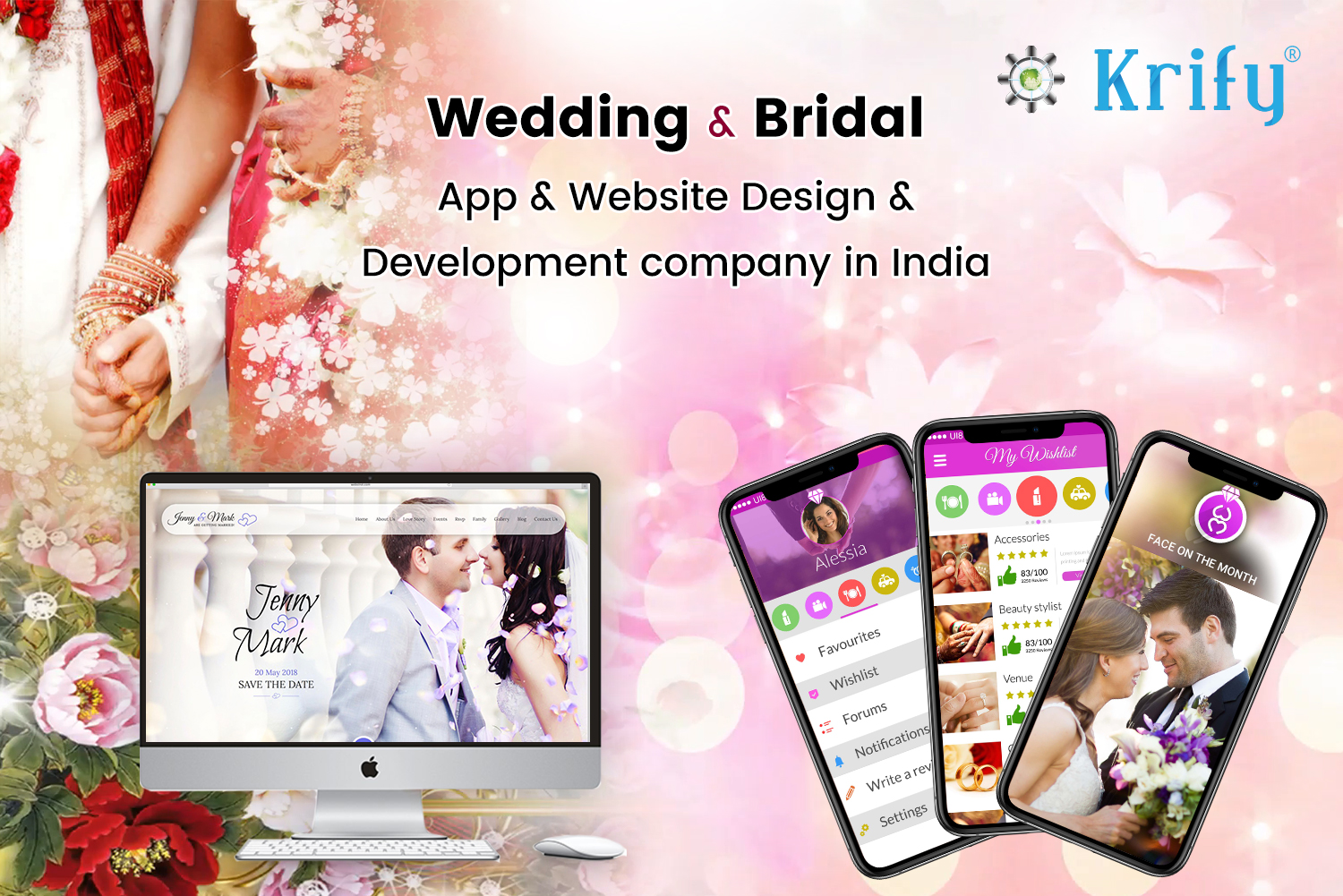 Have you ever thought of the mess that takes place while planning a wedding? It is not a small thing, it takes a lot of time, investment and planning. It is very difficult to complete the things planned in time. Everything will be unplanned and messy. But by using proper technology and making correct decisions we can make it easy because there is no use of investing and celebrating a grand wedding when you have a hand full of works and no time to enjoy it. choosing a wedding website can help you a lot more than you think. You can handover the complete planning from the start to the end to the wedding planner and can have time with your family. Don't you think this is a good idea? Of course, it is.
With the increasing trends, there are increasing types in weddings Not all people want a typical wedding. Some people require a grand wedding where there needs more planning. A wedding planner will be able to meet all your requirement whatever may be the wedding type. Are you someone who is willing to help people who gonna plan a wedding and make things easy for them? Then there is a way to take your business to the people.
Bridal Website Design for Wedding Businesses is a good choice. Why don't you plan on having a website for your business which makes things much simpler and allows you to reduce your efforts in letting people know about it? Design for wedding website is very important for getting more customers. As there are many advantages to having a website for your business.
Advantages of  having a Wedding and Bridal  Website for your business growth
Customer Satisfaction – Having a website makes the customers more comfortable to  interact with you as they can get the information about your business prior and can contact you for any queries
Online website Accessibility – If you have a website you need not worry about the timings of customers contacting you for information as the website will be open 24/7.
Access to Visitor Analytics – A website can actually track what is happening on the website. It can give the details about who is visiting the website and the place from where it is being accessed. So, we can reach out to people who require our service.
Customer Relationship – Having a website can help you build a better relationship with the customers as we can maintain the contact even after the service. So they might come to you for help even when they required. The customer can even give the feedback so you can improve your service.
Productive potential Sales – As people get to know about you through your website if your website is good enough it can be helpful in generating leads and increase sales.
When you change the location –In case you shift from a place to another place you need not waste your time informing all your customers about it. Instead, you can update your location on your website so people can know.
Rise Customers – If your business is targeting more people and is capable of providing services to a huge number of customers. It's to better have a global presence.
Valuable Links – We can link our website to different links so our website can reach worldwide.
Your Internet Identity – By maintaining a website, you can build a strong online brand identity. It can be used to promote your business online.
These are some of the advantages of having a website that can improve your business.
If you are planning for development of a Wedding and Bridal website you should also know what features should be involved in it to make more useful.
Common Features for the development of wedding and bridal website:
It should have an attractive design so the user feels comfortable when using the website. Neat websites are preferred than gaudy websites.

Wedding and Bridal website design

Interface should be user-friendly. It should make the user task easy not more complex.

A good wedding planning app should be useful for building a customized wedding plan.

Users should be able to search for wedding venues. Providing more information can create a good response from the users as they will be having more options to choose

Managing the budget according to the wedding plan should be possible.

Sending invitations and tracking response should be easy and also the information about the wedding should be stored.

Wedding website design

should be in such a way it attracts the customers.

Push notifications are important as they keep reminding the guests about the event.

Social integration and messaging features are required.

Communication should be possible as it will be convenient to contact the service provider through the app for the required information.
Advanced features for a Wedding and Bridal website design
They provide various packages with various costs and discounts. Each package contains a certain type of services they will be providing to the bride such as dressing, makeup etc. Each package costs according to the services it is providing.

Privacy also plays an important role and proper privacy settings and passwords should be provided to the client so that only they can access or change the information.

Should be able to manage SEO settings as it is important to optimize the search result so that the guest feel comfortable in order to search anything related to the wedding.

Sending invitations is good but it is also equally important to receive the response from the guests

if they are coming or not so as to plan accordingly the budget for the wedding.

The to-do list is the crucial part of the wedding plan. It contains the events that are to be done by the organisers and the main focus in any wedding is, of course, the event and food.

There is no fun if we cannot share the photos in the wedding on social media so social media sharing adds as an interesting feature.

Other than only photos it would also be good if we can share Videos of the wedding on Youtube etc.

Filters are nowadays a part of photos as no one is uploading pics without adding filters so it should be a part of the website or the mobile app.

Real-time alerts are to be implemented as it is very much required to consider the response from the guests and act accordingly to prevent the delay.
Now we go for the development of Mobile apps. As mobile apps are the next business boosting tools in this digital era. Users prefer using applications which can provide them with all the information with a single click.
Advantages of having a Wedding and Bridal App For Your Business
They can help people to be updated about the changes in the event an everyone carries a mobile all day and they can know about the updates through notifications.

They help people to communicate easily as everyone nowadays are habituated to texting in mobile.

Using mobile apps the access will be at the user's fingerprints it can be accessed anytime anywhere. As mobile is a handy device, it can be carried anywhere. So, it 'll let the users maintain contact all the time.

Mobile apps help you stand out of the competition in today's world. It helps you to provide more features to the users.
Features of Mobile wedding app
Contact adding should be possible as

syncing the mobile contacts with the app contacts can help you find all your guests.

The Best Mobile App is the one which gives us the option to choose the theme of the application as it provides various options for

customized wedding app

to make their day more special.

Creating Event should be possible as in a wedding there can be many unplanned events that take place so adding or creating an event will be helpful to keep everyone updated about what is going to happen.

Real-time notifications can help you keep the guests informed about the event that is delayed and when they are scheduled.

Maintaining a guest list can help you plan the budget and the number of things that should be purchased at the wedding. It can also help you in planning the amount of food to be cooked and served. We can have at least an estimation.

The app should be responsive, in the busy schedule, there are chances that the guests may feel irritated for little things and having an app which is not responsive can complicate the things.

The content in the app should be simple and attractive and in a way that the user understands it by just going through once

The app design should be easy to manage.
Developing Website and Mobile app for your wedding planning business can help you get an online presence and subsequently helps in expanding your business
Why Choose Krify for your Website or Mobile App development
There are many wedding and bridal website development companies and wedding and bridal mobile apps in India. One of the best among them is Krify. As we have already designed many websites and we have the unique way of designing which can meet the user's requirements and the changes will be made with an update from the customers. We also have the option to hire Bridal app developers who are talented in delivery the app that meets the requirements of the client on time. Krify is also one of the Bridal and wedding app and website development company in UK and India. Also as we are basically an app development company we developed many mobile applications which include Wedding apps.
Krify provides SEO friendly

Bridal and Wedding Website and App

to increase your online visibility.

Krify takes the responsibility in promoting your  

Bridal and Wedding Website and App

on social media platforms that help you grow your business.

It gives you the In-Built Email marketing system.

In Krify there is a specialized team with a lot more experience in designing websites and applications so all the requirements of the client are considered and fulfilled.

It also provides the security to your website, app and maintenance right from the start.
To Conclude
At the bottom line, want to be one among the online business member develop a wedding and bridal app or website for your offline business. our clients are choosing it and referring it to all aspects of the wedding business owners. For effective business operations choose an effective wedding and bridal app and website. choose the right system for your business.
We krify one of the top mobile and web app development company in India and UK. We have skilled and expertized developers having knowledge on trending technologies. Are you in search of wedding and bridal app development for your business then your in rigth spot. Get free quotation or contact us today.