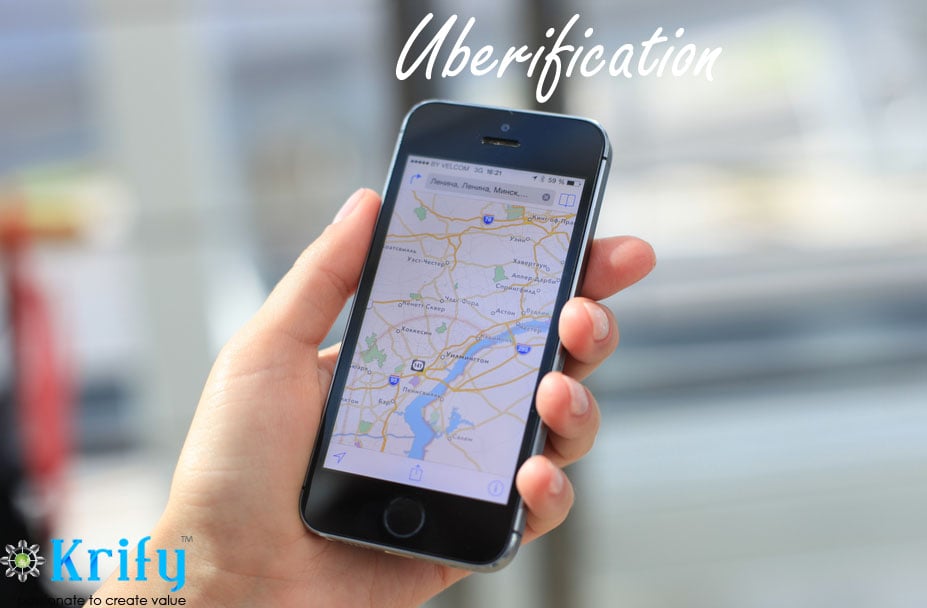 Uber has captured the attention of most of the travellers across more than 100+ countries today. Uber is the most successful mobile app which allows consumers to hire a cab by sending a request via the app. From being a mere Taxi service it got upgraded to a Service which facilitates Carpooling and other such benefits. This app is compatible with your iPhone, Android and Windows Phones. It has user credit card information fed into it the first time you use app and cab service following which you don't have to pay by card or cash from your next ride onwards. The popularity of this app grew rapidly and many taxi Service companies replicated the Uber idea and it is now popularly known as Uberification.
Uberification is simplifying the process of booking and utilizing a service. When ever any user requests a product or service, this generates a trigger in the system to meet that demand immediately; and the service that allows users to request something and that service will arrive at the agreed time. It is simply – tapping smart phone and getting the service / product instantly. Technology innovators are seeking to uberify the local services around world with on-demand mobile services which will quickly and conveniently match the demand with the supply. These mobile apps create transparency in customer demand resulting supply-side liquidity enabling local service providers to have the customer acquisition. This also gave rise to the new buzz word "1099 economy" which indicates the growing raise of of single proprietors and contractors.
The modern generation expect everything now and they turn to their phones for that. Uber is the car service that bridges demand and supply of taxis via a geo-location based app that monitors the movement of its taxi fleet and implements a dynamic pricing algorithm to balance supply with demand. To uberise something is to optimise it via similar methods in order to create an "on demand" market. The Uberisation of the 1099 economy enables the modern generation that doesn't want to be told when to come to work. Ask any Uber driver whether they like being able to make their own schedule.
Krify is an innovative mobile app development company based in United Kingdom, India – with its strong expertise in creating on-demand technology apps which are conceptually similar to Uber. We are currently working with several different ideas based on "uberification" model.  This includes food industry, job seeker – employment industry, personal search – dating, matrimonial services, many others.
Share us your mobile app idea or a specific problem in your domain. We would be happy to analyse your requirement / challenge to uberise it with an innovative solution.