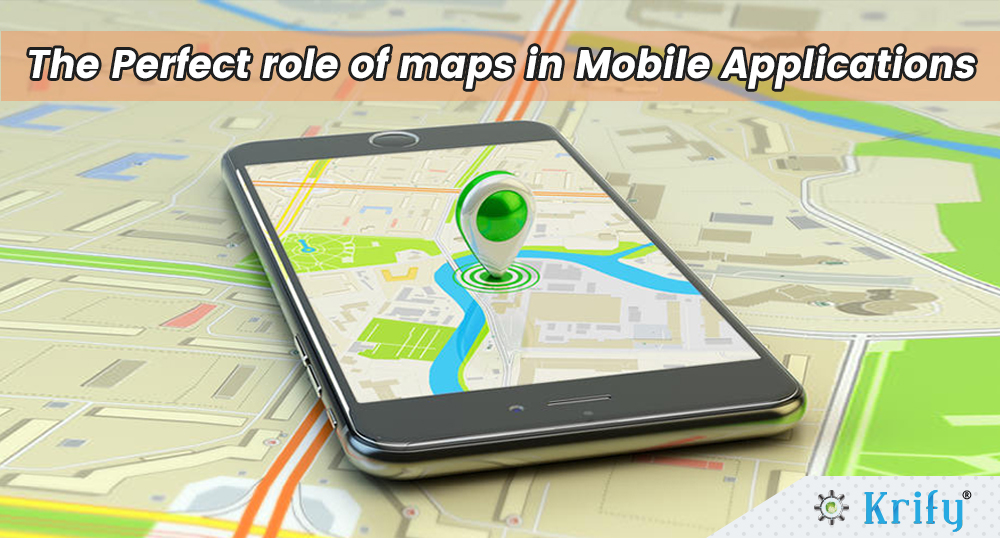 The best thing about using the Mapping app in your devices is that there's no chance of risk of inadequately wrapping anything. Still better, the Map App charts that everything you need to find the way like Freeways, highways, roads, streets, avenues, drives, bike paths, addresses, businesses and point of interest.
Maps in mobile applications play a vital role as they are useful in every aspect of our daily activities. Most of the modern applications are becoming location sensitive. In case if you open a website or application, you can invariably notice that you will be asking for permission to access your location. Many of these applications rely on mapping technologies to provide the information with this context being sensitive. Most of the business apps are coming up with map integration.
Maps will give a minute depiction of very large space. It majorly acts as a guide in places where we never visited before. Maps will provide the distance between two places or destinations. With the maps, one doesn't have to depend on anybody for directions. The IT revolution has given the way to GIS(Geographic Information Systems). Firstly know about WHAT IS GIS? ——- Geographic Information System (GIS) is a computer system build to capture, store, manipulate, analyze, manage and display all kinds of spatial data.
All About the Map
In general, maps offer several services as part of the larger web application. Maps are web-based services which provide detailed information about geographical regions and sites around the world. Maps will also offer serial and satellite views of many places. Mobile mapping technologies are trending the world today. It offers services as follows:
It provides route planner directions for drivers, bikers, walkers, and users for public transportation who want to travel from one place to another.

Maps application API can embed with the website to trace out the location.
Maps for mobile offers location service for motorists that utilizes the global positioning System(GPS) location of the mobile devices.
Some of the Map Application will also offer street views and navigate through horizontal and vertical street-level images of various streets of the cities.
It also provides the real-time traffic updates
Usually, Maps take help from various sources like      
Maps Partners: In order to have base map up-to-date, we need to maintain the partnership with authoritative data sources with the help of base map partner program. A very large number of agencies will submit the data.
Street View: Using the GPS Coordination of vehicles, the surface of the streets view images which can read the street signs and traffic signs.
Satellites: Using satellite one can access the high-resolution photograph of the planet.
Location Services: Which enables the user to have the live updates of the traffic.
Map Maker: In which we can add, edit, news roads or places on the map.
What actually a map can do for you Via mobile device?
Get transportation directions
Creating a map
Measuring distance and ETA
Mixing maps information
Finding your location
Setting routes
Getting traffic information
Verbal instructions
Location sharing
Location editing
Now let's get in detail about each one mentioned above:
Get transportation directions:
Maps are the one best thing that we have in our life which will provide the directions on which the transportation method is available in any place. For example, if you to where can you catch the bus, maps will provide the information.
Creating a map:
If you have trouble finding the exact location of your destination, then you can create the map of your own.
Measuring distance and ETA:
Using maps you plan your travel and schedule as accordingly by clicking on a particular point allows you to know the distance and estimated time of arrival of your destination.
Mixing maps information:
For this, you basically add some more details to the map if you know how i.e you can add some sort of information like celebrity sightings, special occasions and so on.
Finding your location:
In some cases, you are unaware of where actually you are travelling to or where the actual location is in. Maps help to find the exact location you located.
Setting routes:
Mobile Maps help the people to get rid of traffic issues as the maps will provide the live update of the traffic.
Getting traffic information:
Mobile maps help the people to get rid of traffic issues as the maps will provide the live update of the traffic with push notification or pop-up.
Verbal instructions:
While driving you can tell destination to maps instead of typing. Which makes the people more convenient at driving.
Location sharing:
Location sharing in maps is very important for every mapping apps to have. This is basically for the sake of security purpose. In this, we can share our location with the friends, families and contacts whom we want to share.
Location Editing:
Sometimes maps go wrong. In that case, we can edit the location that we entered in.
 Here is the list of Map apps:
Citymapper
Maps.me
Here wego
Waze
DriveMode
MapQuest
Maps By Mapsmyindia
Tomtom India
Mapping is the one best and fascination of human and humanity since the dawn of history. Over time human has tried to develop different sort of maps and mapping solutions with perfect precision. Most of the above-mentioned apps focus on providing the most up-to-date information about your local area and any other related information.
Krify has developed an application on mapping which helps for your business growth. Engage with us to get fabulous solutions for your business.