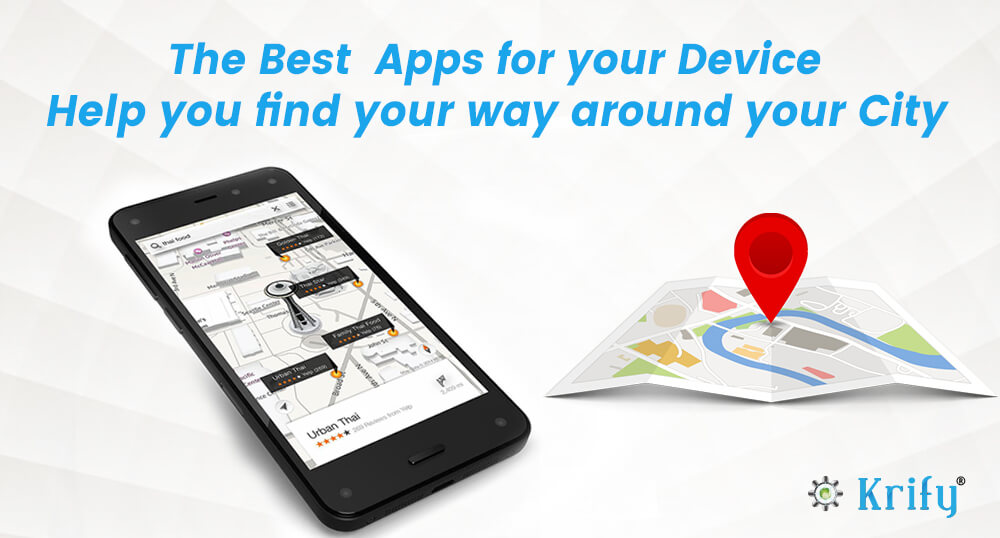 Unexpected delays, traffic and road closures are a daily hassle, and if we go out unprepared it will be a big deal. Thankfully, it doesn't have to be that way. There are tons of apps that will do the best for you. A country like India will deal many issues with the route, traffic, and address information, and many more. In order to deal with this issue, we've come up with some of the best navigation apps for your devices. When you are in driving your phone will handle everything else.
Know more about How to create a GPS navigation app
Here are the list of Navigation Apps for your devices
If you're looking travel around the city, then there's a better option for you is the Citymapper.  It's the best and a full-fledged navigation app, available with a fair selection of cities around the world. Citymapper gives you in-depth information on getting around, that includes bus & train timetables, walking directions and real-time data about the traffic in order to get rid of disruptions. In this, you have the option that if you are the regular commuter with up-to-date travel info, then you will get regular updates on the projected traffic during your usual commute times along with alternative routes that may get you there quicker. This app is available for both iOS and Android, even for web users.
Waze is a collection of drivers working together in order to ensure that few people are caught out by traffic and incorrect map data. Waze is constantly updated by the bulk of users using it to get from one destination to another. It provides data about the travel times, traffic and even fuel prices. It allows you to add friends to your app and see them on your map so that you can know when exactly your friend can reach you. It will make sure to be up-to-date with the maps used for navigation. It also works with Android Automation in your car. This will be available for both Android, iOS and also for Web users.
DriverMode is not actually a navigation app, it's more than that with handy interface laid over the top of your phone when are in driving. It is an all-in-one app. But the actual interface of DriverMode is as a safety app, which uses the large screen buttons and voice commands to ensure that access the information that you need. Using this app you can text message with your voice or get a new direction quickly or skip the music player. It is compatible with the latest map apps, music around, even it can sync with Google assistant. Drivemode act as the smart app for those without the smart car. It is available only to the Android users.
Here WeGo is the best navigation app with the all the necessary information that a user requires like navigation, places to visit and detailed routes, also gives you the up-to-date info and prices on all public transport links around you. It supports about 200 countries and also offers current route conditions, using different information like police reports, cameras, twitter feeds, construction sites, speed cameras and other data and also provides a faster route if in need. It also provides offline navigation with an amazing ability to archive the whole continent. It is available for iOS, Android and also for Web.
MapQuest provides the user with especially when you use the public transportation for commuting. It helps to compare the local transportation for your route and booking take place right from the app. It provides the quick updates about all the local transportation prospects near you. When we go for a walk, it will show you the burned calories too. More features like automatic re-routing, real-time traffic updates, ETA, the ability to trace the accidents, cameras, construction sites, slowdowns, location sharing, weather reports, and roadside assistance and also offers features of Google Maps like turn-by-turn navigation (Recenter), best route, satellite view, nearby locations to visit and many more. It is available for Android and  iOS
Maps.me is one of the best map apps to have which provide them for all kind of scenarios like public transport, traffic info, cycling navigation. However, it also allows using offline like google maps perk. If you are exploring a city, then it will show all the information about the important places to visit and point of interests. It maintains an updated database of hiking trails all around the world. Once the plan for a trip or hike was done, you can bookmark it and share with your friends. It is available in Android, iOS and also available for web that lets you pick from dozens of categories and then sets up filters to find exactly what you need.
Krify being a ISO certified company have developed many application related to GPS. We have many expertized developers with sound knowledge related to these technologies. If you are looking to develop GPS navigation applications and have queries about native navigation app development cost, contact our team now to get detailed estimations.