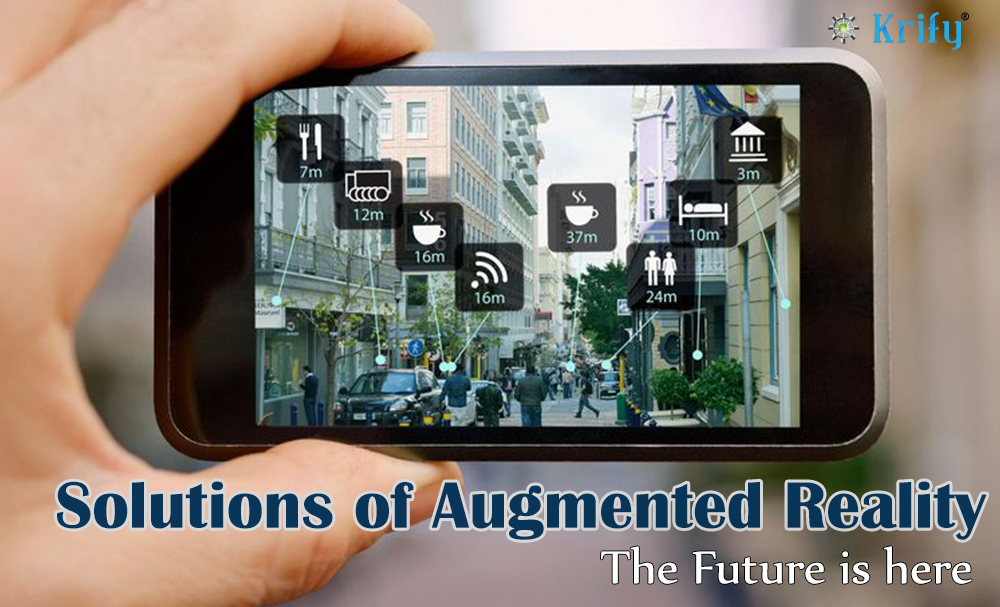 Augmented reality : The future is here!
Augmented reality is defined as interactive experience of people on a personal level by awakening their emotions. It involves the audience by creating an interactive campaigns. Augmented reality is implemented by many of the companies to increase their customer engagement which helps to increase their brand.
Solutions of augmented reality
1. Brand promotions and advertising

Augmented Reality will help the businesses to generate exciting engagements to win the customers. It helps to build more interactive and fun-filled activities which therefore strengthen the customer relationship.
Benefits of Augmented reality in marketing sector
Convert sales and build the trust of the customers

Will help brands to connect emotionally with the customers

Customers will get clear idea about the nutritional value of a food product

Render some exciting solutions like object recognition, motion capture, facial construction, etc.

Provide thrilling experiences like taking a selfie with your favourite stars, playing your favourite sport and many more.
2.Travel and Tourism
Travel and Tourism industry identified the importance of Augmented reality which would help to provide contextual services  for the travelers who are their customers. AR defines the power to explore the destination in a vivid and portable way.

Benefits of Augmented reality in travel industry
Personalised tour guides with 3D experience

Interactive guides to help the travellers in famous places to navigate a complex intersection.

Natural interface

Augment a location

User will be able to interact with the historical buildings by knowing their previous glory.
3.Educational sector
Educational sector is one of the most important and engaged sectors which requires more fun filled and interactive interface. Augmented reality apps will function to embed the videos images and text for real world circulation.

Benefits of Augmented reality in Education sector
3D

models for interacting

Eye catchy colored pictures

Create interesting and engaging presentations

Portable classroom where students can access the models anywhere and anytime.

Delivers more advanced knowledge about the product
4.Healthcare sector
Augmented reality created a revolution in the healthcare field. It is developing a quick and extensive applications like fitness management, medical education, training the medicos and many more which drive the the growth of AR in this sector.

Benefits of Augmented reality in Healthcare sector
Helps in managing physical therapy more easily and conveniently.

Simulation of vision

Educate and create awareness to the patient better about the illness

Patients after care management is more easy

Interactive and immersive medical training
AR is changing life as we know it, where we can see and interact with physical things we find all around us- even in the enterprise."- Charlie Ungashick, EVP, Chief Marketing Office, PTC.
Organisations are realising the power and potential of Augmented reality in advertising. According to a survey, there is double-digit increase in brand awareness. Lets adopt AR which is going to be the best marketing tool.