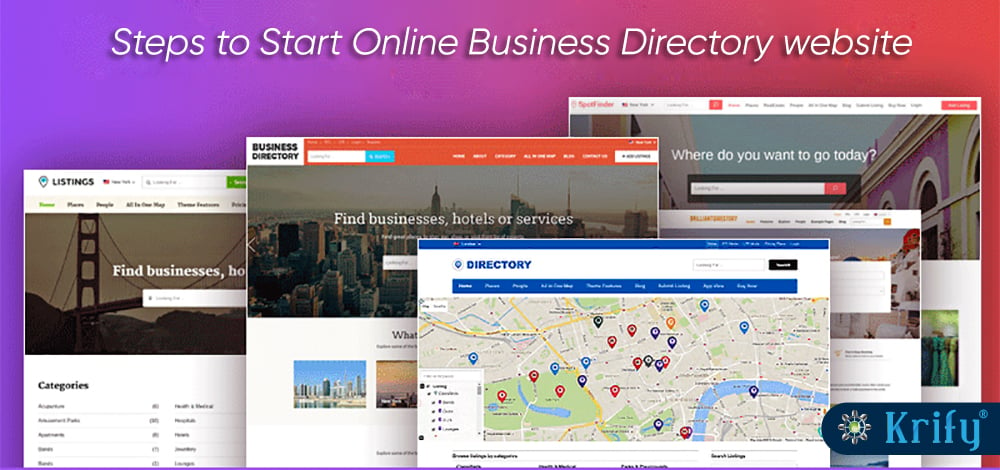 The number of applications in the market are increasing with each passing day and they will continue to grow in number going by the current scenario. New applications enter the market with the hope of providing the users something more than the already existing applications in their domain. People require all the latest facilities at their disposal and more or less, their wishes have been granted by these modern technologies.
When people reminisce of directories, they get the first thought of Yellow Pages or Yelp. That's all fine and good, but you should be somehow creative! You don't have to list only local businesses. For instance, you could also plan to display niche markets such as say, the best pet grooming website in the country. The major thing is that it's possible to create a small to medium directory with an application maker.
So, let's talk about one such local business listing website that has given a sensation and goes by the name of 'Yelp'. It helps out a person in various aspects and has become very popular in a very short span of time. It has been satisfying the requirements of its users like a thing on a mission. But what exactly does it offers? Let's take an insight.
Want to commence an online directory website, but don't know where to start? Don't worry because you're not alone. Starting a new venture will be a bit confusing, but not all the time. It will be easy when you've got the right direction to move!
Note one most important point while all solutions let you add points on a map with a small description about what they represent, it's not quite enough to qualify as a directory application.
Here's a step-by-step guide on how you can begin your directory website with WordPress without discussing with programmers and designers.
This guide is to provide beginners with a quick, foolproof direction to launch a directory site. So you can get started without wasting your time searching a thousand possibilities. It also helps you to avoid all the expensive mistakes that most people do while creating an online directory website or application. It's not just a website but a business that you design.
After testing several application makers, the below steps will look at how they let you create listings, categories and what kind of extra features you get along the way.
What is trending now in business directory website?
As people are looking for new trends day by day. Online business directories websites are getting updated each day.  Online directory websites are more trending to reach any place these days. But web applications are more popular in this digital era. Trending Directory websites with respective different categories:
General Business Directories Website:
General business directory website is a complete commercial web directory contains information and resources leads to many opportunities offers free business listing to promote your goods and services
Yelp
Citysearch
Foursquare
Healthcare Business Directories Website:
A Healthcare Business Directories Website helps prospective patients determine whether a healthcare practice could fit their requirements. Listing includes important business information, interior and exterior practice photos, driving and parking instructions services and products offered and many more.
Doctor.com
Wellness.com
Restaurant Business Directories Website:
A Restaurant business directory website is a printed listing of information which lists businesses within niche based categories. Businesses can be classified by niche, location, activity, or size. Business may be assembled either manually or through an automated online search software.
Booking.com
Hotels.com
Now let's deep dive into the topic of application developed
Types of Online Directories 
In general, these directory applications are divided into two types
Web Applications
Mobile applications
Now in this article, we will talk about web applications or websites
Web Applications Directories
Again this web application is divided into two types
Type of Web Applications 
CMS Applications

Web Applications
Now we talk about each individually,
CMS Application: CMS is the most useful application which uses WordPress, Joomla, Hubspot, Oracle web content and soon for its development process. In this type of applications, the paid ads will play a major role where the ads will be displayed in the theme.
Web applications: In present era web applications are trending. Web applications are developed using PHP Frameworks like Laravel, Zend, Symfony and etc.
A website business directory refers to an online database that connects the users with relevant businesses. Directories contain a distinct range of information on each business however, some may have a primary focus. Some of the more specific focuses of a web directory might be to:
 Provide accurate customer reviews

 Enable side-by-side comparisons

 Use GPS and social media data to give real-time results

 Focus on a specific niche or industry
A business directories website can take the form of a website. They survive on the web, social media platforms, smartphones, and even on specific devices.
How to Start Your Own Business Directory Website in 5 Easy Steps
First, Find Your "Niche"

Focus on a Geographical Area

Get Started Right Away

Set Your  Plans & Pricing

Promote Your Site
The cost of developing the business Directories Website
There are a lot of websites directories for which listing your business is free. Some are free but requires additional payment for special features, such as multiple locations or categories, including a website link or call to action, removing ads from listing or adding photos and video.  
Benefits of website business Directories
Some small business owners think that website directories are massive databases whether their listing will just get lost in the shuffle. The truth is that platforms have significant benefits for small businesses. Here are some benefits:
Magnify your online Presence
If you search for your business on the internet, you will likely see your business show up in directories for which you never submitted a listing. This is because many business directories today taken from other larger directories and automatically create listings.
This means that getting listed in one directed usually means getting listed in several more, allowing you to kill two birds with one stone. On the other side, sometimes the information doesn't transfer over properly. It's very important to check, claim, and update your listing frequently and regularly.
Boost your business
SEO is a method of presenting your web content in such a way that search engine will favour it and rank in the top position in the results for applicable searches. A user must trust the search engine so that the search engine will provide more information about your website and the more consistent that information is, the better you will rank. Online business listings are a great way to help and supplement your already existing data to give it that extra validation.
Use word of Mouth
Most online business directories have a client review component, as word of mouth has always been a trusted source for consumers. With real-time and sharing capabilities of mobile devices, customers can now publish review more quickly – -even during their experience. People seek out and trust online customer reviews today more than ever, so get listed in online business directories and you'll be placed in a direct to your target audience.
Business website directories have immense benefits and neglecting them can actually hurt your business. So get started today with the building, claiming and updating your listings online.
What's NEXT?
For sure you have tons of questions on what to do next. . .
We have brought you excellent pre-sales and post-sales support team to help via email. So if you get stuck (for some reason), you can get in touch with us

If you've set up your Directory site and want to know more details, then go check our customer showcase sites for ideas.

And finally, once you are ready, go check our Best Directory website to launch your dream directory website.
Krify one of the Best directory app development company in India and UK who has the expert developers in developing the business directory websites and also mobile app development. Want to develop your own business directory website. Reach us today for a  free quotation.
Wishing you the best of the success.