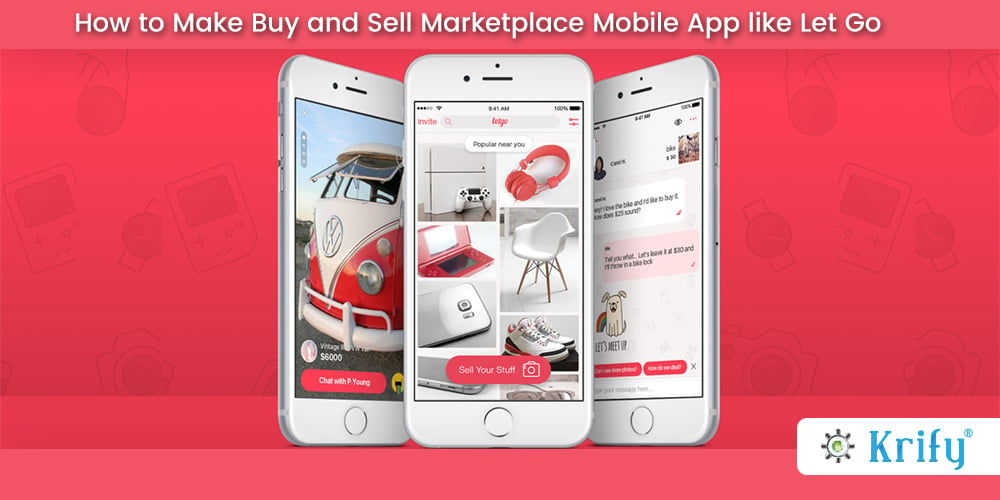 What is LetGo App?
Letgo is an e-commerce marketplace platform that allows users to buy and sell products and chat with people locally. Letgo is a startup that came into the market with the intention to become a largest second-hand marketplace in the world and of course it has raised $175 million to invest in growth plans and grab market share from the big B's like Wallapop, OfferUp, eBay. If you are among one who is looking to create a buy-sell marketplace mobile app and amazed how to make an app like Letgo which can raise a storm in the marketplace, then you have to understand the buy-sell marketplace procedure and buy-sell marketplace business model.
Is Letgo popular?
Yes, LetGo is one among the top 10 largest marketplace apps that are the rival of large e-commerce corporations such as Letgo, Wallapop, OfferUp, eBay, Craigslist, Varagescale, eBay, Etsy, 5miles, and Cashify. The main concept of the Letgo is to connect people who want to sell or buy products locally. It allows users to communicate with each other, you don't have to pay any fee this app is completely free.
What is the Letgo App Business working model?
This success of Letgo came with the business model it has and the flexibility to the user comes with the functional flow of the Letgo app. Here are a few major features of the Let go app in 4 simple bullet points.
Registration:
Simple sign-up to the app via Facebook or Email.
Selling:
On successful registration, you have to take a picture of the product you need to sell. One of the top interesting advanced features of Letgo app is, Let go application system has built-in artificial intelligence in Letgo App that can automatically recognize your product. Then you have to indicate the price of the product.
After your product is published you will receive messages from buyers. You can also see how many people watched your product.
Buying:
You can see all the items for sale by opening the app. There is a menu option in that you can filter the products according to your location or category. By clicking on the product picture, you get the details of the product and chat icon where you can contact the seller.
Payment Integration:
In Letgo app payment process is not protected, it doesn't handle payments, they happen outside the platform. That's why it is recommended to make payments in person.
Top 5 Advantages of Letgo similar app development
in comparison with other
online marketplace apps
:
– Super smooth User-friendly interface
– Advanced Geotagging and it provides the products according to your location.
– Stabilized Image recognition and Advanced Artificial Intelligence it makes buying and selling fast and easy
– It's completely free to use
– Wide Letgo market is active in overseas including Norway and Turkey
Letgo Application Development Technology Stack
:
The right technology consideration will drive real business success. Letgo app is the most trending application with super AI-powered technology compared to all other marketplace apps like Wallapop, OfferUp, eBay, Craigslist, Varagescale.
Let's look into the
technology stack of Letgo app
which made a Letgo application successful.
Letgo Apps Developed on both Android and iOS platforms.

Letgo integrated web technologies

like .Net, PHP, JS etc. to strengthen the updated look and smoother navigation to the user on the web.

Letgo App Push Notifications

are developed using Twilio and Push.io technologies.

Letgo Development

encoded with Nexmo and Twilio for the SMS, Voice, and Phone Verification system.

Letgo has advanced payment gateway

system powered with Braintree & PayPal, Stripe, and Ewallets.

Letgo database is robust and secured with the well-managed database environment

followed by MongoDB, HBase, Cassandra, Postgres.

Letgo chose a Mailchimp Integration for all reaching all the Letgo users on digital email medium.

The

Cloud Environment setup of Letogo

is though  AWS, Google, Azure

For all the Real-time Analytics as a key loop, Letgo used Hadoop, Spark, BigData, Apache Flink, Cisco, IBM

On other hand,

Letgo integrated technology stack

like Artificial Intelligence and third-party service to grab the details of each item capture / scanned over the app.
Let go similar Marketplace App Development Cost:
The estimated cost of marketplace application, In reality, the cost of buy-sell marketplace app depends on the functional specifications which are to be implemented in your the marketplace app. The sophisticated features of marketplace app solution consist of user management, posting timeline with a location, chats, payment, calls, shipment status and few more it may go beyond. Write your requirements to know the pricing for the development of Marketplace mobile app application today.
Conclusion:
To Businesses who think about How to Setup a buy and sell local marketplace business like LetGo, It is must contact the best marketplace app development company to make a big difference with small ideas to sustain in a market with little difference. Reach us for your next idea to plant a business tree by developing a global marketplace app for all the social and business services.