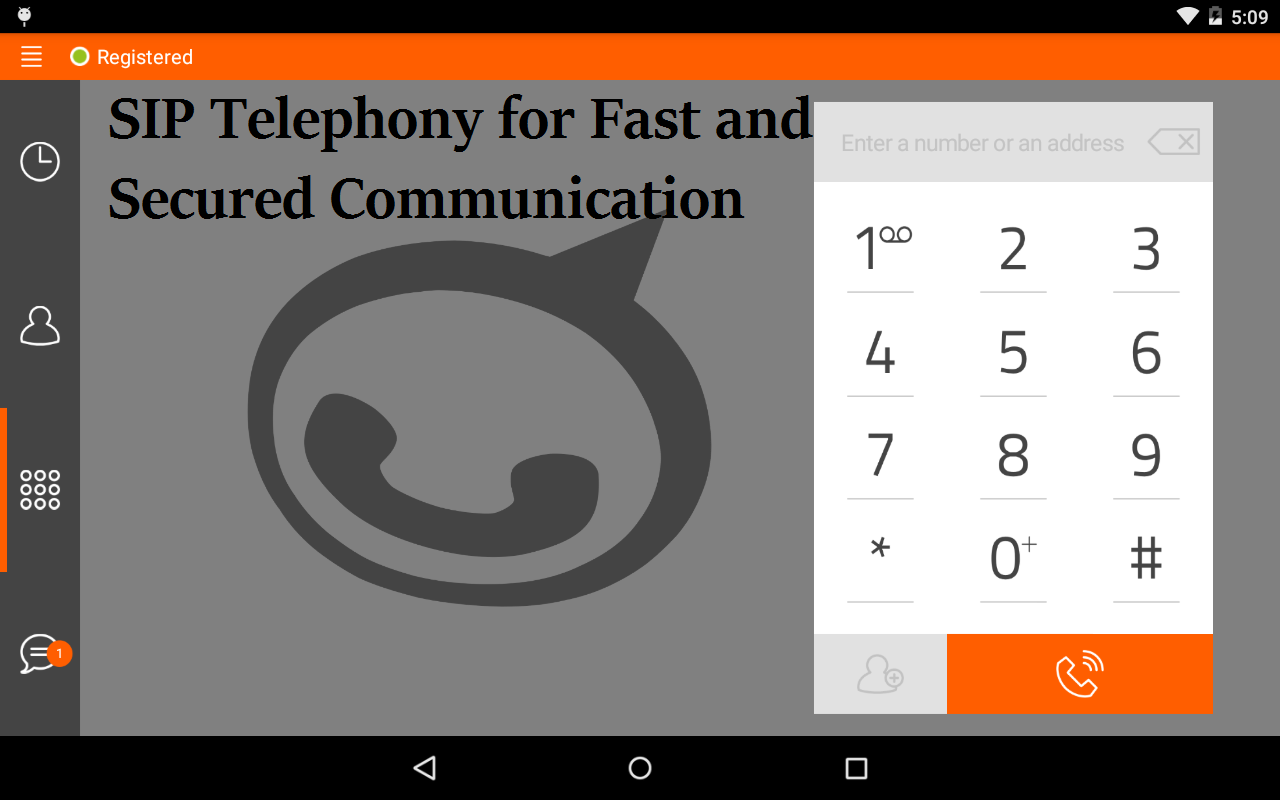 Linphone is a soft phone or internet phone used for making free calls using the internet. It  allows us to communicate freely with voice, video and text messaging over the internet.
For Linphone internet telephony, Linphone uses SIP protocol, which is an open standard.
Uses of Linphone –
Quick and Easy to Install
High definition audio and video calls.
Secure Communication
Linphone can easily be tuned or customized with plugins in order to be turned into any  softphone and optimized to run on any dedicated hardware.
Linphone is more user friendly that allow users to work from different places and receive calls.
Easy picture and file sharing.
Linphone are compliant with various SIP-compatible VoIP service providers that helps to reach all that has classic phone line.
Linphone is available on the main mobile and desktop operating systems and offers various specific features for advanced users (codecs, transport standard, encryption options, DTMF…).
Why Linphone over other alternatives
Other alternatives like Skype are also available but one needs safe and secure app to protect from information leak.
Linphone is the encrypted VoIP app that has wide availability on various platforms like iOS, Android and Windows. Provides a neat interface that doesn't get in the way and proper security.
It can also handle, multiple calls through pause, resume and transfer functionalities and also can merge multiple calls into a conference call. The Linphone app interface can adapt depending on the device either smartphone or tablet.
Linphone app is the best all-in-one solution
SIP and VoIP
SIP (Session Initiated Protocol) and VoIP (Voice over Internet Protocol) both are communication protocols but the scope of using them is different. SIP is used to send multimedia messages to number of devices. This helps in communication over internet using computers and mobile devices.
Similar to PBX trunks, SIP trunks can carry all types of media that include, voice, text data and video. For SIP, maximum processing load is taken by individual systems, user agents. It helps in reducing load on centralized service. Therefore SIP is preferred by companies whose various branches are there or those who have employees working remotely. As setting up and managing the SIP system is more difficult, it is most suitable for companies with strong IT support.
On the other hand, VoIP is used to send only voice messages over the internet. It translates voice communications through online networks. This protocol is commonly used with apps Google Talk, Skype and other smartphone apps. VoIP is a cost-effective alternative as compared to cellular calling and traditional landline calling. Thus, VoIP is ideal protocol for small businesses that have fewer locations and depends primarily on voice interactions.

Major differences between SIP and VoIP
The primary difference is, VoIP is meant for voice calls over internet, whereas SIP is an application layer, which is used to modify, establish and terminate multimedia sessions like VoIP calls.
Another key difference is that VoIP is not a distinct single technology on its own. It consists of various technologies that is used within modern telecommunication networks. However, SIP is a discrete signalling protocol that is used within VoIP umbrella.
Coming to devices, SIP handsets and VoIP handsets are different,  but SIP handset is a VoIP handset too. VoIP phones needs to be connected to computer to make and receive call. On the other hand, SIP phones can perform on its own, what they need is only a modem. Thus it can work without computer unlike VoIP phone.
One of the best feature of SIP over VoIP is that it can interact intelligently with other protocols i.e. it adapts its signalling protocol to match with that of client system.
VoIP Server
VoIP server, the latest type – PBX, is a telephone system (hardware) or software that acts as regular server that connects clients and manages client connections.
VoIP Clients
A VoIP client is a software application, also called as softphone, which is installed on user's computer and enables VoIP calls.
VoIP Gateway
VoIP gateway is a gateway device that converts telephony traffic into internet protocol (IP), which receives and transmits voice communications (VoIP). It enables conversion among conventional telephony connection and modern VoIP connection through SIP. The conversion can happen as SIP to TDM, TDM to SIP and also from SIP to SIP.

SIP trunking
SIP Trunk is a direct connection between an ITSP (internet telephony service provider) and the organisation. It allows the organisation to extend VoIP telephony beyond the own firewall without an IP-PSTN gateway. SIP Trunking is streaming media service based on SIP, through which ITSP delivers unified communications to customers having SIP-based private branch exchange (IP-PBX).
In addition, SIP trunks also carries instant messages, enhanced emergency calls, multimedia conferences and other SIP based services. SIP trunking is a hot topic in unified communications as it leads to substantial cost savings.
 Different SIP Servers
SIP server is a service that is implemented using SIP, which may be a software program or a physical device (like computer). A single hardware device can be used as host for different SIP server services. So, lets check out various types of SIP server.
 Proxy Server
SIP Proxy server is an intermediate router for SIP requests, which is located in the path between two end points. It is used by a SIP network for call processing, managing call set ups between SIP devices and controlling call routing. It is also responsible for network access control, authorization and manages the network security at some instances.
When a SIP proxy server receives a SIP request, it analyses and performs the actions like passing on unmodified, changing in some way and forwarding it, re-routing it to alternative destination or rejecting it. One of the core function of this server is to "ensure that SIP INVITE request is being routed to proper destination." Other destinations for this server could be a SIP phone (user agent), a PSTN gateway, another Proxy server or a media server.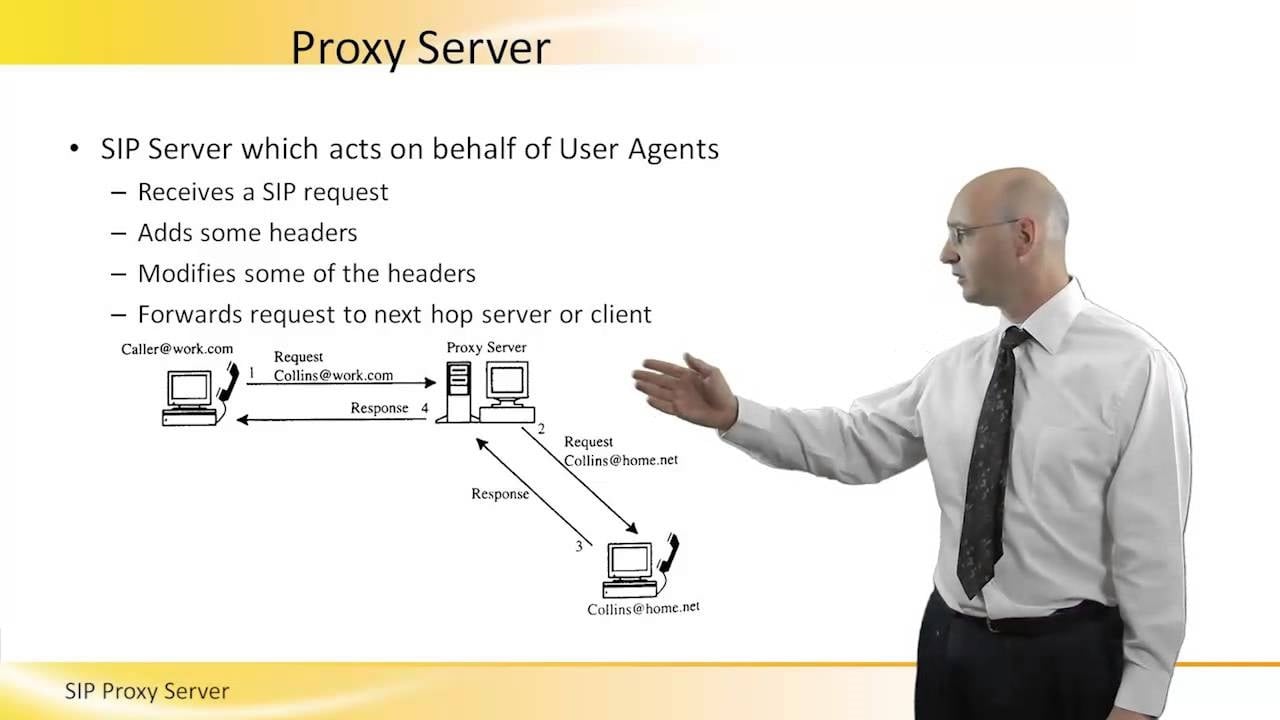 The Redirect server
A redirect server is a specialised kind of Proxy server that redirects the request back to the client. It responds to SIP INVITE requests by giving back a 3xx response. This implies that the client needs to try another route to reach the recipient. This occurs when recipient has moved from original position either permanently or temporarily.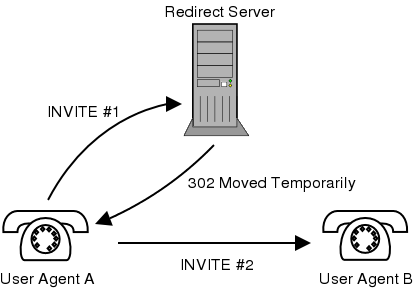 Registrar Server
Registrar server accepts and handles SIP REGISTER requests. It is generally combined with the function of location server. Location server is just a database that has information about current location of SIP User Agent. A SIP phone can register itself with more than one Registrar servers as soon as it is switched on. This registration always needs an authentication like User ID and password. Generally, the user ID for many SIP devices is same as phone number.
Gateway server (PSTN Gateway server)
Gateway server helps in interconnection of SIP network with other networks that uses different technologies and protocols. For example, if you want to give call from VoIP phone to phone on conventional telephone network, then your call has to be routed through PSTN (Public Switched Telephone Network) gateway server.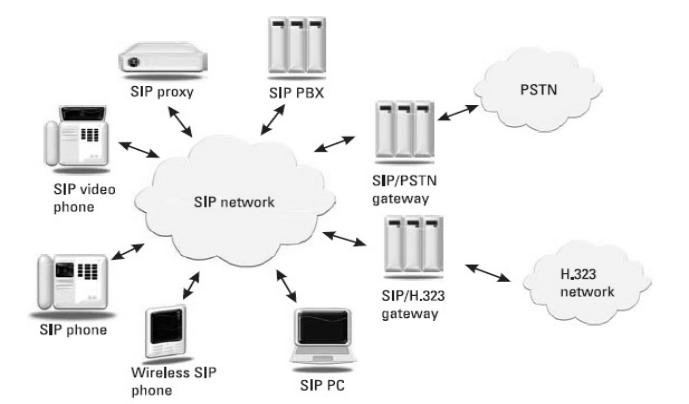 B2BUA server (Back to Back User Agent)
This server works as Back to Back User Agent and helps in hiding the topology of the network. It helps to support buggy clients those who are not able to route SIP requests correctly depending on record routing. PBX systems like Asterisk, Yate, FreeSwitch, work as B2BUAs. Technically, it acts as an end point for an incoming call. But it uses dial plan and determines where to forward the call. After this it initiates a new call to required destination and links the audio paths together. This enables both the parties to connect and talk. It is different from Gateway server because Gateway allows linking of VoIP call to conventional PSTN call and B2BUA allows linking of two VoIP calls together.
Codecs
Once the audio signal is received, it has to be compressed and reduced so that the consumption of required bandwidth to transmit the speech to receiving party, is reduced. Such compression and decompression is to be handled by special algorithms that are called as codecs (COder-DECoder).
Generally the low-bandwidth codecs are quite efficient. Some of the popular VoIP codecs are G.711, G.729, G.723.1, GSM 06.10, Speex, iLBC.
Are you looking for VoIP app development? We provide all Linphone app development solutions for your business process. Reach us today for SIP telephony solutions.