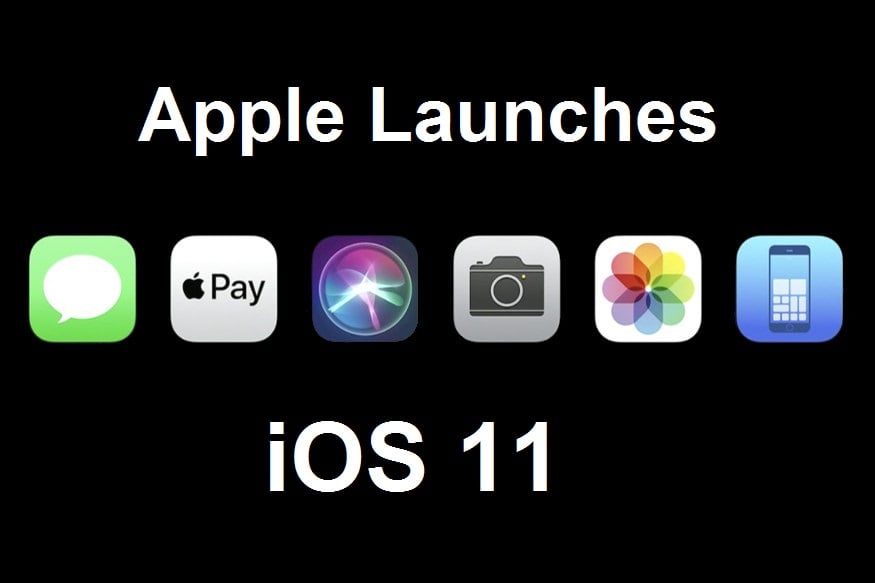 At WWDC 2017, Apple announced a major update regarding the iOS version. iOS 11 was introduced at Apple's annual conference but the release date of iOS 11 is not announced and it is expected to be out in the autumn, most probably in September. But you can try iOS 11 earlier by signing up with Apple's special programme and iOS developers can start making apps for the new iOS 11.
If anyone wants to download the new software, you have to sign up to Apple's public beta for software. Then you will receive an invite to take part and you will be able to download the software. Do not fall prey to online guides, which claim to have provision to download iOS 11. This kind of download is very risky and you will be compromising on your personal data as well as the health of your phone.
iOS 11 will be bringing many exciting and powerful features to the iPhone and iPad. This is the biggest update for iOS software for iPad. With iOS 11 Augmented Reality (AR) will be coming to hundreds of millions of iOS devices. It will also bring a platform for developers to develop iPhone and iOS apps that allow users to treat virtual content to the top of real-world scenes. Core ML also gives an opportunity to developers to adapt on-device machine learning abilities. Let us find out what is there in the box for Apple product lovers and developers. Along with this iOS will bring hundreds of new features and updates for iPhone and iPad users.
AR Experiences for iPhone and iPad
iOS 11 will be delivering the biggest AR platform in the world and which can be used by developers to start developing amazing AR experiences using ARKit. AR experiences to the iPhone and iPad will be brought by using built-in camera, motion sensors in iOS devices and powerful processors. These features will help in experiencing immersive shopping, interactive gaming, industrial design, etc.
Siri with iOS 11 – More useful and more powerful
Siri is used by 375 million devices in every month across 36 different countries. The new updates for Siri bring better voice, better clarity in voice and better inflections. New male and female voices will be available which will be having an adjustment with intonation, emphasis, pitch and speaking tempo. Siri will now be able to do translations from English words and phrases to French, Italian, Mandarin, Spanish or German. Siri in iOS 11 is not only about improvement in voice but also delivers personal experiences and gives suggestions depending on user's personal usage of Messages, Mail, News, Safari, etc.
Easy pay using Apple Pay
Sending money to other Apple Pay users is easier now. It is built-in with iMessage and users can send money and get paid within the Messages. The user can also tell Siri to pay to someone through credit and debit cards which are already present in the wallet. Every time user gets paid, they will receive the amount in the new Apple Pay Cash account. Apple Pay cash can be used to send money, to buy things in stores which are using Apple Pay, purchasing in mobile apps and the web and to transfer money from Apple Pay Cash to user's bank account.
New design of App Store
Apple has given a makeover to App Store, which will make it look and feel like news or music app. It is split into new key tabs: Today, Apps, Games and Updates. Under the category Today, all the different types of content will get updated every day. Featured apps from previous days will be visible if you scroll down.
Do Not Disturb While Driving
iOS 11 will help drivers stay more focused on the road with Do Not Disturb feature while driving. Devices with iOS 11 can detect when you are driving and automatically silences notifications and keeps the screen dark. When this functionality is in use, drivers can send notifications to all their favorite contacts with an auto-reply, which let these contacts know that you are driving and cannot respond until you reach your destination.
Professional Camera and Photos
iOS 11 allows you to capture Portrait Mode images. These can be taken with True Tone flash and HDR and optical image stabilization. This makes your photo look more professional. Live photos will have new Loop and Bounce effects that will create continuous video loops whereas Long Exposure can capture movement and time.
In Apple Photos, Memory movies can be played in both landscape and portrait mode. iOS 11 has also come up with High-Efficiency Image File Format (HEIF) that reduces the file size of all photos taken using iPhone 7 and iPhone 7 Plus.
Powerful updates for iPad
Now multitasking on iPad is easier and faster with new customizable Dock that will provide quick access to frequently used docs, apps. App switcher is redesigned this time to help users move between two active iPad apps easily. It can be used in Split View and also Slide Over. The all new Files app will help in keeping everything in place across locally stored files, files in iCloud Drive and files stored with providers like Dropbox, Box, etc. Drag and drop functionality is available across the system. iPad will get more deeply integrated Apple Pencil with additional support for inline drawing and a new Instant Notes feature.
iOS 11 for developers
As mentioned previously, Apple is bringing a powerful AR platform to app developers to access and use additional and powerful tools to bring new experiences to iPhone and iPad users. Core ML allows the developer to create smarter apps with machine learning. This machine learning framework allows processing to happen on-device locally and maintains user privacy.
SiriKit will help developers to integrate Siri into their apps in the extended number of categories like notes, to-do lists, reminders, banking and apps with QR codes. HomeKit this time has brought easier ways to get started and develop. MusicKit helps developers to integrate features of Apple Music into their apps, which will help in giving access to over 40 million songs, featured content, recommendations, etc.
The developer preview of iOS 11 is accessible only to members of iOS Developer Program and public beta program (which will be available later this month). In the coming fall, iOS 11 will be available as a free software update for iPhone 5S and later, all iPad Air and iPad Pro models, iPad 5th generation, iPad mini 2 and later and iPod touch 6th generation.
Krify is one of the leading company based in India and UK, with 12+ years of experience in the domain of iPhone and iPad app development. Our skilled and experienced team of iPhone and iPad app developers have crafted many beautiful apps with smart functionalities. Contact us today with your idea of app development and we will bring it into the reality.