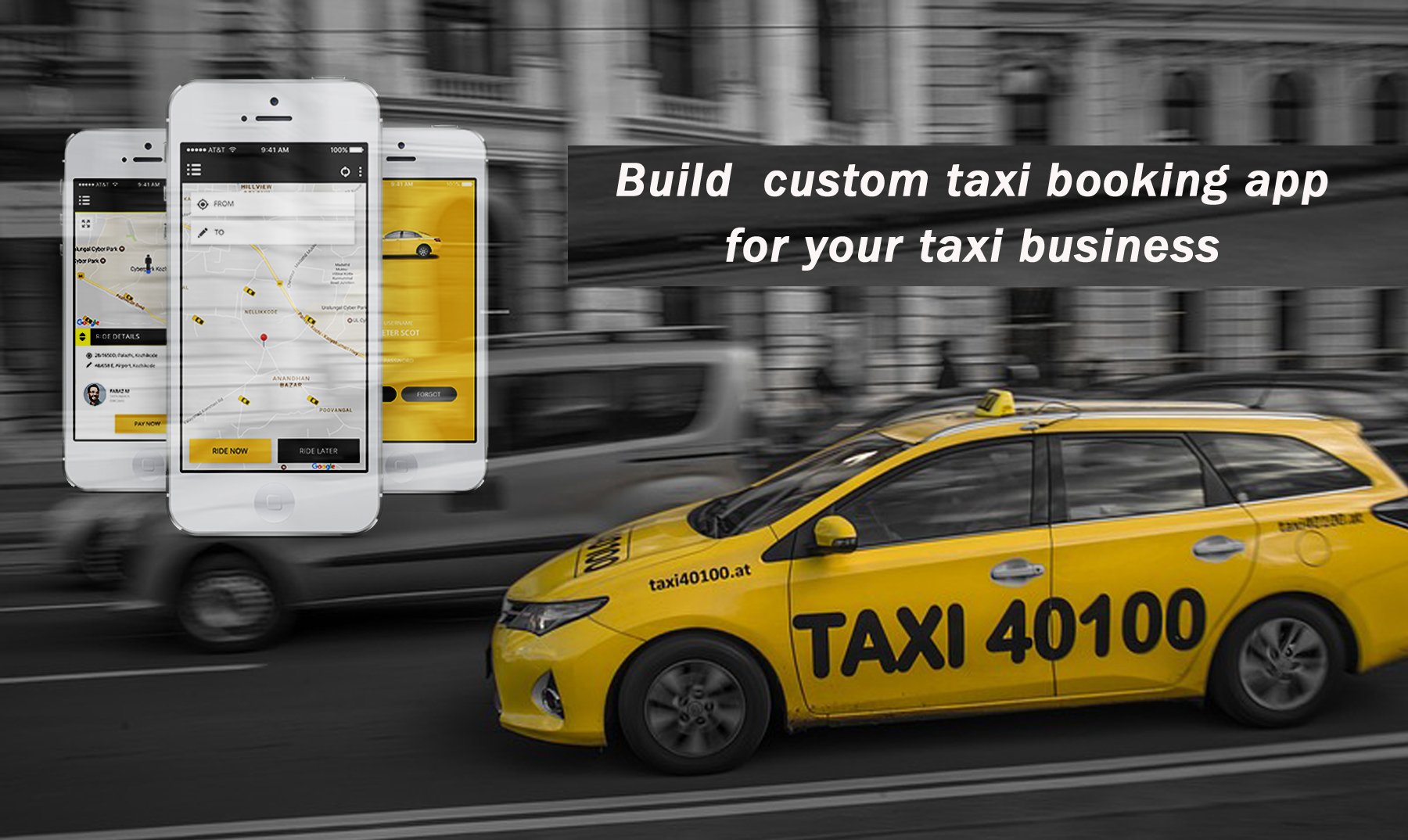 The on-demand services and on-demand apps for businesses are growing so fast that people use word 'uberification' of all services while conversing. Uberification of services got so popular with the cab/taxi booking app used by Uber and more than 8 million Uber users across 70 countries.
If you are looking for a solution to improve your taxi service business, having a taxi booking or cab booking mobile app is the most convenient option. Uber, Lyft, Ola and other top notch cab booking apps and their popularity explain the vigour and sincerity among the users of these apps. Developing Uber-like clone apps and integrating it to your taxi business have its own set of benefits. Having a taxi booking app for your taxi services customized with your own branding and popular and locally and widely accepted features, can grow your customer base and hence the business.
How Taxi/Cab Booking App helps in improving taxi service business
If you are running a cab service business at the local or global level, having a cab booking app for cab service business is definitely going to uplift your business, if you plan your taxi booking app development strategically. The idea behind developing the taxi booking app is to automate the taxi booking business and develop it by drawing more number of passengers. Let us check some advantages of getting a taxi booking app developed.
Booking app brings automation and operational efficiency to your taxi fleet business. This will help you manage your business with least manual efforts.
Custom taxi booking app, connect with a professional taxi app development company for best and successful taxi app creation. Get complete support. Hire taxi app development services.
Build your own taxi booking app with your branding with us. We will help you with the development of advanced taxi booking app.
The features of the apps can be chosen and customized with respect to its demand and acceptability among local users.
The app can provide the best customer experience with different chosen interfaces for passenger apps and driver apps.
Your app stays on the customer mobile and customer can book your service as and when required without hunting for more service providers.
Introducing a larger database with the app that would support more number of people from the local front.
Taxi apps can be customized as per requirement and can be developed in a cost-effective manner.
Considering the increasing demand of taxi mobile app development trend, we decided to elaborate on all the details related to improving the cab service using the technology. Some of our potential clients came up with the requirement of Uber clone app and some other customers came up with the requirement of customized cab booking app development to automate and develop their cab service for their local targeted region.
In both sets of requirements, we have a professional team of taxi booking app developers to craft the booking app as per the client's business needs. Here we are sharing some generic information, that would help to answer the trivial questions of taxi business or cab business owners regarding the development of taxi app development. Taxi booking app or say any on-demand booking app is not a single mobile app but includes a set of 3 different software or app products. These include one passenger app, one driver app, and one admin dashboard.
Features of Passenger App:
Register/Login: User can register on the app by adding information manually. But having social media integration or email option helps users to register and login instantly.
Booking interface: Using this interface user provides their travel details to book the cab instantly for instant travel or to book the taxi for traveling later.
Fare Calculator: It allows the customer to calculate fare for his required travel.
Payment options: User will get a payment quote for booking a ride and choose the options available to pay within the app. For example, customers can pay by linking their credit cards to the secure one-click checkout.
Rating and Reviews: Customer can leave the feedback on their ride experience and driver.
Push Notifications: Users can be updated on the status of booking and other information like car info, estimated time of arrival, etc.
Ride History: It displays the information regarding previous rides and also allows users to book the same ride in a single click.
Some of the essential features of the Driver App:
Some features of Driver app may have duplication with those of passenger's app such as register, login, push notifications, support, etc. Other additional features include:
Driver profile: driver profile is created after driver registers with full-proof verification of their license, tax number.
Alert for the order for the ride: Driver gets the alert through push notification regarding new booking, payment, ride route details, etc. A driver can also accept or cancel the orders depending upon his/her availability.
Navigation: this would help to get the best route to reach the passenger and to the destination desired by the passenger.
Reports: With reports, the driver can analyze trip/ride stats, payroll, earnings, etc.
Admin Dashboard/Admin Panel:
The admin dashboard is a web-based software application that helps manage activities of passengers and drivers. It also stores database. The dashboard gives a general overview of all processes and it provides details like trips, drivers, financial transactions, etc. When linked with Google Analytics, it allows you to monitor marketing activity. The admin panel helps you view all in-app activities and it should offer a quick review of all processes. It also gives suggestions for best navigation for drivers and collects and builds the database of your clients to further enhance the experience.
How to build a great and qualified mobile taxi booking app?
Having an experience of more than 12 years in the domain of mobile app development, we would highly recommend choosing native mobile app development for your car service business. This means to go for a custom mobile app development. We are listing some of the essential functionalities required for an on-demand taxi app.
Location Tracking
This is one of the most important and basic functionality, due to which Uber finds its nearest available driver within seconds. Once a cab has been ordered, the app should display the estimated time of arrival of the driver. You can also track the rider's location while app running in the background if passenger permits to share their personal location data.
Integrated Maps
Maps are integrated within the taxi apps for drivers and passengers to easily navigate through the map. Drivers use the navigation experience to reach from point A to point B. Uber app uses many services among which, the main source of location data is Google Maps. They also have their mapping assets like Bing mapping and deCarta.
But if you are not operating on global level yet, you may need only simple location data sources. For iPhone taxi app development, you can use MapKit framework provided by Apple. For Android taxi app development, you can use Google Maps. Maps have a representation of user's surroundings. User's location coordinates can be sent to server, where they are translated into a readable address. This process is reverse geocoding.
Fare Calculation
Cab booking apps do not operate on physically mounted meters to calculate the fare. It is an integrated functionality within the app, which calculates the fare of the ride as per the command. For example, Uber app calculates the fare of the ride based on following:
Base fare
Cost per minute/Cost per mile
Booking fee (optional)
The cost per mile is calculated as per the distance covered during the passenger ride, using the GPS and your price list.
Rating System
To build the customer base, credibility among clients is important for all business. The reliability and credibility need to be built for drivers as well as passengers. This can be done by providing more and reliable information and by having a rating system within the app. This way both drivers and passengers will know who they are riding with. Rating provides the sense of security and control to both riders and drivers.
Payment Integration
There is an easy option available for the payment rather than paying with cash. For a cashless transaction, payment gateway integration is an easy option. Once customer's credit card is linked to the app, the customer can pay using a single click. But for customers not having credit cards, keeping 'pay with cash' option too, is a good idea. Online mobile payments can be managed using payment gateway integration. iOS provides APIs for native payments in taxi booking app. There are APIs available for Android taxi booking apps which can be used for easy and secure in-app payment process.
UX/UI of the cab booking app
Mobile app for the cab service should be simple, effective and intuitive. It should incorporate smooth functioning and easy understanding of data. The designs should be simple and should provide an easy navigation system with clarity. Having fancy designs but with no usability will not be able to retain customers as well as drivers. So go for a simple but intuitive UX/UI that will bring the better and engaging look and feel to your mobile app.
How much a taxi booking app development costs?
The cost of developing taxi app completely depends on a number of features to be built, a number of functionalities to be integrated. The cost can be estimated only after defining a proper scope of work app specifications, which is done at an early stage of app development. We as a professional app development company in Bangalore (India) and London (UK), maintain the transparency and provide most accurate estimations based on the client's requirements. Broadly, the final cost of the cab booking app development depends on the following criteria:
The platform you choose for app development (iOS, Android, Windows, Web); features required to validate your ideas as Minimum Viable Product (MVP); and other functionalities that you want your app to do. The range of cost for taxi booking app development increases from a simple booking app to a more sophisticated Uber-clone booking app.
Taxi Booking app development company India: Team of taxi booking app developers in India
Krify is a professional mobile app and web design and development company based in Bangalore (India) and London (UK). Our experienced team of taxi booking app developers will help you in building your own taxi booking app. Whether you need a simple cab booking app or an Uber-like clone app, we are here to assist you in design, development and making your app live. Contact us today for a free quote for taxi app development!