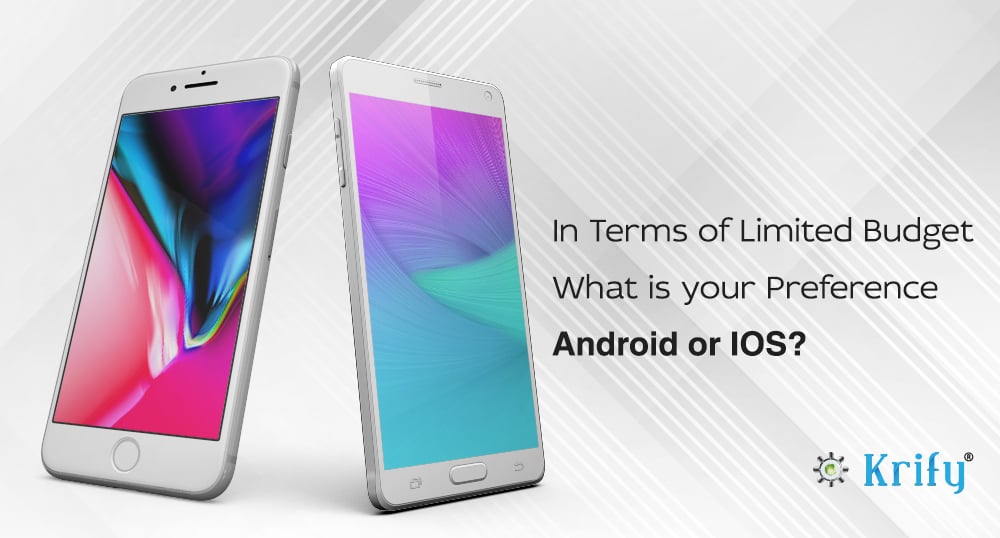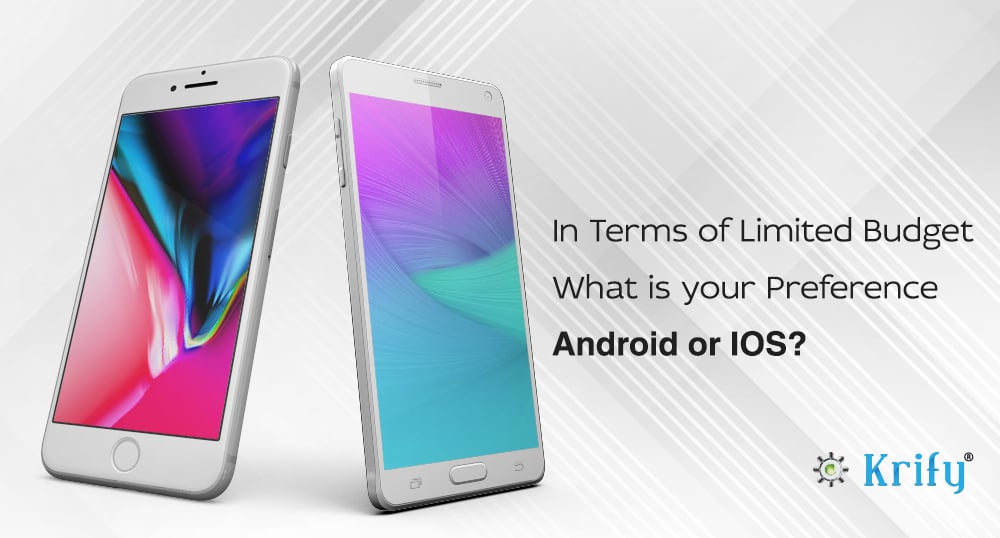 On the face of the technological world, the android is holding 88 percent of share in the market. It might be a better choice, but can you ignore the high monetization prospects that iOS offers. Simple solutions can develop for both platforms, but not every company has a budget for it. iOS vs Android in 2019 – Which One Should You Choose? and which platform should prefer for your mobile app development?
It's a standard query that many of our clients pose when they approach for the requirement. The fact is that both of the platforms has its pros and cons. if conscious made from these, it makes it easier to decide which one to choose to your requirement.
Developing an app in both platforms can be highly demanded when one should specially hire an iOS developer and Android developer.
In this blog, we give you a clear idea about Android vs iOS: which mobile OS is right for you?
Android/iOS which platform is best for App Development
It depends on different factors lets see in detail one by one.
Audience
There is a difference in using the platform android or iOS users. Android has a huge global share in the market. Apple dominates the app store for user spending. Consider the target audience based on geographic and demographic when decided to choose. If you are looking for global audience android may be the best. If you are targeting North America and western Europe Australia and NewZealand, then Apple i.e, iOS may be a good choice.
Revenue
Every app development generates a particular revenue. But depending on too much on what to choose it doesn't solve the solution. Though Android has a vast market, it is not notable as a single revenue generator and also it not as manageable as it looks. The reason for the high revenue made by iOS is the higher price made at publishing an app at the app store, Whereas Android is mostly earning its profit from ads displayed within the apps.
Development period and price
The app developer is involved with time and how much does it take to place it in the play store. The period for developing both Android and an iOS app is the same. The significant difference is visible during the testing phase. Android has to clear more errors to fix in app development rather than iOS app development. So, it takes more testing period than iOS app development. And the cost of development of the Android app is more than iOS app development. The longer it, the higher the price it takes. An app that is fit with the different platforms and devices is a challenging task.
1. Complexity in Development
When compared with Android, iOS is less complicated. It is because Apple has a few numbers of devices like iPhone, iPod, and iPad. The main issue with Android is fragmentation. There are many types of devices tablets, smartphones and besides this, there is a difference in operating systems, screen sizes, and aspects ratio.
2. Complexity in Development Time
Time is the complexity of android app development. It consumes more time than iOS app development. On average Andriod pp development is 40% slower than iOS app development.
Programming languages
Both platforms need different skills in terms of programming. iOS require Swift or Objective C for native development, whereas Android uses Kotlin and java. for companies looking for both acquires additional cost towards hiring an iOS developer and hire an android developer.
Publishing
iOS is quicker to design. Apple has a strict approval and lengthy process. Android is easy to upload on Google play. Modifications and updates to app store take long on iOS as it goes through a rigorous and long approval process. But for android once approved the app is available within a few hours and can perform an update and beta testing the quickly and easily.
Which is less in cost
It depends on various factors including resources, hardware and time. iOS takes less time to develop they need significant expense in the device as testing and development can only perform on iPhone, iPad, and Mac which are more pricey than regular PC.
Market Share
Android has doubled the mobile app share in the market compared to the percentage of iOS. The ratio of usage specifies the number of Android users is double the iOS. Based on end users and downloading rate android hit iOS.
Pros and Cons of Android and iOS app development
1.App Ecosystem
There are a considerable number of android mobiles in the market. Android offers users more choice in terms of devices. Whereas Apple has distinct benefits for tablet apps and also usually available for both platforms.
2. Social Media Integration
Posting updates and sharing on networks is not easy on android whereas it easy to post and share on iOS.
3. Data Security
Data security and privacy is an issue on android. The user's data is not secured. iOS is the most secure platform and protects user privacy.
4. Customization
Android works on Open source. So, you can get millions of free apps on Andriod. It is easy to customize. The high the number of apps increases the choice of users resulting in top draws of android. It is difficult for customization for iOS.
5. Malware
Android apps allow third-party apps which cause harm to data and increase the malware. The app in iOS decreases the chances of malware.
There is a struggle to select what platform should develop and go for. They are many aspects to consider when choosing but from a business perspective, the android is more revenue than iOS. When the company has a long journey in business, they can go for both the platforms.
Krify is both iOS and Android development company UK, and you can even hire a android / Hire a iOS developer and also get a consultation on what to choose i.e. Android or iOS. Contact us.