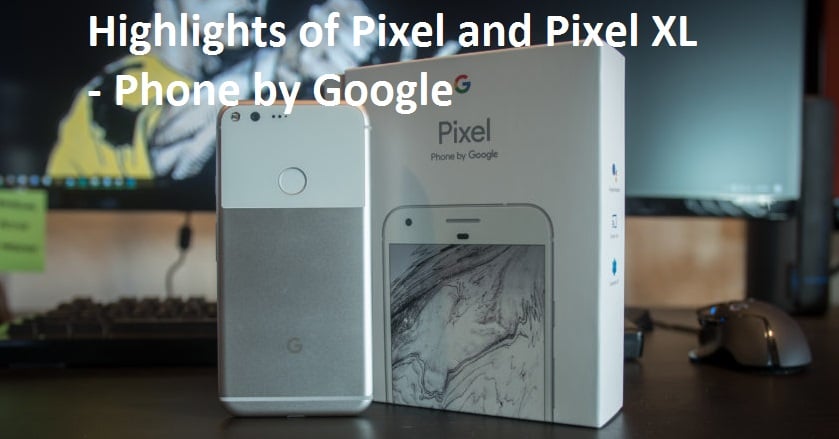 Google phones will now be available as 'Google Pixel' and its time to say bye to Google Nexus. Google has launched two new phones Pixel and Pixel XL which is giving a tough competition to popular Apple phones – iPhone 7 and iPhone 7 Plus.
It is a first phone built by Google inside out i.e. its software and hardware both are built by Google.
Review of Pixel and Pixel XL
Google's high-end Android device, as revealed by Google, has been optimized for speedy performance with real-world apps that consumers actually use. Two amazing features that are being talked about most are its camera and its virtual assistant.
Specifications
Screen: 5in 1080p AMOLED (441ppi)
Processor: quad-core Qualcomm Snapdragon 821
RAM: 4GB of RAM
Storage: 32 or 128GB
Operating system: Android 7.1 Nougat
Camera: 12.3MP rear camera, 8MP front-facing camera
Connectivity: LTE, Wi-Fi, NFC, Bluetooth 4.2, USB-C and GPS
Dimensions: 143.8 x 69.5 x 7.3-8.6 mm
Weight: 143g
Let's check out the highlights of Pixel features.
Pixel Camera
Pixel's camera is 'highest rated smartphone camera'.
The Pixel camera captures the images as fast as you launch it and does so continuously and eliminates any shutter lag. The Launch of the camera is always fast whether it has been kept idle for long or whatever is the light level, the camera is launched with lightning speed with a quick double tap of the power button. Smartburst feature (holding down the shutter button will capture numerous photos with rapid-fire) allows to capture and select the best of shots from multiple shots. Smartburst can even select the best shot for you.
Another powerhouse feature regarding camera and photos is unlimited cloud storage as Google photos and at full resolution.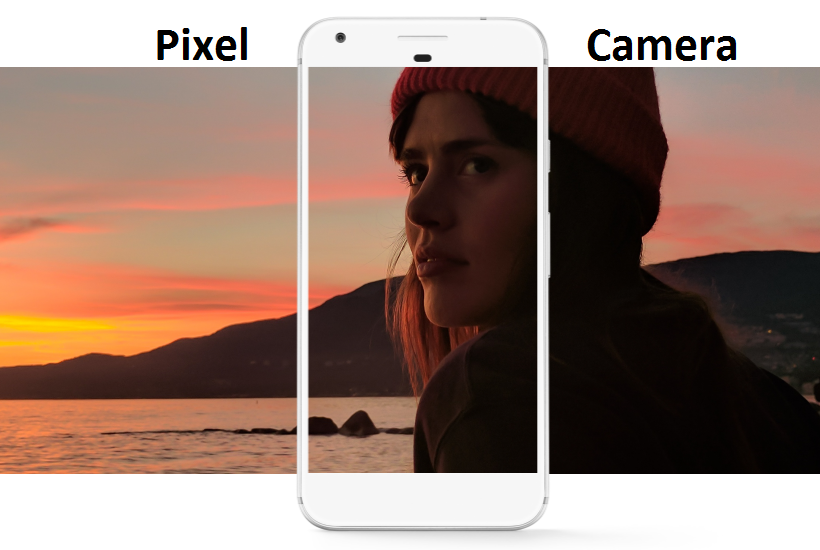 Pixel OS – Best Android Experience
As per experts' opinion, OS of Pixel – Nougat 7.1 – is the best software experience of Android. Fast, smooth, without bloatware, and software updates will be available from Google directly. Google has revealed that they will be following quarterly update cycle for Android so Pixel will get updates and enhancements four times in a year now.
Google Assistant with Pixels will be launched even without touching the phone. Even if the phone is off, the assistant will come to life when you say 'OK Google'. And if saying 'OK Google' all the time is weird for you, then the assistant can be launched by long-pressing the home button.
Google Assistant of Pixel
Google has developed an intelligent and fully-fledged AI assistant and have morphed with Pixel and certainly looks compelling. Let's have a look how is this smart Google Assistant works.

With Pixel and Nougat version 7.1, Google has refined the personalized AI (Artificial Intelligence) experience. Like launching the assistant merely by saying 'OK Google' and also by holding down the home button on the screen. Assistant can help with various range of services with simple commands like, 'Wake me up at 5 am', 'Who is winner of Game Challenge Show?' etc. It can also access your calendar, Gmail, etc. and serve your personalized queries like 'what time is my flight?'
All day through battery life
The battery life of pixel is impressive. The pixel and pixel XL has fast charging feature due to USB-C's power delivery specification. To full charge the phone from completely nil battery it took 1 hour and 45 minutes. The charging is happening as 25% of capacity in 15 minutes, 40% in 25 minutes and 65% in 50 minutes.
Pixel works everywhere
The Pixel and Pixel XL both works on all major carriers in US such as Verizon, AT&T, Sprint and T-Mobile and on every MVNO as well. Pixels are designed clearly to provide complete support on Verizon. The add-on features of Pixel for T-Mobile and Verizon users are VoLTE (Voice over LTE), visual voicemail and HD voice. So the Pixel just works anywhere no matter whoever the carrier is. This gives a possibility that Pixel will be called as world phone as it will be able to travel well around the phone and user will be able to use phones as soon as they are out of their plane.
Consistent High-speed performance
Expert says Pixel is the most consistently fast phone among all Android phones. Can't say after the long term usage but the day-to-day consistency of speed is really impressive. Switching between tasks and apps is really smooth and fast.
Even if the Pixel is aesthetically neutral, it has robust specs, killer camera, super-responsive touch and screen, which makes Pixel and Pixel XL really competitive to iPhone 7.
Pixel Launcher
Nexus Launcher is now Pixel Launcher and available in the Play Store. The APK is available for download. The Pixel Launcher is technically exclusive to Pixel Phones. Through Pixel Launcher Google can push updates easily. It is not available for other Android phones, but it would be easy for Google to flip a switch and make Pixel Launcher available for all phones.
Do you have an app idea that you want to get developed for Android platform that would enhance the Pixel experience? We have an experienced and creative team of designers and Android App developers who can bring your app idea to life.