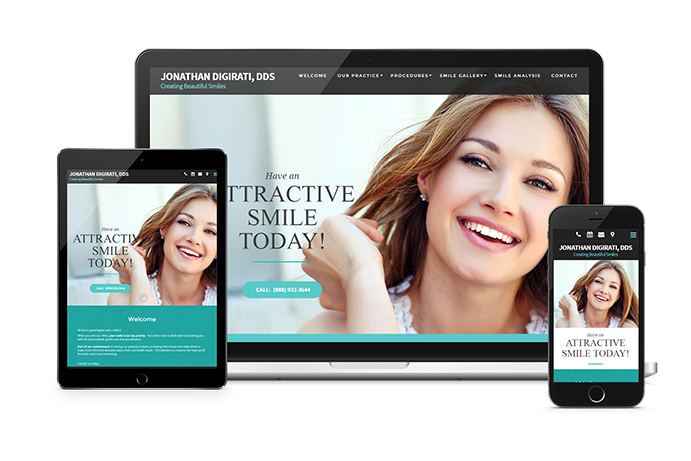 Dentists need to have effective strategies to attract new patients. With the growing competition in dental industries, it is becoming tougher for dentists to attract new dental patients. Internet marketing and online branding is on high as it is helping grow businesses from all domains. Marketing your dental services will require applying one or more of the following internet marketing tactics.
Websites for Dental Practices
Dental clinic and practices don't need just website, they need a dental website for their dental clinic. This website should be informative for patients visiting the site, but at the same time, it should be able to work 24/7 for you and capture new leads/patients. Leads should be captured by engaging visitors of your site to book their online appointments, by showing some educational dental video or by asking some questions for their smile or dental health analysis. These are some of the examples on how to engage new patients and convert them into leads so that it will bring new business to you. The website also plays an important role in serving old patients. Collecting feedback or allowing them to interact is the key to retain the patients and provide a better experience.
A dental website should have captivating designs to attract new patients along with persuasive dental marketing content. The website should have the professional content that educates and convinces patients that this is the right doctor to see for their dental health concerns. The website should be a converting website. How about getting 30 new patients per month rather than 10 new patients per month? Having a conversion goal of 3% is achievable. Having a professional and converting website is a good ROI.
Mobile apps for Dentists
Having a mobile app for your dental practice is providing a superior patient care experience. Today people use mobiles as the primary mode of communication, interaction, completing daily tasks and searching relevant things. Mobile app for your dental practice will provide all required data and information to your patients in easy to use format. Both new and existing patients can use your app and keep it on their phones. This way your dental practice will always be their first choice. Mobile app development for dentists will portray a professional and high-end image of your dental clinic.
Regular SEO for Dental Websites
Having a live website for your dental clinic is a good thing but showcasing it well on common platform so that more and more people will be able to explore the information regarding your dental practice. Good SEO practices help Google and other search engines to read and crawl your website well and improves the page ranking and visibility of the website in relevant search results. For this reason you cannot afford to ignore the SEO of the website. SEO includes different strategies like local, regular and international SEO. Following is an example of regular and local SEO and Adwords (paid advertising).
Social media marketing
Social media marketing is a hot cake in the field of media, marketing, and advertising. Businesses are utilising the social media platform to its best and leveraging the advantage of free advertising. Social media marketing for dental practice, or any business for that matter, is not just scheduling and posting stuff on social media channels. Content to be posted on social media need to be planned cautiously that should have proper keywords to cater and involve target audience. Unique content with attractive images, relevant links, and call to action always work better. Maintaining an active social media account is also an important part of social media marketing. Having an updated social media account for a dental clinic with correct profile information and relevant images and adding regular posts helps to get the maximum exposure.
A single strategy for promoting dental clinic on all social media platforms may not work necessarily. You have to carefully understand how Facebook, Twitter, Instagram, Google+, LinkedIn and other social media platforms work and strategize the social media marketing plan carefully. Google authorship is going to be a big thing in near future and ranking on Google+ for local results is of huge importance.
Local SEO for your Dental Clinic
As the competition among the local businesses is growing continuously, local SEO has become of extreme importance to grab new customers for whom World Wide Web is the preferred place for finding or buying anything of any category.
Google has always shown the favoritism towards newer, smaller and agile local businesses. As Google displays local results higher on mobile browsers. Because when someone searches for dental practice on their smartphone, the result will display dental clinic with the regular listing. Hence local SEO for dental clinics and dentists is of great importance.
Krify has a team of experienced professionals who have gained the expertise in development and marketing of dental websites. We are associated with various dental clinics and helping them grow through digital platform since last 10 years. Contact us today to take your dental practice to next level.
Following are some of the websites and applications we have developed and used for branding and improving the business of our clients owning dental clinic and practices.
An interactive website for London (UK) based Dental Clinic.
An innovative app for patients looking for Invisible braces solution, Invisalign.
An intuitive website for a dental clinic based in Annapolis (USA).
A patient feedback app for a dental practice in London (UK).
We have some ready templates for dental clinics and dental practices website. We are happy to assist you in taking your dental clinic online by customising the template desired by you and your dental clinic website will be ready to go live within few hours. Leave your contact details here so that one of our Business Analyst will reach you to provide more details.