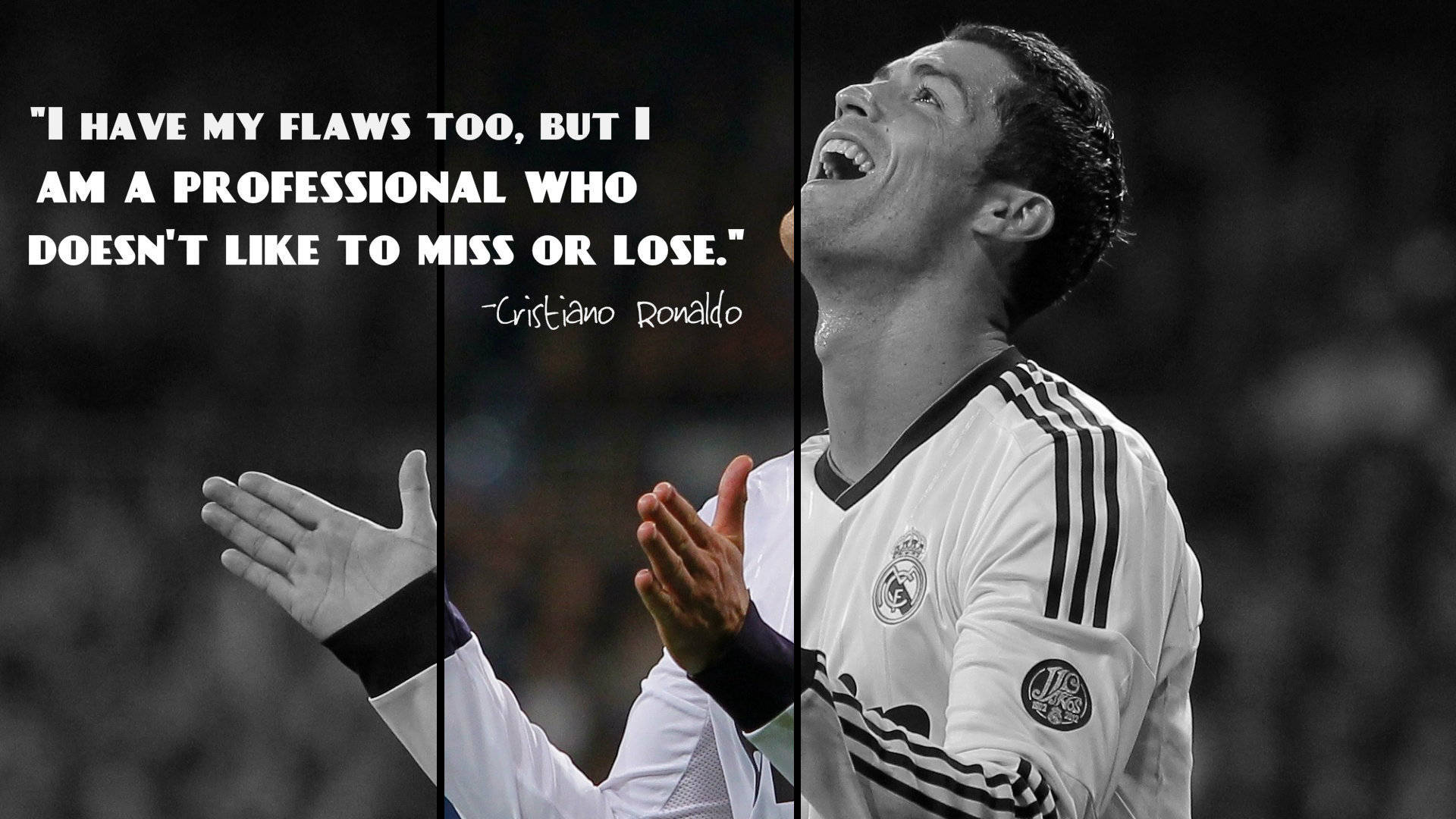 Do you think an Athlete would become so popular only by participation and winning the sport??
Few years ago, people are used to hear the gossips on sports celebrities and athletes information from the TV, News Papers and the Magazines. As days passed the same happened through in the next class through digital presence of the websites.
Now, By enlarged technology usage over the finger tips, Everybody is have their own eye on each of the small sports start to a biggest sports stars, athletes, celebrities, actresses / actors and even on the President of america 😉 .
"Here is a Case Study followed by how Internet Technology is Leading Athletes future."
Do you know about Cristiano Ronaldo?
One among top athletes in the world, who is called world-renowned goalscorer from Portuguese. Being an athlete Ronaldo is shined in number of sports, but the Football is the fame maker for him.
Let's have a look on the Internet career of the Cristiano Ronaldo.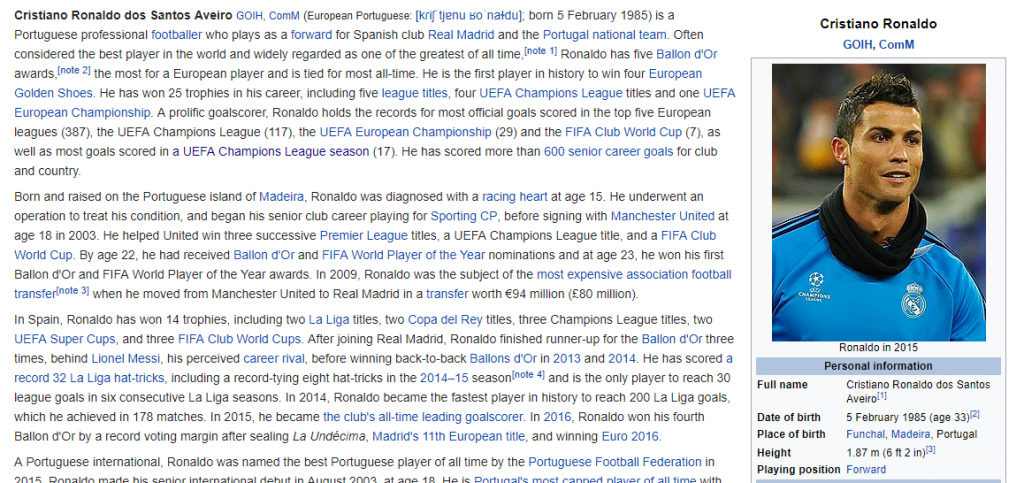 Wiki say's:
It's an Oxford dictionary for everyone known, Wikipedia is the first page which comes into mind to every Auden know about any famous person or a brand.
So, this could be the targeted option for every athlete to get represented their own story. Everything About Ronaldo
Content:
We believe Content is food for Internet as we know, Content is the KING for the whole Internet. Have a dedicated content writer for you, who can write such creatively even for small thing you make. Always choose a smart and motivate content writer to write intend of you.
Try to find the best Content writing service providers for athlete or Individual Content writers for athlete to work behalf of you.
Website:
An own website is everything that would be needed to share-up the information, schedule, news and what not.  By reaching the best Athlete websites development company will helps you to get the perfect fit for your career plans where you can get the best design, development and maintenance for the website to keep it update and focused 24×7 as path to a fan to reach you.
Have a look on the Ronaldo's website and check how he is keep updating the audience about his likes and interests. Also he have written about Syria with lots of Humanity in Ronaldo's website. Have a look !
Search Engine:
Googling is now a hobby for everyone. Make sure, you are going to found on Google on a search of your name. Yes, it's a smart way to get identified on Google search with the website.
Athletes are now tend to reach the best search engine optimizers and search engine marketers to get a reorganization on Google for the searches towards them. Who works with the best strategies to promote athletes brands and sponsors brands that athletes are partnered.
Have a look on the Ronaldo search results 79,80,000 found in just 0.63 seconds on 14th March 2018.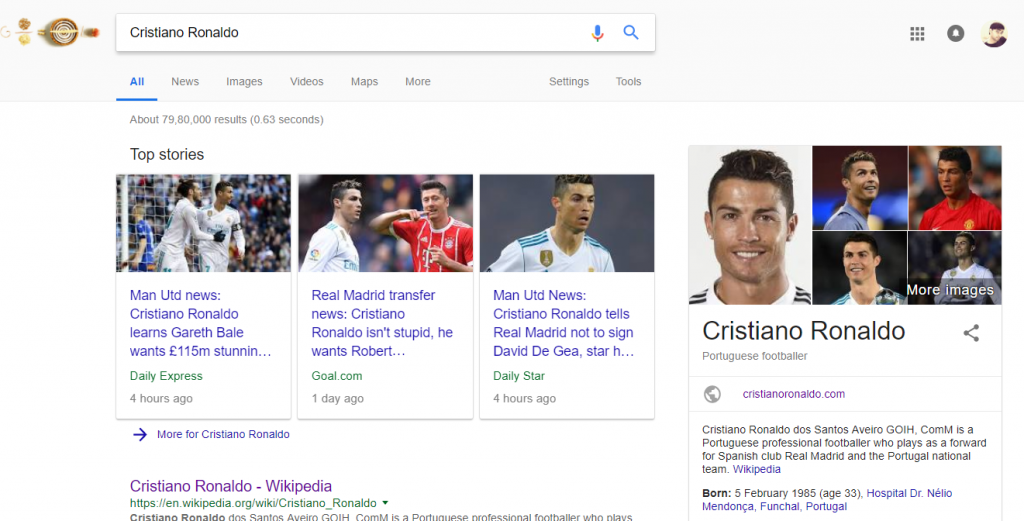 Youtube:
Of course, people are fond of videos – Make sure you have been streamed live and have a Youtube channel setup and Maintenance which has updated with every video recorded about you.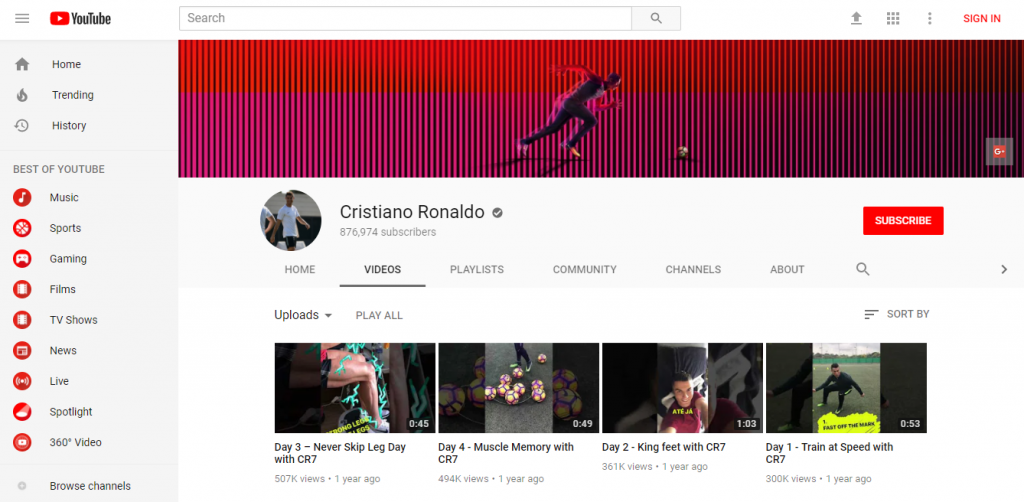 A team having expert keyword optimizing and well describing about video can help you more to get plenty views on each video.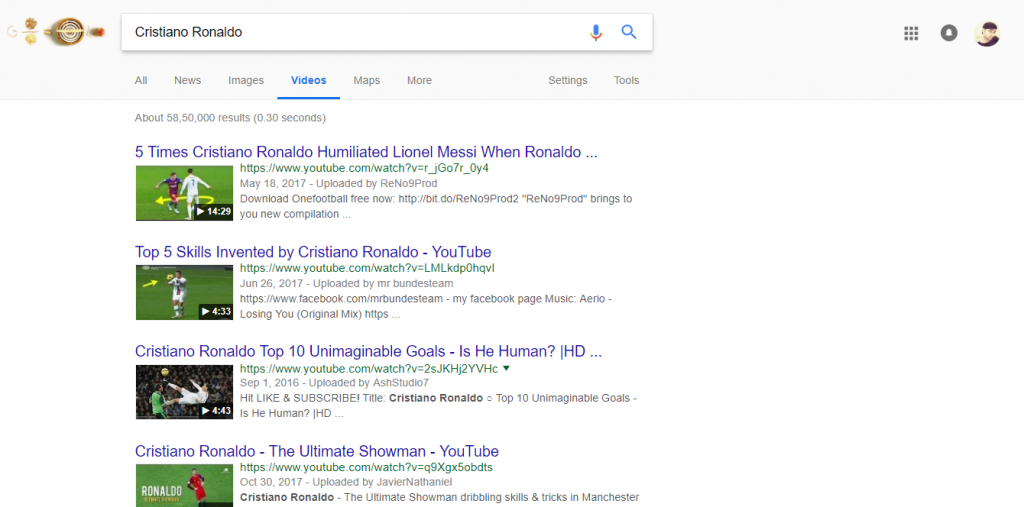 Bloggers:
Bloggers are the real fans who work for us, who love to write about us, who love to post about us, who love to share our videos. So keep in mind to give a guest visit to their website and share your upcoming schedules, share how you experienced your previous match and make them follow you and the strategy to make fans follow you.
This says an athlete to find one Digi marketer who can work in your absence, who can think about you even you are busy with match schedule and work on to develop fan base.
App on Play Store:
Even you are small athlete make sure you have a vision for development of android mobile app and planning to upload it to the Play Store.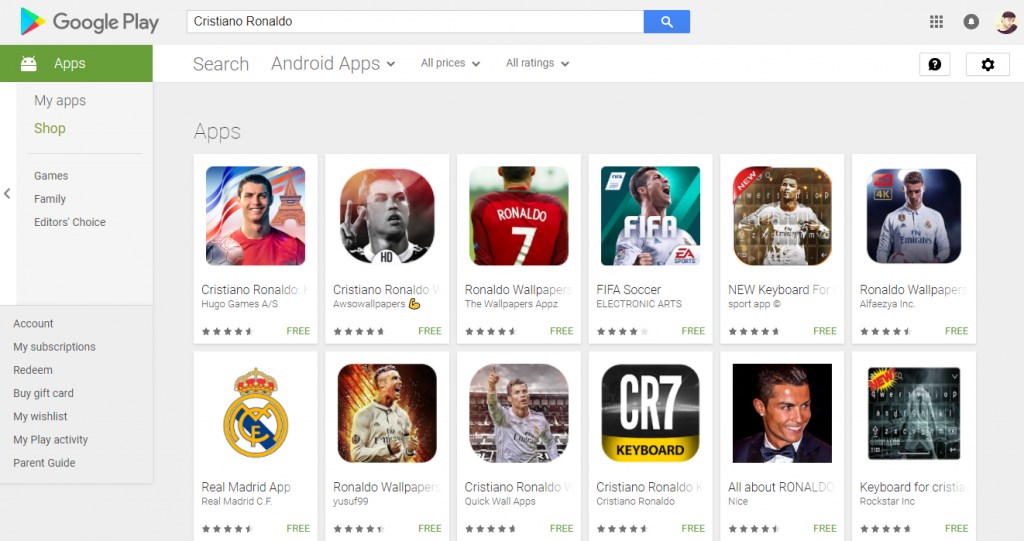 Have a look on various apps updated on the Play Store with the icon and information or a game specially designed and developed for the Cristiano Ronaldo.
Have a look on the concept it-self how Ronaldo is turning more people toward him and making them to install the app on mobiles.
#1 Idea:

Develop an app with an idea of chain concepts — !ALLOW PEOPLE TO CHALLENGE OTHERS on your Next match scoring #FantacyApps !
App on App Store:
If you are an Athlete having more fan base from UK and US, you must plan for the APP on App Store. Where you can get more iOS devices who look for you on Apple mobiles.
Have a look on iPhone app updated on the App Store especially designed and developed for the Ronaldo.
Remember you always contact the best Sports iOS App Developers to get your dream app.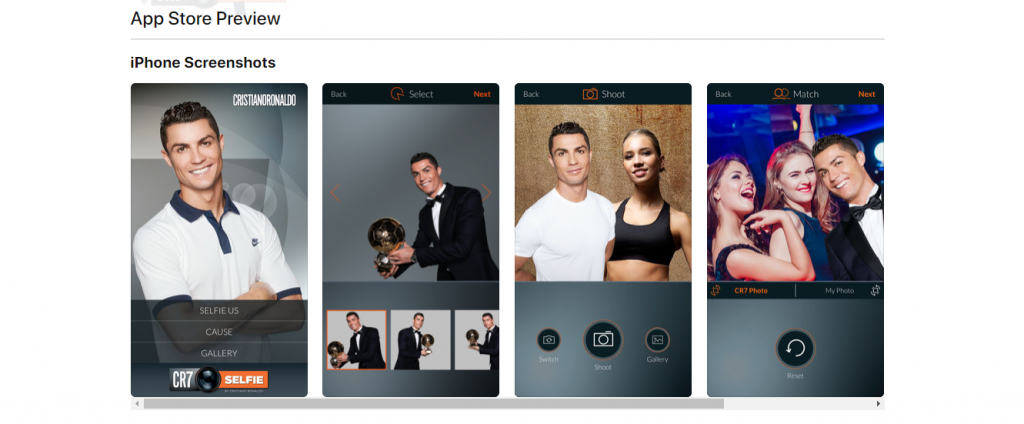 Social Media:
Is creating an opportunity for anyone to follow their fans – You can be an athlete at initial level but it's important for you to connect with them initially to get introduced yourself.
Social Media is creating a vast opportunities to connect with classy a mass people through the social media. We are also seeing a fund raising campaigns to encourage new talents and individual game spirits.
As we know there are plenty of social media networks where a lot of people are focused on Instagram, Twitter and Facebook according to their region usage. But more or less, we must targeted not only for a profile for account. We must targeted to have all these 3 accounts with verified marks on the profiles. And of course it take some time to get the a verification mark on our side, where as people should be capable to create FAN pages and run our show to reach more people.
Facebook:
Cristiano Ronaldo has verified mark on the right side of his name, followed by the number likes 122509461. If you could see, Facebook is also providing a statistics of every day talking rate of 891390 about the page.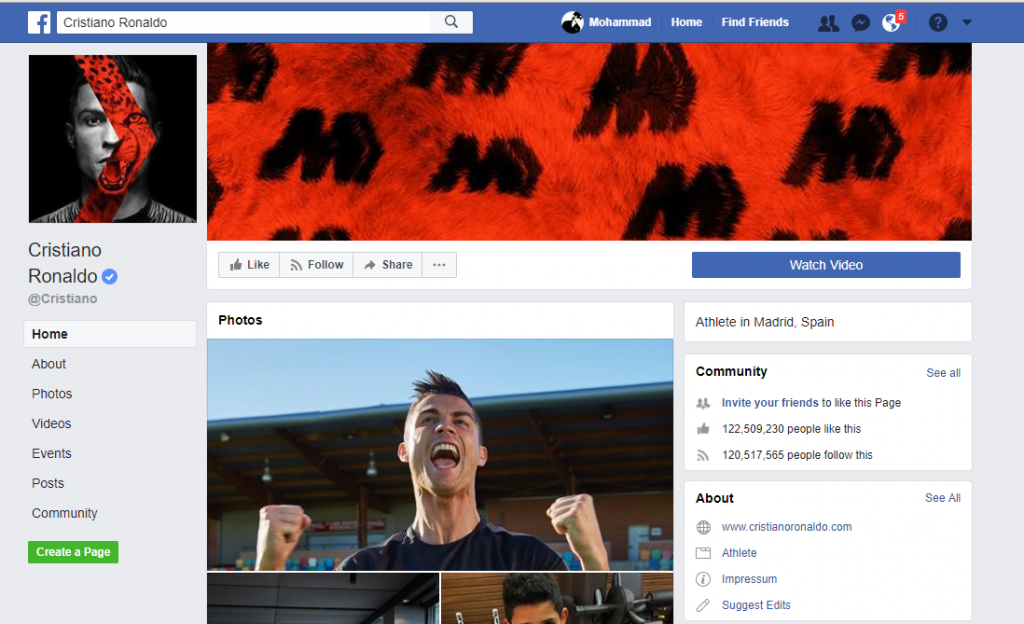 I would to also brief the top 8 key athletes and sports people list who are tending on Facebook social media.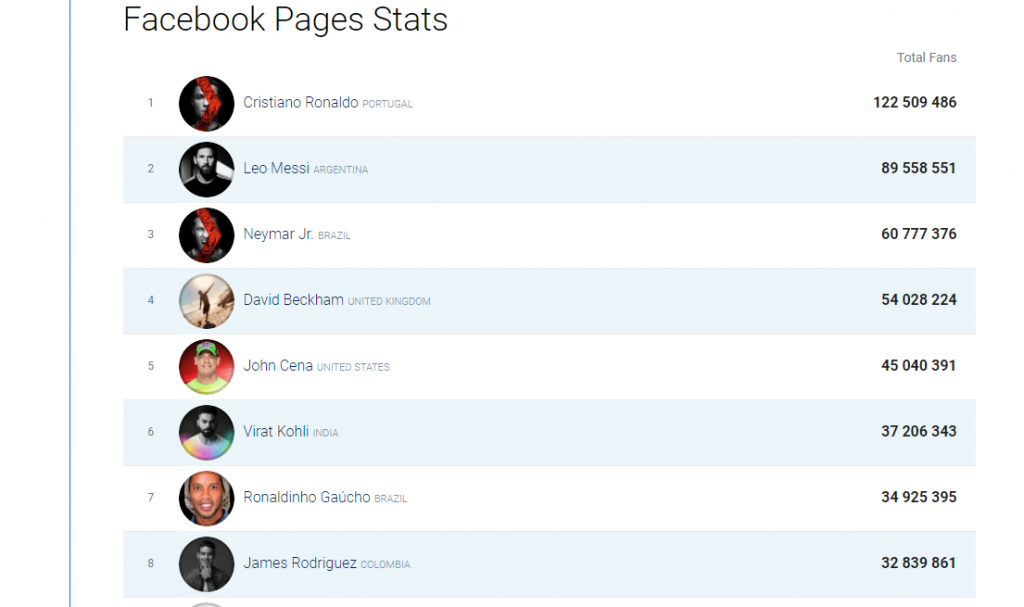 Make sure you are choosing a right Facebook marketing team for athlete promotions for a campaign management.
Twitter:
The Greatest show of Ronaldo is running an inspired Twitter profile which shows his humanity and keeping up the temp of posts on profile. Athlete might think, I must focus on the playground more other not on the social media, But in fact this is an eye opener for us.
Ronaldo catches on 9th position in the list of top twitter followers as on date. This realizes the real power of social media to the athlete.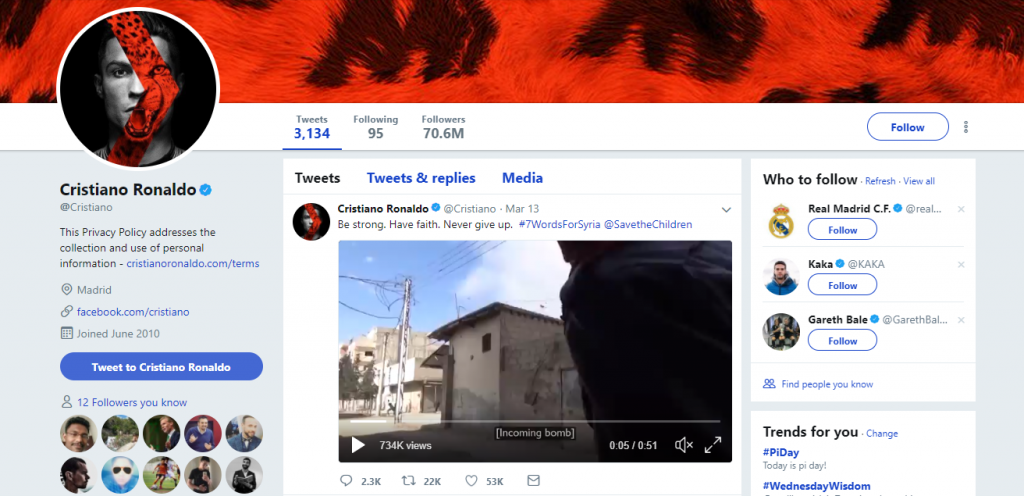 Instagram:
Insta is growing network, which almost new enough defeats the Facebook and Twitter brandings on which Cristiano have occupies the first position with the regular post on Insta.
Also, I would like to show-case the worldwide most-followed athletes on the Instagram as on January 2018 with millions of followers who actively hit a like on a post.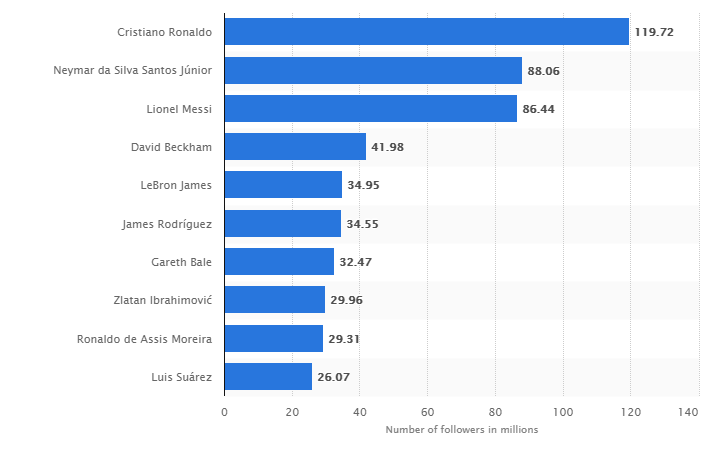 We have a lot other social mediums which are growing day to day. In face they are big as per their localization, where an athlete can focus for the best fan base out. As a tip you must be more expected, you might need at least one celebrity Twitter, Instagram or Facebook accounts. To become the biggest and must liker fan base in a count of millions on the go.
We suggest you to reach an expert who can take up all your responsibility in building your brand and who have more courage enough to introduce you in social market by taking a lead.
Remember!! Just by posting a feed on social media you might not become a famous celebrity – ITS all about the STRATEGICAL GAME PLAY with real feelings and challenges.
"Krify is a famous technology company who is providing IT services for the global clients. Especially in sports Krify has vast experience of developing website, mobile apps and managing social media accounts & running digital marketing campaigns for the sports event to flip a coin and to turn the athlete's fate."
Contact us today for shaping your future better!!