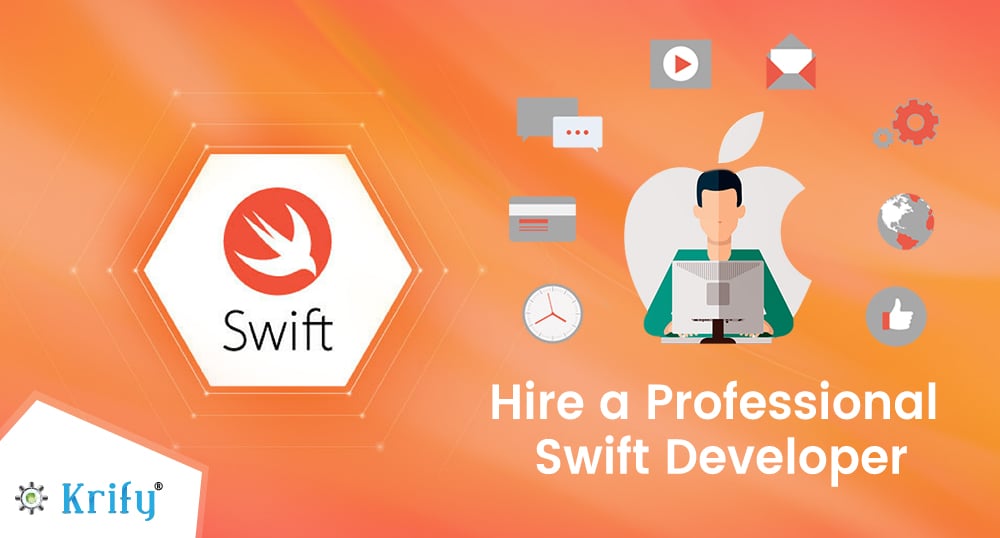 Are you a mobile marketer or amateur developer excited in developing apps for the iPhone? Here is some beneficial guidance for you. Unless you are an absolute programmer at mobile app development, it is advisable that you hire an iPhone developer to create an iPhone app of your preference.
In this article, let's see what is swift programming Language? What is the role of Swift in developing an iPhone app? Why you should hire an expert developer? What are the key aspects to consider while hiring the Swift developer?
So, let's dive deep into the concept
What is Swift Programming Language?
Swift is a powerful and inherent programming language for macOS, iOS and watchOS and tvOS. Writing Swift code is interactive and fun, the syntax is compact yet expressive and includes the modern features that the developers love the most. The code of swift is safe and also produces the software that runs lightning fast.
Also, know What WIKI says about Swift programming language?
Swift is a general-purpose,multi-paradigm, compiled programming language developed by Apple Inc for iOS family. It is intended to work with Apple's Cocoa and Cocoa Touch frameworks and the large body of existing Objective-C code written for Apple products. It is developed with an open source LLVM compiler framework and has been included in Xcode. On platforms other than Linux, it utilises the objective-c runtime library which allows C, Objective-C, C++ and swift code to run within one program.
What is the role of Swift in developing an iPhone app?
As swift is a new programming language developed for iOS and OS X mobile app development by the Apple. This program truly utilises the best C and Objective C without leaving the constraints of C-language that is used to write the application.
Features of Swift Programming Language
Swift follows safe and easy programming patterns

Provides latest programming features

Syntax will be same as Objective C

Best way to write iOS and OS X programs

Quick access to existing cocoa Frameworks

No need of separate library import to support functionalities like input/output or even the string handling

Unites the procedural and object-oriented portions of the language

Runtime is the same for both Objective -C and Swift on Mac OS and iOS
The swift language consists a safe and secure programming features to make it simpler, easier and fun to work with. Being simple to use, it is the first industrial quality program that is powerful and enjoyable.
Why you should hire an Expert developer?
Even though the Android app is rising day by day. We see the iPhone apps are enjoying the lion's share in many iOS marketplaces, as most of the people are looking for the quality based apps.
Here are the reasons why you should hire an expert mobile app developer for your project?
A professional iPhone developer would possess the

required expertise to advise

on the latest versions of technologies and also help us to get the best iPhone app as the end result.

Experienced iPhone developers will be able to

meet your deadlines

and

finish the desired project in time,

and also works inside your stipulated budget.

A professional developer will able to

create a seamless application

that can easily integrate itself to a variety of features that helps to bring the best from the app.
What are the key aspects to consider while hiring the Swift developer?
Apple is one of the front-running mobile platforms. More than 775,000 apps are there for purchase download, user-friendliness and stability; it offers several benefits to business owners. Now see the key aspects to consider while hiring the professional Swift developer
Be Explicit with your Requirements
Essentially, you need to know whether the developer to work remotely or from within your company. Once you have the clarity, then you can focus on the qualifications that actually an iOS developer to have. Be sure to mention the required documents are not superficial and mention your needs exactly, clearly and precisely. So that you can save time.
Knowledge of Swift & Latest Technologies
Before you choose a developer, it is important to know whether the developer has the knowledge of the swift and other technologies that need to work with the app development. Try to conduct a small research or ask the person with the technical questions related to swift, java, objective – C. Try to know their skills in Swift language, networking, spatial reasoning, design guidelines, Grand Central Dispatch etc.
It's not just about the coding
Yes, while hiring a Swift developer don't consider his coding part only. Because there is a lot to an app than just coding. The developer should have the strategized functional design skills and deliver a good user experience. So, it's better to go for the developer who has the knowledge on design, utility and testing aspect of the app.
Check the Ability to Grasp New Ideas
Some developers tend to keep confined to technologies they know and operate upon. The developer must have the passion to grasp new technologies, the ability to come up with fresh ideas and work with an understanding of your company objectives. Creatively built apps will take the organization to another level
Hire an Experienced Professional
You might be in need to hire a swift developer for an iPhone app development services in two scenarios. One, when you want to develop an iPhone app from scratch. And two, when you already have an app that needs bug fixing and problem-solving. During this times you need to hire a swift developer that has experience in solving these problems quickly and easily.
Cross check with communication skills
Communication is the base for strategy. The developer must be conversant with various modes such as audio, video, web, phone and email messages. The developer in some cases needs to have a meet with the business owners over Skype or messaging apps that turn out to be an effective alternative compared to lengthy emails. It's preferable to talk rather than typing lengthy emails or messages.
The screening process for Swift developers is no different than hiring any other platform. All you need to do is clear requirements and follow the above-given steps. Krify had dedicated developers for iPhone App development. Feel free to reach us for your business app.