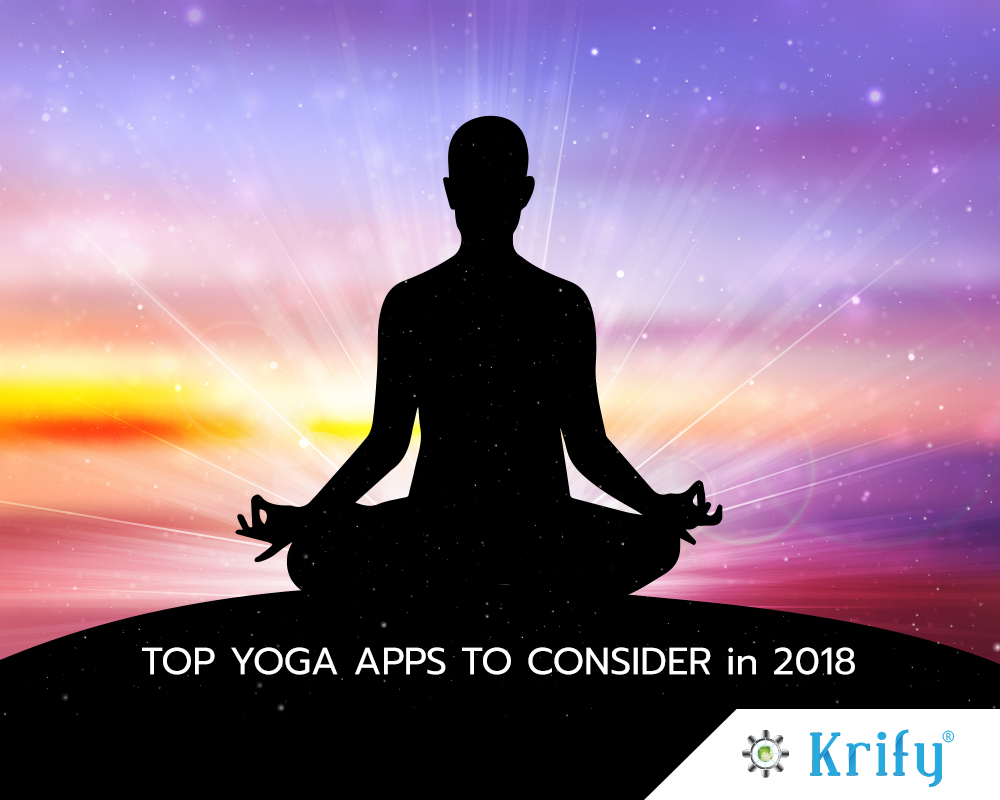 TOP 6 YOGA APPS TO CONSIDER in 2018
Health is Wealth, the so true proverb which made Krify to compare the top trending yoga apps, based on ratings and reviews of the users in order to support people who really want to explore and make yoga the part of their daily activities.
The secret of successful weight loss is self-love which is gained by Yoga. Yoga is becoming popular day by day, it is an invaluable gift to the present generations from our ancestors. What if we do not utilize such valuable gift, it goes in vein right? Let's not do that! This article is for those who want to try yoga for the first time, or take their practice to the next level. Yoga is a boon for people of all ages, one can practice it anywhere. Yoga is the best solution for many problems like reducing body mass, preventing risk of heart diseases, relieving stress and pressure and therefore contributing to overall well being.
Here are some top trending apps of 2018 for the beginners or for people who want to enhance yoga to the next level. Start using them in your smartphones and live a healthy life.
Daily Yoga – Workout & Fitness
A true yoga app for beginners to advanced.
If you are willing to practice yoga every day, Daily Yoga provides great professional yoga class plans to practice yoga exercises. Pilates, Asanas, Meditation are the added advantages in this application which gives healthy benefits to body and mind.
Pocket Yoga
Nowadays world is in our hands. Why not Yoga in our Pockets? You need not travel to any yoga centers near you, instead Pocket Yoga help individuals to practice at their own comfort ignoring the time and place. There are 27 different sessions varying in duration and difficulty provided to the users. You just need to roll out your yoga mat and start following the Pocket Yoga session. There is a pose dictionary feature which contains detailed explanations of poses, correct posture and their benefits.
Simply Yoga
Simply Yoga is your own personal instructor. It contains yoga sessions demonstrated by a certified professional yoga trainer. The sessions are of different length in terms of time, so one can choose their routine based on their comfortable time say 20, 40 and 60 minutes.
Asana Rebel Do you wish to have a healthy lifestyle? Get fit with Asana Rebel App which is on of the best yoga apps at home and have a record of giving extraordinary results for those people who are admired to lose weight, burn calories and get fit. This has brought a great change in the people lifestyle.
Universal Breathing – Pranayama
Pranayama is an exercise which teach us how to breathe properly. There are loads of health benefits by breathing properly. We need to train our lungs to breath at their full capacity rather than taking shallow breaths. Practicing Pranayama 15 minutes a day can reduce stress-related issues. Universal Breathing- Pranayama is recommended by leading doctors which guides the users to focus on mindful breathing.
Down Dog: Great Yoga Anywhere
Down Dog is the great app for all levels. You will never get bored with this app as it gives a randomized session every time you use it. It is one of the top rated apps for practicing yoga poses at home.
Yoga tools from Sadhguru
Do you believe that just five minutes a day can transform your life! Sounds surprising right ? You need to download the app to believe it. Once the videos are downloaded from the app they are available offline and no internet connection is required further. These five minutes practices are designed to explore the real happiness what you are striving for.
Krify is a well reputed company, which is having an expertise in mobile app development. If your are thinking to develop any such apps as mentioned above to contact us and contribute towards the health of the society.