Near Field Communication (NFC) is a wireless technology that enables the exchange of data between devices , and allows a user to wave their Smartphone or tablet over an NFC tag to collect information in a convenient way.
It has a short range of about 1.5 inches compared to many other wireless technologies, which makes it a good choice for secure transactions, such as contact-less credit card payments.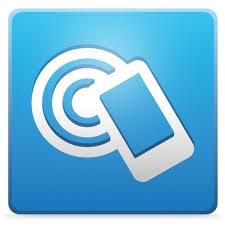 NFC technology is actually embedded in a chip which can be installed in your smartphone , tablet or your palmtop. It works on the principle of Magnetic induction: a reader emits a small electric current, which creates a magnetic field that in turn bridges the physical space between the devices. That field is received by a similar coil in the client device.It Operates at 13.56 MHz  and transfers data at up to 424 Kbits/second.
The potential for NFC is huge. It is more advanced than technologies like RFID with two-way communication capabilities, interactive approvals and the ability to enable payments through mobile applications.
NFC is designed for Short distance wireless communication. It allows intuitive initialization of Wireless network and also it is complementary to Bluetooth and 802.11 with their long distance capabilities.
Smartphone's can take advantage of several NFC application designed for everything from reading NFC tags to swapping business cards with another NFC compatible device.
This technology is promising because it presents the next evolution of convenient payment with an added layer of security. This technology will make upcoming smartphones powerful.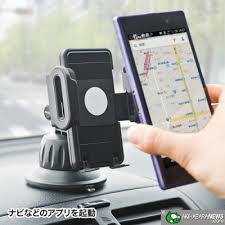 Besides payment transactions, the technology is also suitable for:
            Access: Electronic identity & Physical Access control.
            Transactions: Store Transportation passes, Electronic Payments.
            Information: Store Personal information, View Product information, Receive discounts, Swap Media.
The creative applications of NFC technology are: Tec Tiles, NFC Easy Connect, Metro 24, Touchanote, NFC Task Launcher, Any.do etc.
Applications:-
NFC offers great capabilities for various and comprehensive use cases.
Mobile ticketing
Medical
Indoor navigation
Educational
Location based systems
Entertainment
Military
Tourism
Advantages :-
shorter set-up time
Higher degree of security
High convenience
Reduced cost of electronics
Wide range and availability
No need of Line of Sight
It can also work when one of the devices is not powered by a battery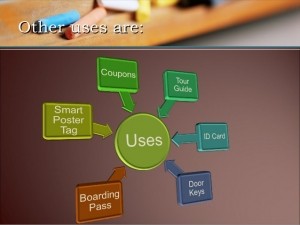 Limitations:-
Only works in short ranges
 Low data transfer rate
Sensitive Financial Data
Near Field Communication (NFC) is best known as the technology used for many mobile payment solutions. It is one of the trend creating numerous avenues for connecting and enriching customer relationships.