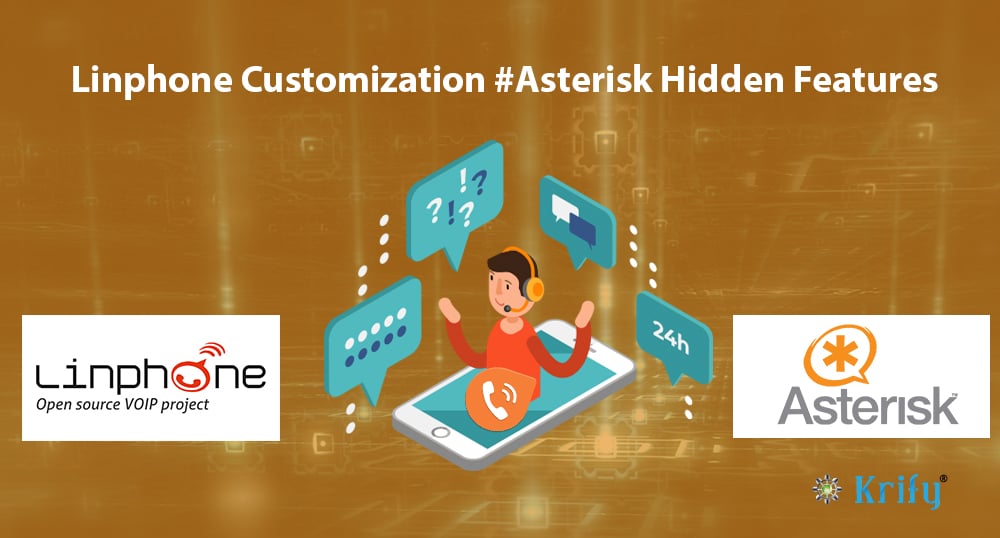 Before start describing the Linphone Multi-Party, Let's have a look at the Asterisk services and how Asterisk is helpful to host a client like Linphone for providing enhanced Video and Audio Collaboration offerings.
What is Asterisk in 5 Simple Points:
Asterisk is sponsored by Digium it is the free and open source.
Asterisk is an open source framework to establish great communication by jolting client application features.
Asterisk is an ordinary computer which can turn into a communication server in order to provide communication services.
Asterisk named to power up IP PBX systems, conference servers, VoIP gateways, and other custom-made solutions.
Asterisk is one of the best server used by small to large-scale businesses, carriers and government agencies, and call centers worldwide.
Asterisk is a real-time voice and video application with Apache to the web application on different underlying platforms. Asterisk helps to solve the complexities of technologies, and communication protocols that allowing us to concentrate on building innovative products and solutions.
Looking for Custom Branding of Linphone App? We are Linphone Experts, Let's get In-touch with us to get your solution.
Why go with Asterisk?
Asterisk is a rich server helps to route the calls among different phones or apps using VOIP. For instance, If telephone A' would like to call telephone B' then the Asterisk server can be able to route/bridge the telephone calls initially and assist for a clear and quality call features. The major advantage of Asterisk are routing, voice mailbox, call waiting, and rich future-set.
Features of Asterisk that supports the Linphone / Softphone Apps?
As we know, Linphone is an open source SIP Softphone, with the support of different codecs to go. Of course, Beside the graphical interface alone, Linphone has command line interfaces are available officially called linphonecsh and linphonec, and it being easier to use with scripts.
SIP server is one main component of the IP PBX, and it majorly deals with the management of all the SIP calls in the network.
The combination of Linphone and Asterisk can provide a muti-features which are listed as follows…
Alarm Receiver
ADSI On-Screen Menu System
Authentication
Append Message
Automated Attendant
Blind Transfer
Blacklists
Call Detail Records
Call Forward on No Answer
Call Forward on Busy
Call Forward Variable
Call Parking
Call Monitoring
Call Queuing
Call Retrieval
Call Recording
Check out the Best Audio Codes Available for Linphone Free at !!
Call Routing (DID & ANI)
Call Transfer
Call Snooping
Call Waiting
Caller ID
Caller ID on Call Waiting
Caller ID Blocking
Calling Cards
Conference Bridging
Database Integration
Database Store / Retrieve
Dial by Name
Distinctive Ring
Direct Inward System Access
Do Not Disturb
Distributed Universal Number Discovery (DUNDi™)
E911
ENUM
Check out the Best Video Codes Available for Linphone Free at !!
Flexible Extension Logic
Fax Transmit and Receive
Interactive Directory Listing
Local and Remote Call Agents
Interactive Voice Response (IVR)
Music On Hold
Macros
Music On Transfer:
Random or Linear Play
Flexible Mp3-based System
Volume Control
All the Asterisk features help to power up  VoIP gateways, IP PBX systems, conference servers and is used by SMBs, call centers, enterprises, carriers, and governments worldwide.
Krify is a bespoke VoIP mobile app development company very popularly known for its contribution to the Linphone development environment and customization solutions from India and the UK. Linphone brings us a competency to develop a Simple Android VoIP Calling App and made us as a #VoIP App Development Company.
Write us your requirement now…. @ info@krify.net for the Linphone mobile app developments.
---
Read More about Linphone at our Old Blog.
VOIP Powered Softphone Dialer App Development – Best Suits of #Linphone