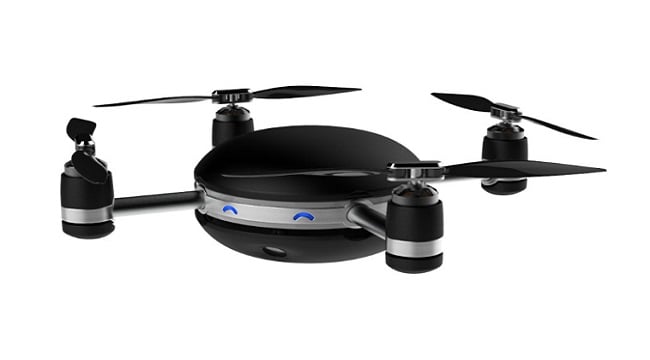 Lily – the smart camera drone is the first throw-and-shoot camera in the world. Its a smart camera that can fly. Toss it up into the air and it starts shooting by it-self using Global Position System (GPS) and it follows you immediately. Its  an ultra-portable smart drone, smart quadcopter and waterproof camera which captures HD pictures and videos.
It doesn't require any external controller, balancing skills – as it follows wearer's bracelet. It can travel up to speed of 25miles per hour. By using Companion App we can set lily's behaviour and check battery availability.
Lilly is a companion smart drone – that can follow you.  It fly in different modes based on your activities or instructions.  it can fly in stabilising mode, shoot and follow mode,  circular fly mode (flying around you), fry from hand and land on hand modes.  It is best for areal videos.
Features:
Lily Camera can shoot 12 megapixel stills, 1080p HD video at 60fps and 720p/120fps in slow motion footage. Internal Battery allows flight for 20 minutes per charge.
Lily tries to recover the signal as soon as it finds signals it goes back to mode it was before it lost.
Lily can float in water and can land safely in water as its body is sealed and motors are insulated
How it works?
Simply, throw it in to air it starts working. Its internal camera optimizes aerial footage and its tracking device has microphone that records high quality audio and synchronizes video with which it records.
Present limitations :
Even though lily is highly intelligent, Presently lily does not have obstacle avoidance capability. Mostly it is found to be used in outdoor activities which don't require obstacle avoidance. As it follows tracking device, if you observe lily is about to hit any obstacle then you can press middle button on a tracking device it will stop and hold its position.
For more details and pre-order, you can visit http://lily.camera/