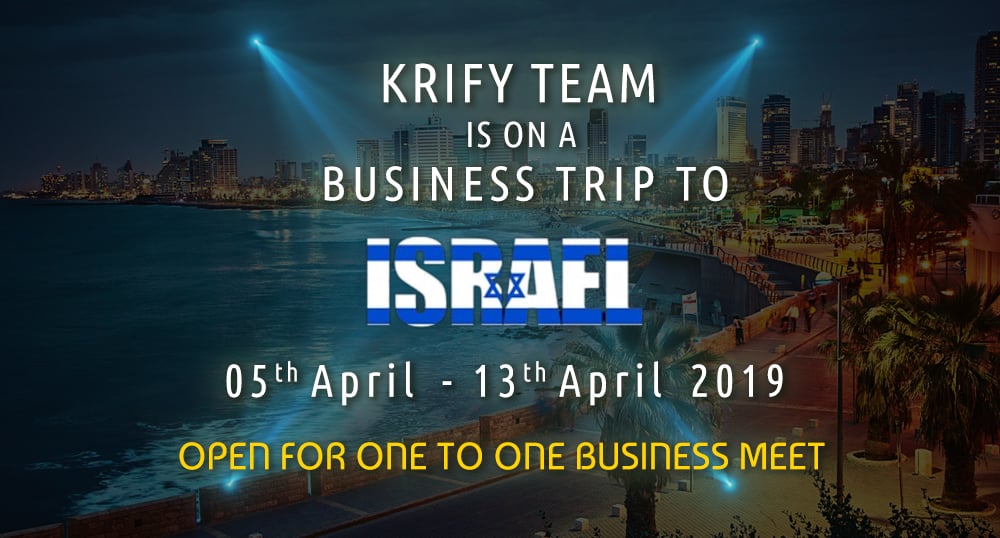 Happy to announce that Krify Software Technologies is ready to fly Israel from April 05th to 13th April 2019 on a business trip. The main motto of this is to strengthen the business relations with existing clients, and also to meet the new clients as well as clients perspective in person to know the specific business requirements.
The team scheduled the face to face interaction with entrepreneurs looking forward to exploring how emerging technologies can help to boost their business. In addition to this, the team will be offering the web and mobile app development services along with the enterprise services that are proven quite effective.
Krify Team will showcase the Software product development, business mobility solutions, digital marketing services, app support and maintenance, content management system, product prototyping and many other services.
In this trip, our team will meet new as well as existing clients as per their availability in Tel Aviv and Haifa.  We understand the prospect of the entrepreneurs and serve them with our innovation and unique solutions.
So to plan the array of meetings, entrepreneurs can schedule the meeting by filling the form. Explore all the service that we offer for you and also know about our feat in emerging technologies by meeting us in face to face. We can assist your business to get a competitive advantage over others by utilising the power of all the emerging technologies.
Reach our team at Israel to know more how we can help you in getting a leap in this technologically advanced world. Either the business may be small, big or even a startup we support you in the best way to improve your online business in Israel, Tel Aviv and Haifa.