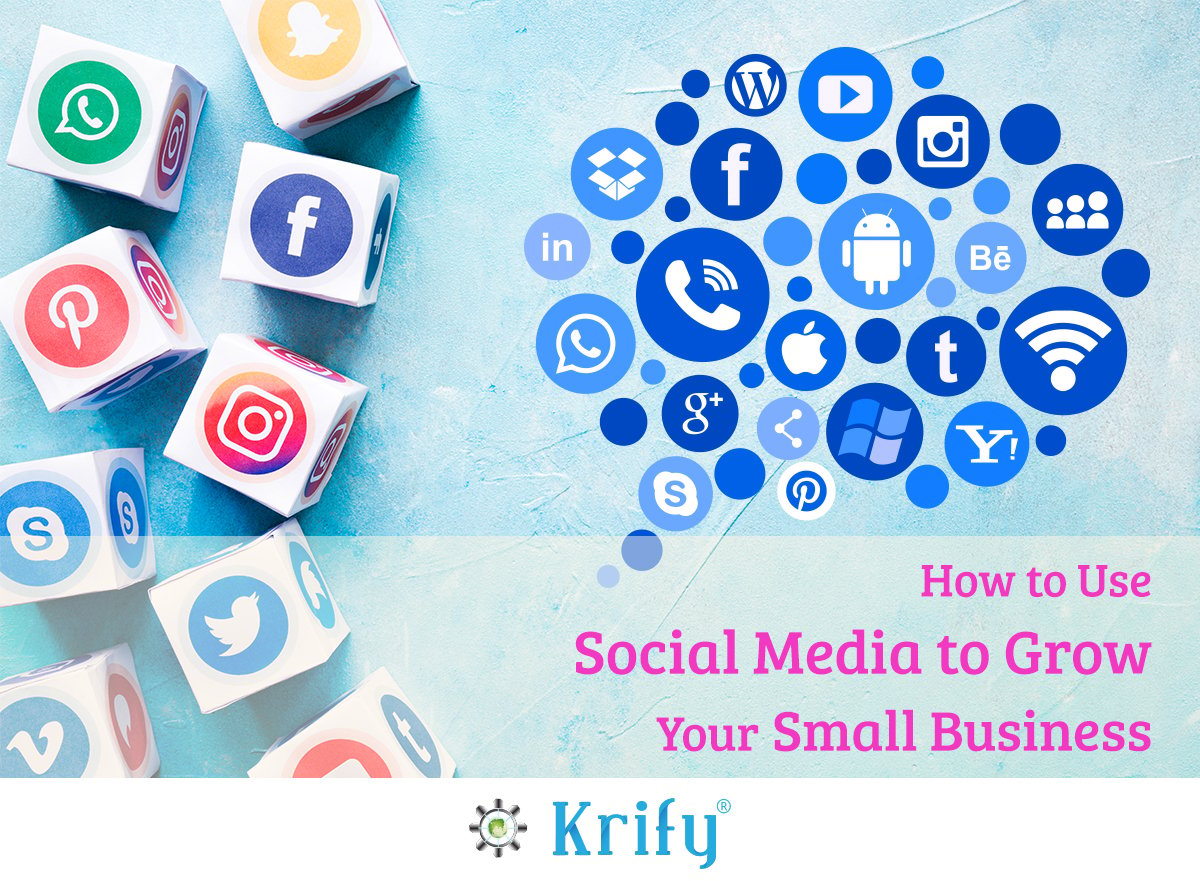 Think to spend as little time a week in order to increase your business's identification, traffic, and sales with little to no cost. That's absolutely right!  About 90% of marketers claimed that social media generated tremendous publicity for their company, and that's only one of its many advantages. Social media,  an interactive medium where people communicate and share information either in form of text, images, videos, GIFs.The question is why is social media is important for business and in what way we can utilize social media to expose our business to the world. Some of the best and popular social media platform for business are Facebook, Instagram, Twitter, Whatsapp etc. social media are so great that anyone not implementing this cost-effective resource is missing out on a phenomenal marketing shot. It's clear to see that social media marketing is a key element for success in marketing and many marketers realize the potential for business growth using the platform. However, some of these experts are unsure of which tactics to apply and if they are effective. According to a social media analyst, about 96% of marketers are currently participating in social media marketing, but 85% of participants aren't sure which tools are the best to use. With our guidance, we will diminish the confusion by thoroughly explaining the advantages of using social media to market your business.
Exclusive benefits of using Social media for business
Empower Brand Awareness:
Social Media is one of the most cost-effective digital marketing tool used to monopoly content and increase your business visibility. Implementing a social media strategy will greatly increase your brand identity since you will be involving with a ubiquitous and begin interacting with others. Get employees, business partners and supporters to like and share your page. Each post you shared will be introduced to a new network of individuals, which can lead them to become potential customers and the more people who know about your business, the better. By spending only a few hours per week, over 91% of marketers claimed that their social marketing efforts greatly increased their exposure. For sure having a social media page for your business will benefit, and with regular use, it can generate an audience for your business.
Connect with people:
Users check their accounts multiple times in a day. Social media gives you the facility to connect with the users, know their interests and plan accordingly.
Traffic to the website:
Your inbound traffic will be restricted to your usual customers, without marketing your business on social media.  Without using social media as part of your marketing strategy, you'll have much more difficulty reaching anyone outside of your loyal customer circle. Every social media profile you add to your marketing mix is a gateway to your website and every piece of content you post is another opportunity to acquire a new customer. Social media is a melting pot of different needs and different ways of thinking. Associating your content on as many platforms as possible allows these individuals to organically reach your business. By marketing on social media, you can effectively open your business to an extended variety of versatile consumers all over the world. By posting good content from your website to your social channels there are chances that people will get the interest to know more about your website and company.
Increase revenue:
Importance of Social Media in Business is social media is an easy way for customers to express their interest in your products. Whatever may be your product social media helps you sell it. Your follower might become your customer.
Spread your business:
Through social channels, you can spread your business. People like and share your content with their friends if they find it interesting and in this way your products can go viral which increases sales. This way we can Promote business through social media
Reputation:
People who follow you will already be talking about you so you need to be conscious while posting your content on social media making sure you post positive details about your company as social media impacts the business. Also, you need to be polite to the customers while communicating with them.
Cost-Effective:
Social media is the best choice we can make when we want to promote our products with less budget and high visibility. All you need to do is create your profile and start posting the required content about your organization and let the customers get the information you want them to know about your company. It is probably the most cost-effective part of an advertising strategy. Signing up and creating a profile is free for almost all social networking platforms, and any paid PR you decide to invest in is a relatively low cost compared to other marketing tactics.  Being cost-effective is such an edge because you can see a greater return on investment and retain a bigger budget for other marketing and business expenses. If you decide to use paid advertising on social media, always start small to see what you should suspect. As you become more comfortable, fine-tune your plan and try increasing your budget. Just by spending a small amount of time and money you can significantly increase your conversion rates and eventually get the return on investment on the money you initially invested.
Get to know about your competitors:
All the Small Businesses have the Social Media Marketing Advantage by knowing what is going around the world and what products your competitors are launching you will get to know about the improvements that are to be made in your organization and you will also know the upcoming trends in the market. This will sound somewhat strange, but social media is a great way to keep an eye on your competitors. It will surely give you an opportunity to monitor and draw inspiration from their performance. You can view what type of content they're posting, and how they're interacting with their followers. Social media can assist you to learn from your competitors. There has to be a good cause why type of content they're posting, and how they're interacting with their followers. Social media will helps you learn from your competitors. There has to be a good purpose why your competitors are performing better than you. Try to learn the strategies, but make sure you don't just copy and follow them. What goes best for them isn't always best for you. Instead, twitch their ideas and make them your own.
Targeting audience:
Social media provides us with powerful options to target a set of audience.we can select the audience based on their age group or based on their interests etc. Using social media for small business let you micro-target your audience—but first, you need to know who your audience is. By compiling data on your current customers and then digging deeper with social media analytics, you can develop a solid picture of who's buying from you and who are already interacting with you online. Then you can return your social media plan to include ways to reach more people just like them.
Conversion rates:
The role of social media in business growth leads to the visibility of the company to the customers. As the visibility of your company increases the opportunities increase. Your posts may lead to more viewers to your companies website which is used to generate leads. With improved visibility, your business gains more opportunities for conversion. Every blog post, image, video, or comment may direct viewers to your company's website and increase traffic. Social media marketing empowers your business to give a positive impression through a humanization factor. When brands are interactive by sharing content, commenting and posting statuses on social media, it represents a brand. Over 51% of marketers insisted that taking the time to develop relationships with consumers showed positive results in sales. The best impression you make on a visitor, the more likely they are to think of your business when the need for your product or services arises. Putting your brand in an atmosphere where people are sharing, liking, and talking, can only improve the conversion rates on your existing traffic.
Customer satisfaction:
Using social media customer has the option to share his review on the product of the company based on his experience with the product. It might be negative or positive he has the independence to comment about the service provided by the company.
Social media is a networking and communication platform. Creating a voice for your company through these platforms is important in refining your company. Customers praise knowing that when they post comments on your pages, they will receive a personalized response rather than an automated message. Being able to acknowledge each comment proves that you are attentive of your visitors' needs and aim to provide the best experience. Every customer interaction with your business's social media accounts is an opportunity to publicly demonstrate your compassion for your customers. Whether an individual has a question or a complaint, social media permits you to address the matter using interpersonal dialogue. A brand dedicated to customer satisfaction that takes the time to compose personal messages will inherently be viewed in a positive light, even if responding to a customer complaint.
Final Thoughts
It's clear that social media marketing has its benefits, so if your business doesn't already have the proper profiles, create them! Fill out your business' data and post some charming content to begin gaining followers. As stated, ask people related to your business to "like" and "share" your page to help build your profile. With regularly updating, the right social media marketing strategy will drive to increased traffic, better SEO, higher conversion rates, improved brand loyalty, and much more. There are essentially no reasons not to implement social media into your marketing strategy. Since it is so cost-effective, there is hardly anything to succumb. Your game is most likely already on social media, so don't let them take your potential customers. The sooner you start, the sooner you'll see an extension in your business. Worried you don't have the time to get started? We hear you. Here are some of our social media hints for time-starved business owners.

Eager to know from you
Life of an entrepreneur is full of thrills and learnings. It takes real guts to start and smartness to grow your business. You now have a better knowledge of how social media can be beneficial to your small business. Just remember: not all types of content or plans mentioned will work for your company. Test each one, learn from your conclusions, and continue to make enhancements. Don't sit on the social media sidelines! See how social media marketing can handle your business. Check out our Social Media Quickstarter to determine the ins and outs of the major social media networks. We are anxious to know from you about your Social Media strategy and ready to help you in every way possible.
Krify can help you in all aspects to grow your business. We have a skilled and expert digital marketing team.  Reach us now.