Hey planners and event holders! It's time to get automated. Whether you are a part of the event agency, independent planner or internal organizer to an organization, you know that the event planning in order to become successful need a perfect strategy. Right? In order to deliver the event as promised, there need to be a proper organization and pre-planned goals.
Pain points of Planners or event management team
Usually, planners and clients do not define a pre-event strategy because of the following reasons
You may feel that it is very time-consuming to get everyone involved in the planning as each will have different opinions.

You may be not sure what questions to ask and not ready with the details of your event goals.

Many planners don't think that this part of pre-planning is necessary as they want things being done as soon as possible
Ok! These may be the valid reasons in your point of view. But according to a saying
Every minute you spend in planning saves 10 minutes in execution; this gives you a 100% return on energy.
5 factors that can help you define your goals in order to jump-start the planning process
There is no rock and roll without a Goal
I am here to share with you the benefits of preplanning and let you know that it is not difficult or time-consuming if you have a defined framework that will yield the result. Planners and organizers, remember that  Failing to plan is planning to fail. The real definition of success is gained by the positive feedback from your customers. So, make sure that you have set the right goals and event strategy.
The benefit of this assessment will turn a planner from a simple manager to a trusted advisor. The following are the factors to define your goals
Why and where is the event taking place and what is the purpose of the event?
Whom will the event serve? Do note the community of people attending the event.
How to engage and entertain your audience? And make sure how will they return for a future event?
How are your goals aligned to that event?
What is the budget range of the event and how to execute effectively?
Once the goals are defined the next process is get started with the Event Planning.
Here are 5 steps to getting started with Event Planning
Develop event goals and objective: 

As mentioned the first step is to set the goals and develop an objective.
Organize team:

Teamwork will definitely pay, so you should be very keen on organizing the team and work assignment.
Determine administrative process:

Keep a track of all the planning activities like the host, guest receiving, welcoming, events, many more.
Set the budget:

You should properly estimate all the key items and set the budget accordingly.
Determine the evaluation process:

In order to determine that your event is a success or not, evaluation is compulsory.
What if all the process is automated with the help of a Mobile App?
Automation speeds the handling process and makes your work easy. This is the perfect moment to shift to the world of automation. In the technology era, the mobile apps are booming at the top position. Instead of manually organizing all the activities in the event planning, you can very well implement them with the help of a mobile app with is portable, secure, compatible and easy to use. Some of the points which can be well organized by the mobile app are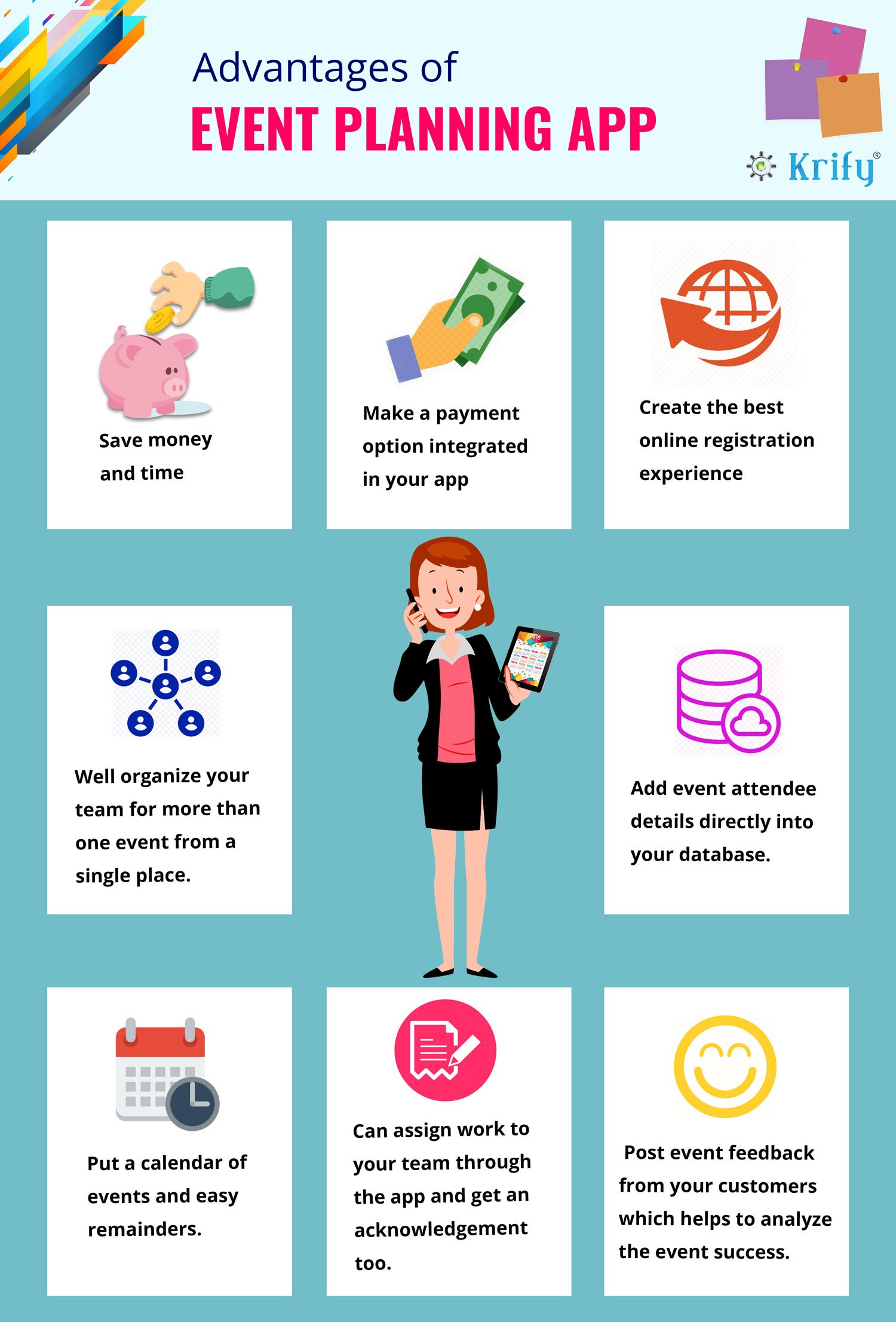 Save money and time.
Create the best online registration experience.
Well organize your team for more than one event from a single place.
Add event attendee details directly into your database.
Put a calendar of events and easy reminders.
Can assign work to your team through the app and get an acknowledgment too.
Make a payment option integrated in your app
Post event feedback from your customers which helps to analyze the event success.
I think you understood the benefits of having your own event management app based on your business requirement. No one wants to deal with sending hundreds of emails, contact all the members of the team by making several calls, get freaked out if there is any change in the keynote of the event. We are in the world of automation as I said earlier. The wedding mate app developed by Krify is the tool for wedding planning. 7BABK is one stop for event planning solutions. Krify delivered many mobile app development solutions in various domains. Look our portfolio and have the awesome experience.
Looking for event planning app developer? Make your search easy as you are right in the place to get your effective solution. Krify is an ISO certified mobile app development company who is having a crew of passionate and dedicated mobile app developers working under various platforms like iOS, Android and Windows. Krify is having a good competency in developing mobile app solutions in Event planning category. Have a look at one of our solutions of event planning mobile apps. Share your business requirement and get a perfect mobile app to fulfill your requirement.