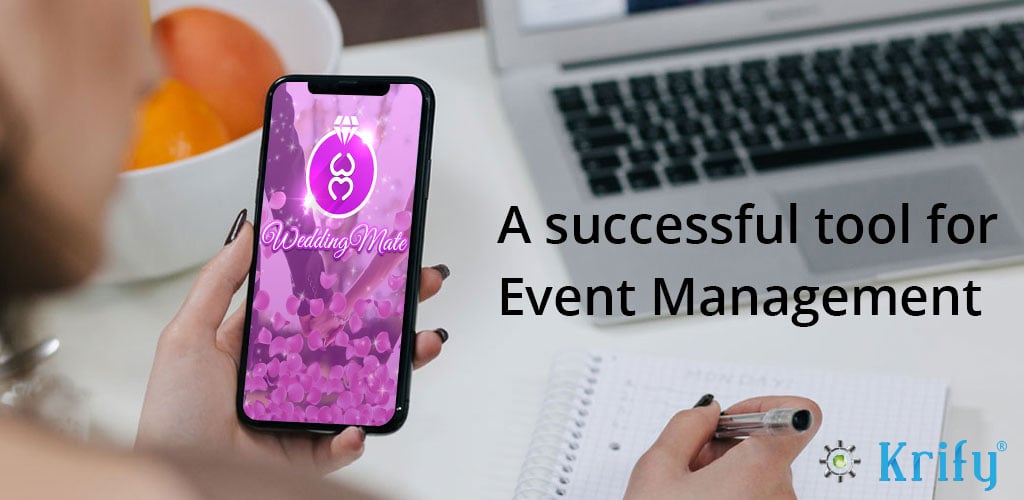 Technology is growing day by day to make our works more simplified. Everyone is more dependent on smartphone apps for all type of tasks such as shopping, games, event planning, and many more. From among these let us now consider event management which has come to our hand with all the requirements that are needed to handle an event.
Event Management apps thrive on the App Store and Google Play. To be more profitable, its very important to be updated with the latest technologies that are available to us. The Event Planning App is an innovative initiative towards creating a software tool that would ease out the troubles faced by people scheduling an event. Using these apps, any individual or organization can get in touch with the business people or vendors such as photographers, venue arrangements, florists etc., check their availability for any particular time period and book them.
Krify is one of the leading mobile app development company in India with an expert team who developed event planning apps such as Wedding Mate and 7BABK. The main motto of this apps is to reduce the tedious tasks, unpredictable situations and sometimes even embarrassing situations and also connects the users and service providers and business owners all at one platform.
Know about Wedding Mate App
Wedding Mate is an interactive wedding event planning application through which users can browse different vendors providing wedding services and connect with them. Using this app, users can find all the vendors available on the app for different works like catering, photography, bridal clothing, etc. Users can also check out the forums for the best advice and ratings of vendors can help to choose the best.
In this app, we need to consider two main stakeholders, who will interact with this application.
User Module – They will use the iPhone App to view and browse different vendors proving wedding services
Admin Module – Admin uses backend Web module to manage user, categories and vendor information.
User Module
Once the User download and install the app they will be shown Splash Screen for 3 sec with App logo & App name.

The user will be directed to Sign up or Login Screen.

The user will be able to sign up into the app using their Facebook account or using their Email id, First name, Last name, and Password.

The user has the option to retrieve their password by clicking on forgot the password.

Once the user login with his or her credentials, he/ she will able to search for the vendors based on selecting the Location, Categories, and Subcategories.

The user can search any Vendor based on the filters such as Ratings, Reviews, and Themes

Users will be able to see the List of vendors based on the Search criteria and Filters

Users will be able to view the following information from the Individual Vendor such as:
      Vendor name
      Description of the vendor
      Gallery of the Vendor services
      Number of Reviews
      Rating
      Address of the vendor
      Contact number
      Google Map option to show the direction
      Ability to save as Favorite
      Ability to visit the vendor website
      Ability to write a review (If the review is not submitted it will be saved as draft)
      Ability to give rating
The user will receive the push notification if any new Vendor is added by the Admin.

The user will be able to send feedback and inquiry emails to admin by clicking on Send Message button
The user will be able to start a discussion in the forum by clicking on the ask a question button and view the discussion in the forums

The user will be able to view the Q&A and about the app which includes the privacy policy and Terms & conditions.

Users will have settings section to Edit and Save.

Profile

Notifications ON & OFF

Ability to Share the App

About the app

Logout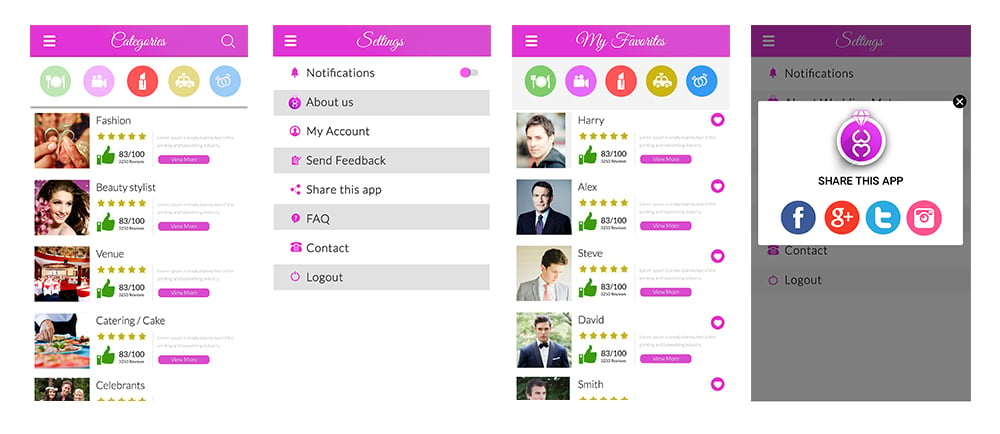 Admin Module
Admin will be provided with Username and Password in order to login into Web backend Module for add Categories and Subcategories in the app

Admin will add vendors in the categories with following information like
Vendor Name
Email id
Ratings
Description
Reviews
Category of their business
Address of the vendor
Contact details
Able to view the discussion in the forums, all the emails, feedback given by the users, delete all the categories along with the vendors and users

Able to manage the content on the app such as Q&A, Terms and Privacy policy.

Able to view statistics such as

The number of reviews and ratings provided by users on a daily, weekly and monthly basis.

The total number of online users
This Wedding Mate App is useful for those people who are looking for hassle-free work management, especially for wedding-related events.
Benefits of Wedding Mate App
App users can be with peace of mind as everything regarding the wedding will be handled by event organizers.

With Wedding Mate app user can track the expenses and revenue maintenance will be made easier.

Everything will be taken care of by event organizers, the user can enjoy the event with the guests

All your event details will be covered

You'll be provided with  personal advocate and negotiator

Using this app every aspect of your event will be well organized

You can involve in every aspect of the event by using this app
Now you know all the important information on what an event planning app consists. What's the next step? It's time to plan the development of your own app! Just fill our contact form we will guide you.