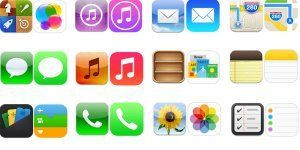 We don't want to be spoon feed usability any more. Just as web users around 2000 no longer needed hand holding on what a link does, smartphone users around 2013 no longer need the skeuomorphism. A little over six years have passed since the first iPhone was introduced, and we have all grown accustomed to having multi-touch in our daily life.
Skeuomorphic Design:
First, let's go back to 2007. There is no iPhone, no one knows what multi-touch means, there's no swipe left, no pinch to zoom. To help users to understand these new concepts, Apple have made them immediately familiar to users. Therefore, they decided to mimic real-world objects for the basis of their app UI, in an approach known as "Skeuomorphic design".
Skeuomorphism elements can take up valuable screen space and loading time with functionless embellishments. Flat design is tailored to fit an on-screen experience, as opposed to earlier styles which were made to mimic a physical experience.
Skeuomorphism and flat design are two very different ways of
representing the interactions and functions of a computer, mobile, tablet or website. Skeuomorphism seeks to replicate real-world items directly into its design. This style makes use of drop shadows, bevels, gradients and textures. Flat design rejects nearly all of these attributes, By discarding unnecessary styling, it makes for speedier pages, cleaner code, and easy adaptability and takes on a much more minimalist approach.
Flat Design : The new vogue in Apps & Web Design!

Flat is not a major innovation in design that will change the way we look at graphics and user interfaces forever. It is simply a trend. Flat Design is Built on the Goals of Skeuomorphism and Minimalism. Apple's new iOS 7 Flat design places functionality over style as the cornerstone of its design.
Flat design is probably the biggest trend in web and user interface design this year. The latest popularity is made by Apple and new Google design, which strides even deeper into minimalism.
Flat designs look great when made within the restraints of minimalism, they can also handle a lot more complexity; these designs have a crispness and clarity that can only be achieved by stripping away three dimensional effects. In its essence, flat design has two objectives:
1. Accepting the limits of the screen and working within those parameters rather than trying to disguise them.
2. Using this new found simplicity as a starting point for streamlining designs, and making websites faster and more functional.
Google, Apple and Microsoft follows Flat Design Trend now.
At Krify, We have smart designers who can convert your existing apps & websites to Flat designs. Reach us through contact form.