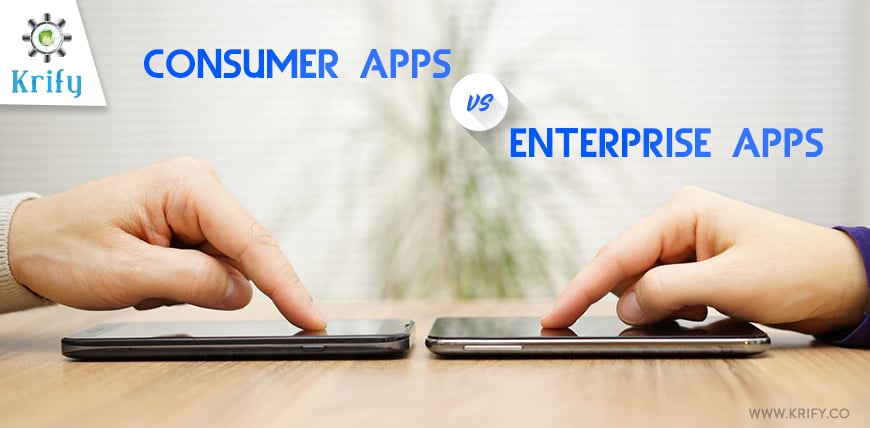 Since the debut of smart mobile applications and devices, nearly everyone on the planet is well aware of what mobile apps are. A Clear understanding of enterprise mobile apps and consumer apps can help business owners to engage mobile applications for further improvement of their business.
A consumer app focuses on serving users of a specific category that aim to accomplish some tasks. Consumer apps are accessed by consumers. Consumer apps are usually available in the app stores. iOS and Android mobile applications that are listed under numerous categories, like entertainment, health, games, finance,  music, travel and news, among others that serve the consumers for their day to day tasks.
Typically, consumer applications are equipped with a more active and adapted interface,  helpful content, which helps to take hold of a diverse audience. Consumer mobile applications are very competitive, so there are many analogues of these or other programs.
Enterprise mobile apps help businesses to meet their objectives in a more efficient manner.  Enterprise mobile apps are custom made for each organization. This type of mobile apps are aimed at improving the business processes.  This type of mobile apps optimize management processes and have a very positive effect on business conduct.
Enterprise app is characterized by a brevity as well as a functionality in classic packaging. Such applications are much more expensive, because the target audience is smaller, but they bring much more benefit in terms of work
Comparison Between Enterprise And Consumer Mobile App
Both consumer based apps and the enterprise apps can be developed to run on multiple mobile platforms, such as Android, iOS, Windows etc.
Consumer apps possess emotional design targeted to attract consumers while enterprise-based apps are more utilitarian and primarily focus on simplification of the business processes.
Consumer-specific apps can be either a standalone app or can have integrated backend support whereas entrepreneur apps only serve as a mobile interface for an existing system..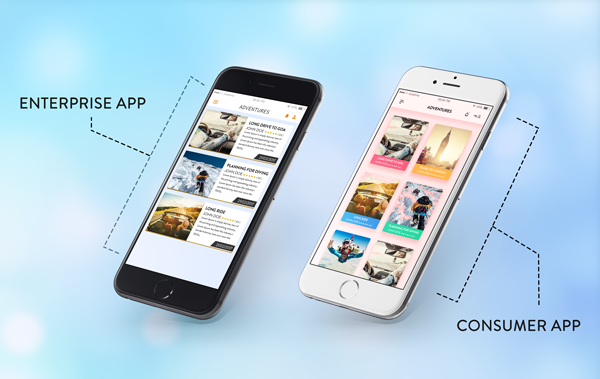 The development process of a consumer mobile app may cost a few hundred or a few thousand dollars while Enterprise mobile-based apps are quite expensive as compared to the consumer-focused apps.
Consumer-centric apps are not very well protected however, enterprise level apps are safeguarded with utmost security features such as encryption and MDM software to prevent the confidential data of organisations.
Enterprenuer apps are not frequently found in the app store whereas consumer apps are available in app store and Play store.
In summary, consumer apps and enterprise apps are different beasts altogether.
At Krify, we have superior expertise in developing both Consumer Apps namely Doctor checker, Spinnder, Shared, Zaptel etc and Entrepreneur apps namely Toyota Australia, offerdose, Redbridge Radio cars etc.

Incase if you have any requirement then contact us immediately. We will help you provide the best of mobile app development services that suit your need. By carefully strategizing your app and using the right resources we will develop you polished application from scratch.