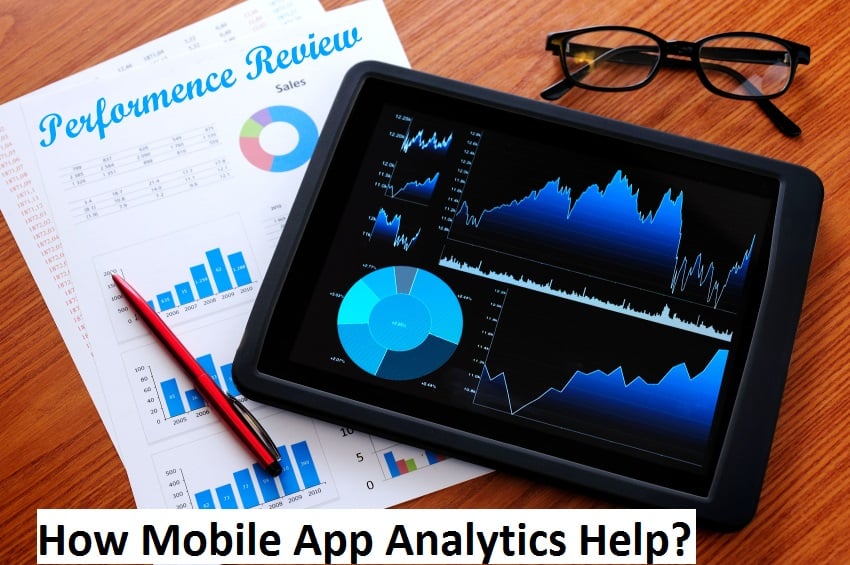 Once your mobile app is launched and you start looking for the data to measure the extent to which the app is successful, first and the only thing you get to know easily is how many people have downloaded your app. But definitely, it is not the only thing to track when it comes to mobile app analytics. It is also important to learn how, where, when and which type of audience is using your app. Mobile app analytics are there to help you get such insights on usage of your mobile app.
Even if the app download rate for your mobile app is very good in the beginning, it happens that people start uninstalling the app within few days, which can be explained by digging into the analytics of your mobile app.
Best and trustworthy mobile app analytics tools are available that will help you get the data, which can help you analyze how people are using the app, which are the pain points and more. Considering the analytics of your app, you can get the direction towards working and improving the performance of your app, which will take your app to next level.
For a good number of app downloads and revenue, there is much more behind these numbers that can be accessed using analytics tools.
How mobile app analytics tools can help?
Mobile app analytics tool helps us get insight about the performance of the app and let us plan and take action to rectify the flaws and improve the app performance. App analytics data gives insight on following aspects of an app.
How many people are using your app?
Mobile app analytics tool allows us to monitor how many users are being acquired, from where they are coming and how they are engaging with the content; all this report can be generated in real time. App analytics reports are generated in real-time using which we can see the number of users for each app version, geographical location of users, screens on which users are active, etc.
How to use analytics data to optimise User experience?
Analytics data report helps us understand how users are moving through the app and how they are interacting with the app. This can help us find answers to questions like:
At which point users are leaving the app?
Do we have any bottlenecks?
How is the user behavior different with respect to operating system, language, etc?
Which OS/Feature should we focus on?
As the app considered for further development, new challenges arise and we need to focus on things like what Operating System should we use? Which feature should be focused more? This type of data is important to decide the best for the business.
Top Mobile App Analytics tools
FLURRY (YAHOO MOBILE DEVELOPMENT SUITE)
Flurry is one of the oldest and most respected app analytics platforms available in the market. In 2015, Yahoo acquired Flurry and it became the part of Yahoo Mobile Development Suite. Flurry focuses on user acquisition analytics and provides data about the number of sessions. Flurry also has an ad network, which gives you data regarding active users, frequency of users and metrics on your ad performance. It provides you the detailed user acquisition reports. The UI of Flurry is intuitive and easy to navigate, and used by big hits like Facebook to manage their apps.
Flurry offers lightweight and easy to install SDK and you can get the data as soon as you install it. Download the Flurry SDK and detailed documentation for knowing your app performance.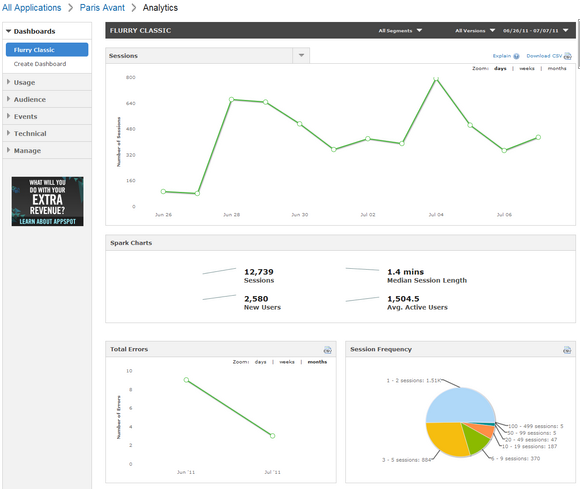 Cost: Free
Platforms: iOS, Android, Windows Phone, Blackberry, Mobile Web
GOOGLE MOBILE ANALYTICS
Yes, Google has not stayed behind when it comes to analytics of mobile app. Along with Google analytics for website Google launched analytics for the mobile app too. The advantage of using Google analytics is that if you are using it for your website, you can also get your app analytics in the same dashboard. Google mobile app analytics is easy to use especially if you know how to use it for the web. The Google app analytics package includes Audience, Behaviour, Acquisition, and Conversions. Audience part tells you about new vs. returning users. Behaviour shows details regarding user action when they are using the app like number of screens viewed, the number of screens per session, average time on screen and number of crashes. The acquisition lets you know how users are accessing it for the first time.
The Mobile Analytics website also has a few success stories that illustrate the importance of using analytics to maximize the results you are getting from your app.
Another important feature is that it integrates with AdMob. It will let you know how your paid campaigns are doing.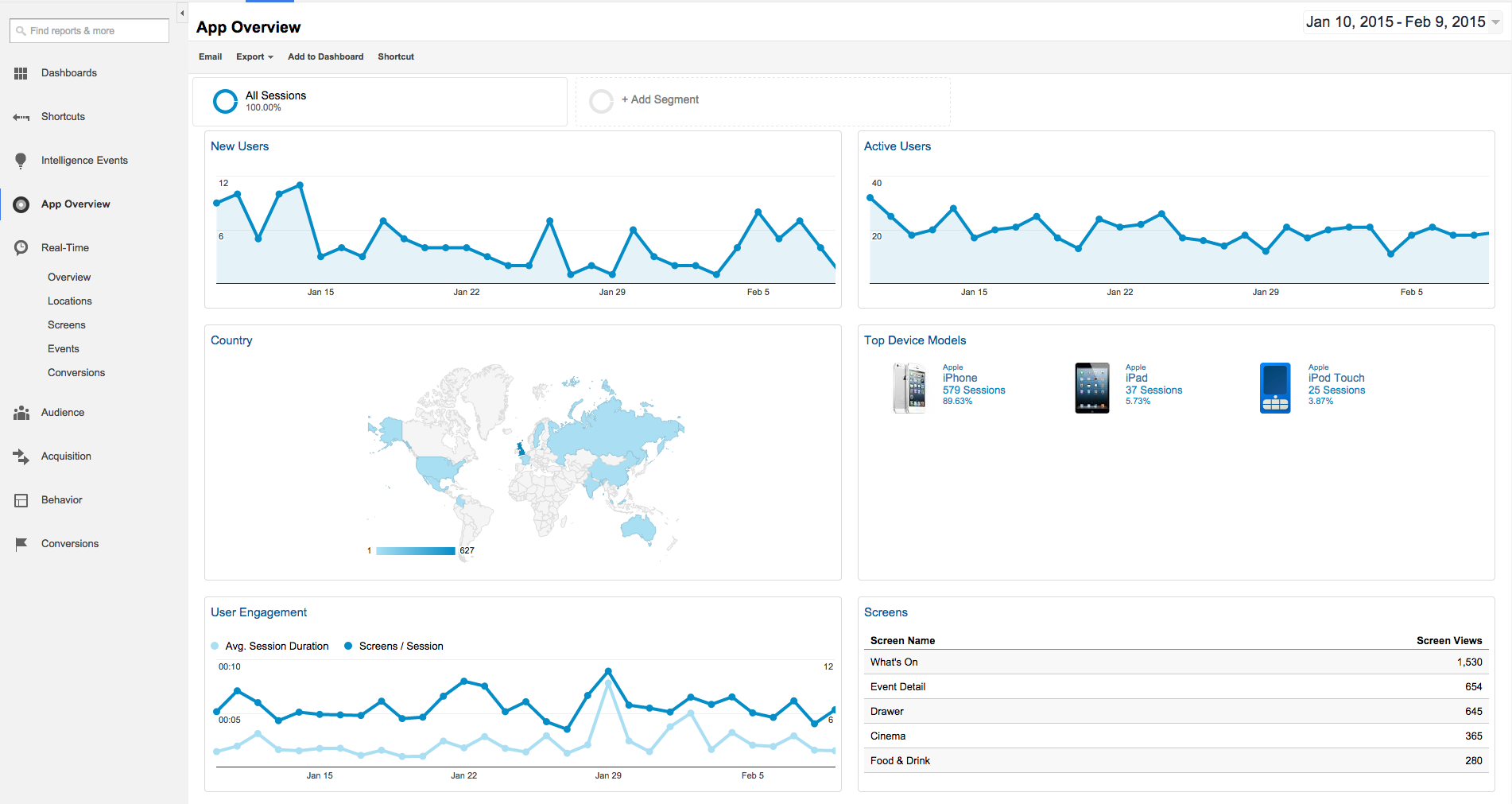 Cost: Free
Platforms: iOS, Android
APPLE APP ANALYTICS
Apple too jumped into analytics tools and launched their analytics platform in iTunes Connect. A few of the key features are:
A few of the key features are:
Filters – You can filter metrics by things like app version or iOS version. Makes it easier to drill down to see which segments you are doing well in.
Sources – Some basic tools for measuring the results from paid and organic traffic sources.
Retention – Since retention is a key signal of how good your app is, understanding how long people are sticking around is vital to your success.
This tool gives fewer details as compared to other tools but the important part is that you can view some key metrics without leaving the iTunes Dashboard.
Checkout the WWDC presentation to know how to get most out of the App Analytics.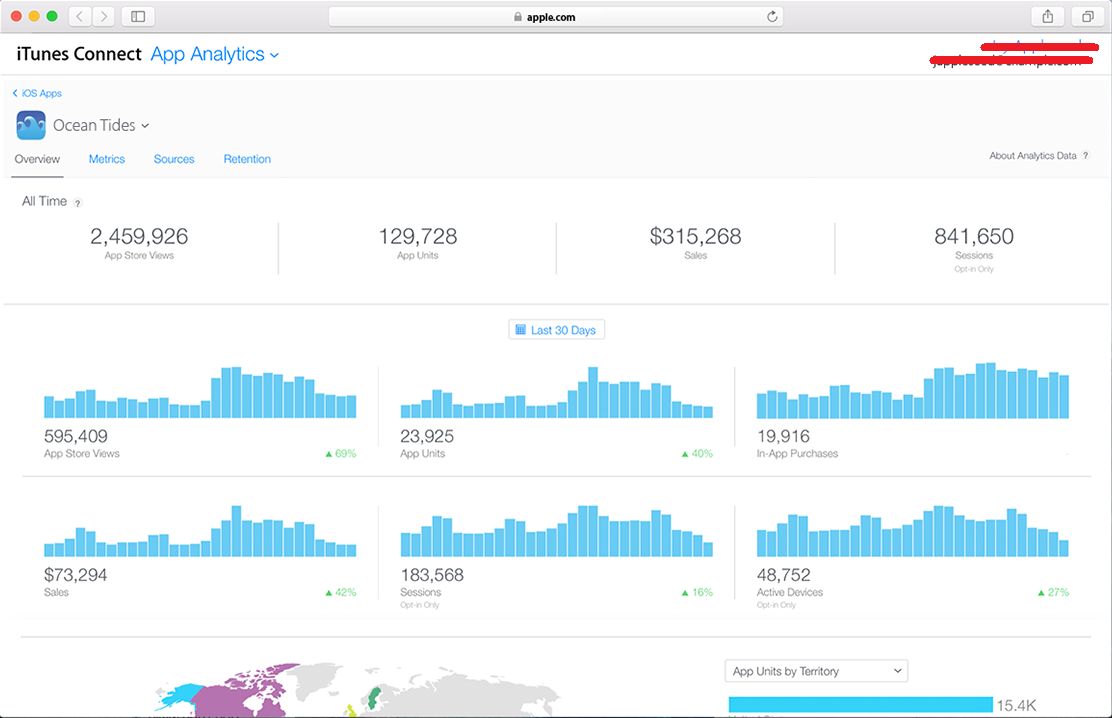 Cost: Free
Platform: iOS
COUNTLY
Countly is less famous than Flurry and Google but it has a cool design, unique positioning, and a great UI. It provides insights about how users are experiencing your app. It can give you deepest insights like button clicks, swipe screens, time spent on the app and each and every app movement is stored in the database.
It also has Enterprise Edition and Cloud Edition. This tool is also helpful in targeting related audience through push notification, segmentation or attribution tracking.
Cost: Free if self-hosted (open source)
Platforms: iOS, Android, Blackberry, Windows Phone.
Krify offers mobile app analytics integration along with mobile app development services. Through mobile app analytics get regular updates on various important analytics components that can help businesses with following things:
Understand the mobile metrics to know the ROI of investments done on marketing.
Knowing exactly how well the first version of your app is doing, you can plan the investment for next versions.
Understanding the mobile journey and pre-purchase research of your customers, you can optimize your next mobile campaigns.
Krify offers complete mobile solution for managing your business and maximize your sales. Mobile app development is the first step towards it. Once we have a mobile app for your business we can work together to ensure the consistent data collection, ongoing maintenance and usage of mobile app analytics. Contact us today for complete mobile solution for your business.