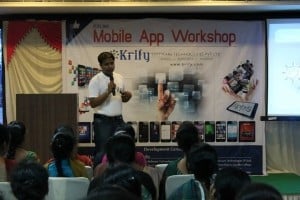 Krify has organized a full day "Mobile App Workshop" on 10th November 2013 at Hotel Sarovar Portico, Kakinada, India with an objective to share knowledge, innovations and cutting edge technology apps and its development.
Being a reputed apps development company, we believed strongly that its our responsibility to share the knowledge and awareness to spread awareness and attract new talent.
The first module of the workshop focused on knowledge on Mobile User Experience, Mobile User Interface Design and Mobile App Project Management. The second module is code walk though. We demonstrated iPhone, iPad and android app development with emphasis on code management, environment, architecture design with several apps and their development ideas.
 Total of 125 participants attended the workshop from several IT development companies and students undergoing professional IT / Engineering courses. Participants enjoyed concepts and development ideas such as (i) GPS & Google Traffic Maps and how it is done (ii) Solving Sudoku Puzzle with Apps (iii) Augmented reality Zombie fight etc.