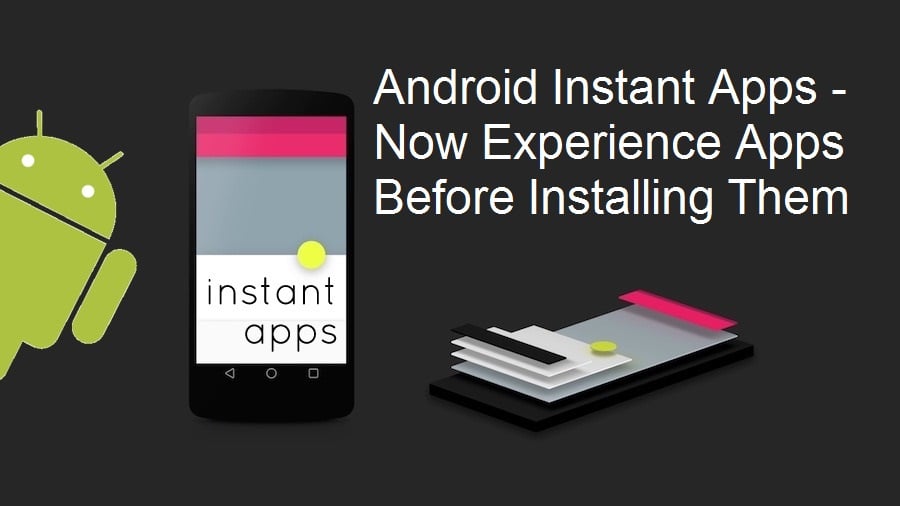 At Google I/O 2016, Google announced a new upcoming feature of Android called as Instant Apps. Android Instant apps will allow users to access a cloud-based version of the app on your Android phone, without actually installing and downloading it from the Play Store.
Imagine this that a user has learned about some mobile app but is unable to access the app because there is either not enough space in the mobile device or the internet speed is bad. This condition may lead to the potential loss of the customer for that mobile app. So to solve this problem Google came up with the solution called Android Instant Apps. This way, the enterprise will not lose out on any potential user due to reasons like memory space shortages or internet data problems.
Android Instant Apps feature can be used by any Android app development company. Incorporating this feature within an Android app will allow that app to run instantly with a single tap without the need of downloading and installing the app. This could be a game-changing feature for your apps because apps will get the chance to showcase their potential and benefits to users without downloading it. Apps with this feature will be a preview version of the app for a quick insight of the app. Some advanced functionalities might not be accessible, but this feature will give an overall idea of the app. It will help attracting potential users.
This feature will completely transform the way people access the mobile apps. Just users browse websites and then visit the websites of their choice similarly, now Android apps will be able to do same for the users.
Highlights of the Android Instant Apps
It lets you experience the beautiful designs and animations of the app without installing the app. Everyone will be able to access the app from anywhere. You can now bring people to your flagship Android experience from links, which would previously take them to your mobile web page. Android Instant apps will run on a majority of Android devices that uses Google Play services. Android Instant Apps functionality can be added as an upgrade in your existing app. Once you modularize your app, Google Play will download the parts that are required in the cloud version.
How to Enable Android Instant Apps?
Google has started rolling out this feature but only for selected users. This feature works on Nexus 6P with Android 7.1.1 and some reports say that Pixel and Pixel XL with Android 7.1.2 also supports Instant Apps feature. But reports say that this feature has started rolling out for additional users too.
To find out whether your Android device has access to Instant Apps, proceed with the following steps:
Open 'Settings' menu.
Scroll down and tap 'Google' under the category 'Personal'.
In 'Services' category, tap 'Instant Apps'.
On the top right of the screen, tap the toggle.
Tap 'Yes, I am in' on 'Terms of Service'.
After completing all these steps, you are now ready to use Instant apps.
More and more applications will be added to this list, but as of now, the lists is short. It includes Buzzfeed, Viki, Periscope and Wish.
For developers, they still have to apply to access the SDKs. Google has notified that full SDK will be available in coming months.
Krify is a multinational IT service provider with the core competency in Android and iOS app development. Check out our previous innovative works in Android app development. Contact us today to get your idea converted into reality.