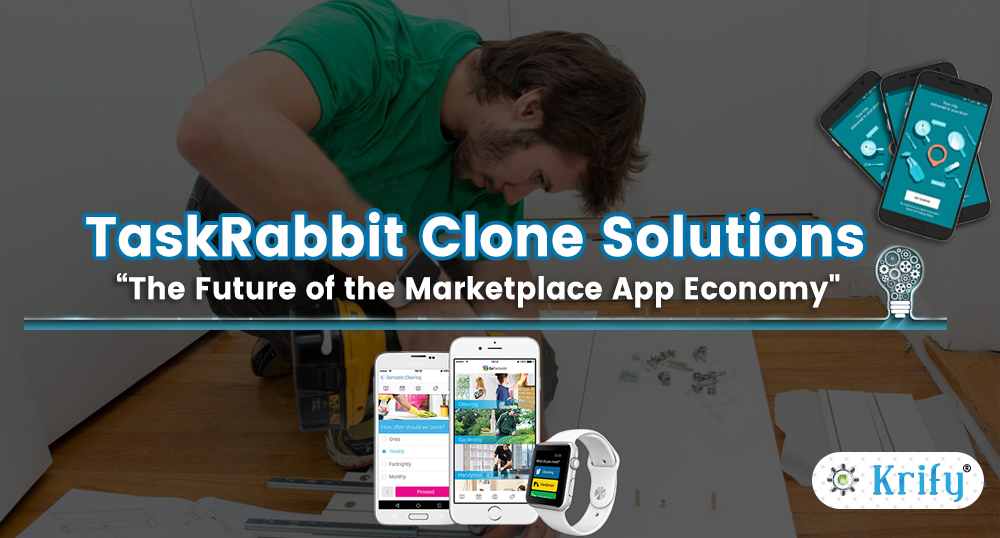 In the metropolitan area like London, Greater London, Greater Manchester, Leeds, Sheffield. We regularly hear that our mom or wife asking us to fix the faucets, Fans and many more while at your in relaxing mode or busy work. Actually 100's of times right? The real problem behind this is the lack of helpers against a high need for home services.
Startups brought a solution to the above problem with a new platform named TaskRabbit, Fumble, Thumbtack, BrightNest.
In on-demand home service app like Task Rabbit, we can include services of an on-demand plumber, On-demand electrician, On-demand mechanic, on-demand carpenter, etc. This idea is no more unique in the market as there are many good startups working on it and already have achieved a milestone in their focused geography. In order to fix a leaky faucet in the bathroom or remodel your kitchen, you can hire the best professionals from on-demand apps and get the task completed without any hassle. On-demand apps like task Rabbit have become the trend these days. They help the users to save the time a lot, money and efforts. Supply-demand notch, shortage of time, assured gap, and lags in delivery are some of the major reasons why people choose on-demand applications. Many of the big enterprises are coming up with ideas to build on-demand apps to bridge the gap between service providers and users. Such marketplace Mobile App Like TaskRabbit have been revolutionizing the mobile commerce domain in several ways.
Reasons why entrepreneurs should opt for TaskRabbit clone
Different tasks can be sought and offered on your task-outsourcing website. All the tasks are properly categorized so that it would be easier for the users. The admin should also to subcategorize the one that can be categories. Categorizing tasks translates into easy access for the users, thus provides business for the website.

To be successful in the competitive world today, it should be more famous among search engines like Google, Bing, Yahoo etc. Meta-data description, robot.txt are the on-page optimization features that are inbuilt. The SEO-friendly URL's will ensure that your website is featured on the first page of the search engine results.

Another important term is user-friendliness. It should be very important that it maintains the social mediums for the registration process.

You subscribe to the specific services for a specific period of time. These features can connect the task-seeker and task provider for a long time and also the task can get the regular work to be done in time.

In this app we have the payment gateway integrated named as SudoPay. The major motive of this integration is to offer a hassle-free payment process for all the users.
Key Benefits of Handyman/TaskRabbit clone solutions
Here are some key benefits of On-demand App like Task Rabbit
Registration:

Users are able to register themselves with the personal email or social media.

Scheduling:

Once registered, users can program an appointment for the necessary service.

Tracking:

Users will be informed about their appointment dates, program, and ETA.

Payment:

The user will pay through online gateways or through debit or credit cards

Rates and Reviews:

User can leave feedback about their services.
How to develop On demand TaskRabbit app clone?
The startup model, initially goes with Custom Solutions that you need for your startup business.
Customer app
The  customer app will be centring on requirements involving all the factors like destination, location, time of arrival, payment etc
Get custom development for on-demand App like TaskRabbit.
Onboarding
Benefit/Service Selection
Benefit/Service Scheduling
Allotment/Matching
Benefit/Order Tracking
Promos and Offers
Notices and Alerts
Instalments
Surveys and Ratings
Help and Support
Service Provider
The service provider's app is involved with navigation details, customer details, summary, and etc. Service provided will be available with the following features like:
Open Jobs Acceptance
Jobs History
My Ratings and Reviews
Write a Review
Available now an option with ON/OFF button
Available Days
Available Hours
Notifications ON/OFF
Credit Card Details
Administrator Panel (Web Based)
Through which you can deal with the whole on-request benefits
Secure verification
Dashboard
Client administration
Oversee administrations and estimating
Oversee specialist organizations
Oversee clients
Oversee benefit demands
Exchange reports
Oversee appraisals and audits
Reports
Oversee metadata (Categories, Sub-classifications, Inventory)
Salient Features of an on-demand app like TaskRabbit
Here are some of the salient features:
Instant Delivery:

With the instant delivery system you can easily expand your brand and reach out the customers easily.

Tracking:

Customers will be informed of their appointment dates, schedules, and ETA.

Caller Identification:

The helper can see the customer details and location before accepting the job.

Multi-location Access:

The customer can book for someone at other location using the app.

Transaction History:

Both the customer and helper can see the job and the payment history from the app.

Cashless Payment:

The customers can use online payment.
Check some of our apps here





Krify has expertized and dedicated developers for both mobiles app and website. We have developed many apps and also have ready-made solutions for various domains. You come up with your idea and we will provide you with the best solution for your business. Just go through our portfolio.