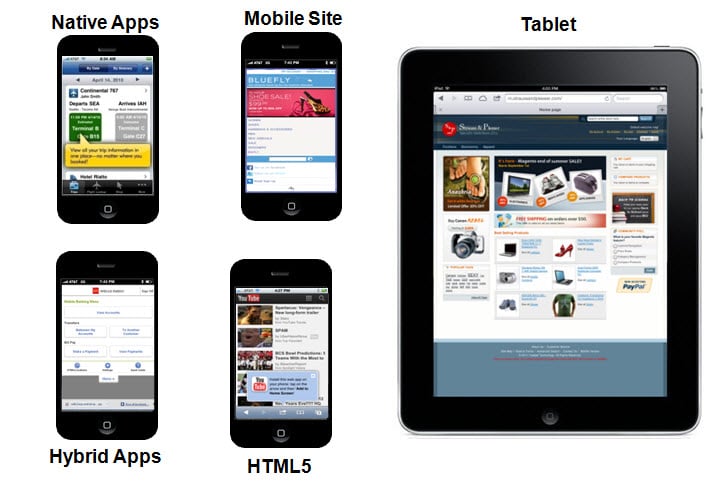 Although there are many smartphone, laptop and desktop users now-a-days, still there seems to be a great degree of confusion among Users when it comes to differences between native apps, web apps, mobile websites, hybrid apps etc. The choice should be made as per the business requirements and your business' end goals.
Let us go one-by-one about the options available and look into requirements that is fulfilled by each of the option.
Desktop website
Desktop Site describes websites that have a wide format and is commonly viewed with larger displays like laptops and desktop computers.
Benefits:
Having a professional website will help gaining credibility for your business because today more and more consumers use internet to search for availability of products and services.
It is a cost-effective way to reach to the potential market and promote your business.
It provides a great place to showcase your work and it helps in improving customer service by adding information that would be valuable for customers.
Responsive website:
A responsive website adapts to whatever device it is being viewed on. The same website will display the same content using a visual design that is most suited the device being used to navigate that website. Users visits any site to find out information rather than completing any tasks. A responsive website ensures that users can find the same information whatever may the device being used.
Benefits:
Responsive websites are excellent at User experience. While the content on the website is the king, it is the user experience that ensures that the visitors should be able to consume content of the website using device of their choice.
Having separate desktop sites and mobile sites needs separate SEO campaigns. Managing one site is easier than managing two sites and two SEO campaigns.
Native mobile apps:
Native mobile app is an application that is downloaded from an app store. It is coded in a manner that it works specifically on a particular smart device's operating system like iPhone/iPad, Windows, Android, Blackberry and Kindle. Any native app has better security features and has more access to a mobile device and tend to be more reliable and faster than web apps.
Benefits:
Native mobile apps are fastest, most reliable and gives most responsive experience to users.
The popularity of native apps has been immense and is continuing to rise.
It is one of the key method to keep the consumers engaged by using push notifications and keep the consumers informed about the new piece of content published.
Web Applications:
A web application shares characteristics of native app as well as responsive website. The main difference is that a responsive website is content oriented and a web app is task focused, similar to way as a native app.
Benefits:
Because of tightly controlled requirements and licensing fees, mobile apps face difficulties in getting into a marketplace. Web apps have same content and capabilities and can replace mobile app to an adequate extent.
Almost every mobile app depends heavily on the internet. A web app relies on the browser and its capabilities to render the application. Marketplaces for web apps do exist, but no need to visit the one to download it. Web Apps live in the browser so the user can navigate to URL to use the web App.
We are not yet at the point, where the web can fully replace all native applications, but we can focus on building high-performing responsive web applications. Developers can focus on making the web a better place to visit over native applications.
Mobile websites:
A mobile website is similar to desktop website but it has been specifically developed to work on mobile device or its browser. If there is m. in front of any domain, for e.g. m.superpages.com, it indicates that the domain owner has set up a separate mobile domain for visitors using mobile device. If a mobile site does not have m. in the domain name, then odds are it is either adaptive designed or responsive designed. Rather than splitting the sites across two or more domains, it's all located in one place.
Benefits:
A mobile website is easier to find and share.
It is compatible to all types of mobile devices (Android, iOS, etc.) and is more flexible in terms of content update.
It is more cost effective and time effective.
Hybrid Applications:
To develop Hybrid applications, developer augments web code with native SDK. These apps can be easily deployed across multiple platform and is usually the cheaper and faster solution
Benefits:
Hybrid apps are faster and easier to develop.
It is also easier to maintain and one can change the platforms.
The one very big advantage of hybrid app over native app is that such apps being built on one single core, you can add functionality and have multiple versions of the app all benefit from it. Whereas with native apps, for every new functionality to be introduced, the feature will have to be replicated on each platform.
What should be your choice?
Choosing a suitable IT solution depends on the requirements of the businesses and their end goals, whether it is required for marketing oriented web presence or interactive engagement of consumers.
The native mobile app will provide a mobile centric experience for your existing and loyal customers, whereas responsive website can help in providing optimized user experience to both old and new visitors.
If you need app, you have to look for your target audience. It is important to identify app customers. App can only become successful if correct customer base cab be identified and targeted.
If a company can wait for six months or more before the app is launched, then a native app approach makes more sense. If the desired time to market is less than six months then hybrid app could be a better alternative as it can be built with single source code and can be released across different platforms.
Krify's development team has acquired an expertise in building up all kinds of websites, web apps and mobile apps for various software platforms. We understand the need of the business and provide suitable IT solution to our customers.