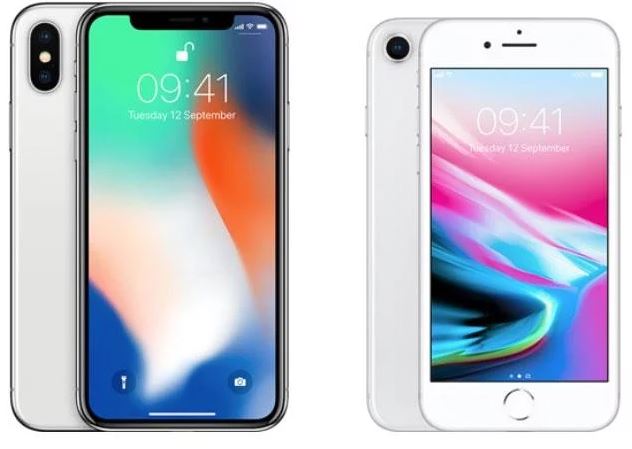 Apple conducted their special event first time ever at the Steve Jobs Theater on September 12, 2017. During the Apple event, the team premiered iPhone 8, iPhone 8 Plus, iPhone X, LTE-enabled Apple Watch and Apple TV 4k. The event was most awaited and most exciting iPhone launch event in last few years. Let's check out what Apple announced this time including the release of most awaited iPhone 8 and iPhone X.
iPhone 8 Release
iPhone 8 and iPhone 8 Plus, the new generations of iPhone, were released with an exclusive glass design, first of its kind. The new iPhone 8 comes with all new glass design, smartest camera, powerful chip, wireless charging and amazing augmented reality experiences that nobody has thought of ever before.
Design of iPhone 8
iPhone 8 has been designed with the durable glass in front as well as back. The glass design has a color-matched, aerospace-grade aluminum band with fine finishing in authentic colors like silver, gold and space gray.
Wireless Charging of iPhone 8
iPhone 8 will be available with Retina HD displays in two different sizes of 4.7 inch and 5.5 inches. iPhone 8 will be having super convenient wireless charging mats that would make it easier to charge. Apple will be introducing the Airpower mat on which your iPhone, iPods, Apple watch can be left on the mat for charging.
Smart camera of iPhone 8
iPhone cameras are widely popular and the new iPhone 8 camera is even better. The camera will have a faster, larger sensor with advanced 12 MP camera. The new camera will come with a new color filter, optical image stabilization, and deeper pixels.
iPhone 8 Plus has got better with the portrait mode, which will allow taking photos with more naturally blurred backgrounds and sharper foreground. Portrait mode will allow creating dramatic lighting effects with dual cameras. iPhone 8 Plus also brings the optical zoom and digital zoom of 10x for photos and 6x for videos.
iPhone 8 with the smartest chip and augmented reality
Apple has introduced A11 Bionic, the smartest smartphone chip, which is claimed to be 70% faster than previous A10 Fusion. Performance cores have become 25% faster that would provide more power and great battery life. A11 Bionic brings powerful augmented reality iOS apps and games with all new level of realism and fluidity.
iPhone 8 with iOS 11
iOS 11 is an advanced and secure mobile operating system and it will help users to get the maximum out of their iPhones. The new iOS 11 will also help you to pay in messages. Amazing AR games and apps will be available for iOS 11. Read more about iOS 11.
iPhone X Release
The most awaited iPhone X has been launched as all screen phone. It is Apple's first phone with the full-screen display with 'Super Retina' resolution. iPhone X will come with all best in class features like glass design, wireless charging and AR apps. iPhone X is an entire screen phone with an experience that will immerse you in it. It has become more intelligent that would respond to a tap, voice and a glance. iPhone X display is 5.8 inch Super Retina screen that is eye dazzling. The design has been made so elegantly with round corners which employ new techniques. The new design is made up of durable glass and surgical-grade stainless steel. iPhone has got first OLED screen with iPhone X, with stunning colors, high brightness, true blacks and contrast ratio of 1,000,000 to 1. It has also got wireless charging and is water and dust resistance.
iPhone X has got the True Depth camera and sensors that enable Face ID, which is a secure way to unlock, authenticate and pay. Your Face is now your new password to control your iPhone.
The iPhone X has familiar gestures that would make navigation intuitive and natural. It is so intuitive that a single swipe can take you to home screen from any screen. iPhone X also have AR games and apps that can be experienced at a new level of augmented reality.
iPhone 8 and iPhone X release dates and prices
iPhone 8 and iPhone 8 Plus shipping will start before iPhone X i.e. on 22 September. The iPhone X pre-orders will begin on 27th October and the shipping will be done from 3rd November. In the US, iPhone X pricing will start at $999. In the UK, iPhone X will be available in configurations of 64 GB and 256 GB which will be available at around £999 and £1,149 respectively. Taking pre-orders of iPhone 8 and iPhone 8 Plus has started and pre-registration of iPhone X has been started.
Krify is an IT services provider serving clients based across the world, with core competency in iPhone apps development, Android apps development, and web development technology. To bring your app idea into reality, contact us and discuss with our Business Analyst.