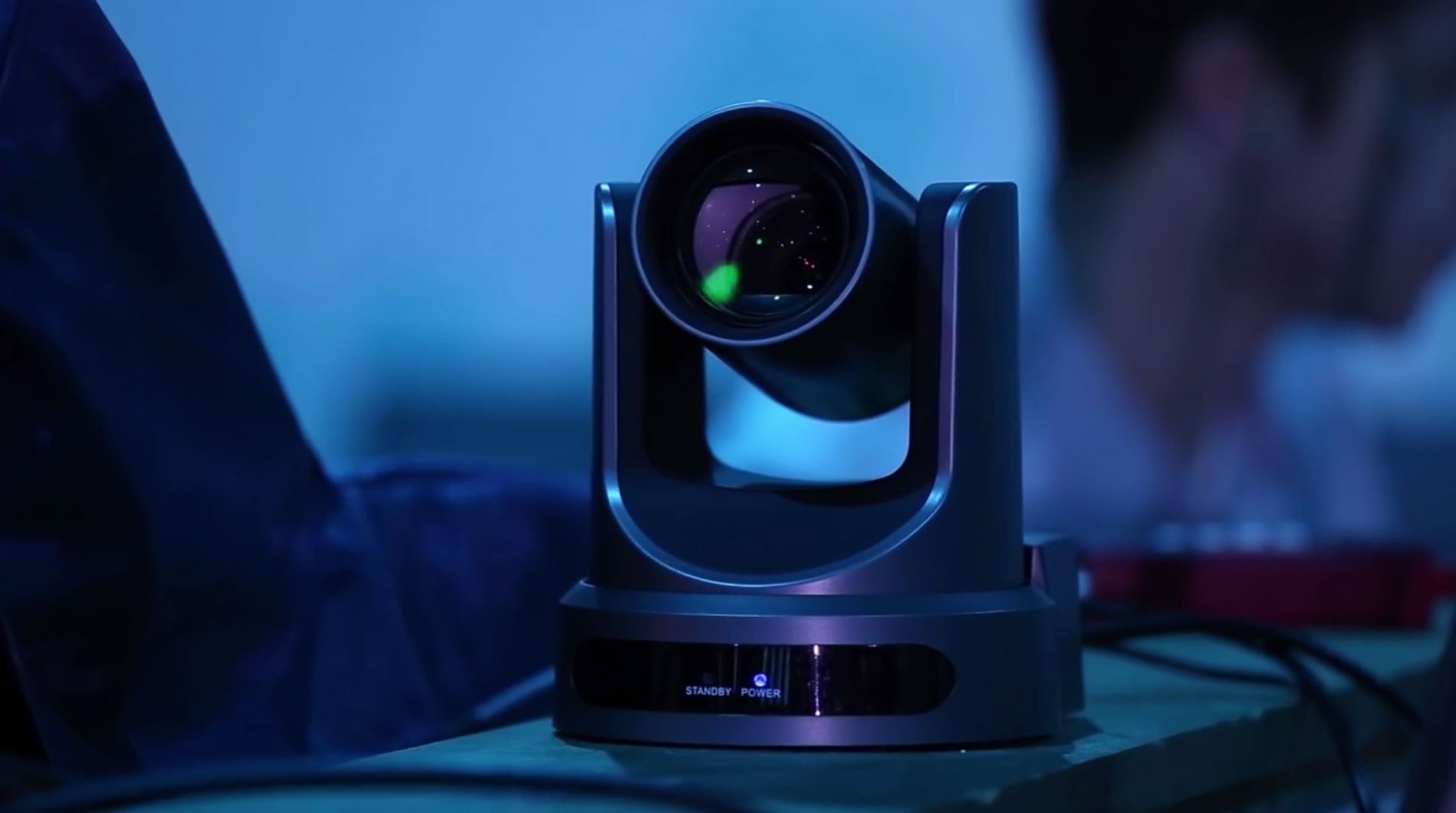 Many days ago, business people used to communicate face to face for any communication, Which builds a very interactive, clear and convincible communication to switch on the new business opportunities.
Well!! In 20-10's eras, the digital era brought a faster communication system to interact with people, started with one-way communication, i.e., telephonic conversations and a very soon clear video communication between people virtually. We all used this technology, right?
Great!! How many of you satisfied with this technology??
Of course, everyone used to I relish the fast and smooth conversations, But the next 20-16 to 2017 brings out the new fun ultra-scalable and soother communication possible with Giga bites speed internet networks to the real user fingertips.
Not only the lighting performance of the network along with the best technologies for surfing over the internet.
Coming back to the topic, now the virtual reality lies among us making the things effective and giving us the virtual presence right front to any desk.
May be you heard about Red5, which is a media server created with Java language further more today I would like to introduce you a well-established, open source technology of 2017 for live streaming.
What is Red5?

Red5 is a media server created with Java language. Which not support streaming to mobiles, Android or iOS except web browsers. Red5 is now used for streaming beyond the Flash including WebSockets, HLS and RTSP. Red5 is currently working on support for the WebRTC to permit streaming in a browser without the plugin.

The Red5 server allows users to accept and publish the data stream. This licenses video chat application, live streaming and also an on-demand video streaming.
The Red5 Pro, build on Flexible, scalable, clear, distributive, custom and powerful, Live Streaming Server to make the real-time communication faster with the support of Web RTC. All new Red5 Pro Server's lets you, to develop a scalable Live Streaming and Next Screen application.
What is a Live Streaming?

In network terms, Transmission of Audio or Video packets without any delay and the best sync of any live capturing (video/audio) is called Live Audio / Video Streaming.
The open Source Red5 Server, a standalone server distribution that offers all the options from Red5 with the addition of custom streaming and second Screen plugins.
What is Web RTC?

Simply, A collection of communication protocols (list of statements) and API's (application programing interfaces) to provide a secure and smoother communication between a peer to peer.
Today's business favorite communication media is Web RTC for LIVE STREAMING among *ANY* of SCREEN Video (Web Brower, Mobile App, Desktop Application).
We all know that the Web RTC is the serious element. Red5 Pro & the Web RTC build a scalable live streaming and the second screen application's for your business purpose. This facilitates Red5 Pro server's to act like a hub, which enables the connections between numerous endpoints including the mobile SDKs, for iOS and Android, and the browser-based clients via WebRTC, HLS or Flash.
Take a quick demo on Red5-Pro on Krify server with just a few clicks away!!
Step 1:Open our local server link (We will active links for a deamo__ Kindly contact us.)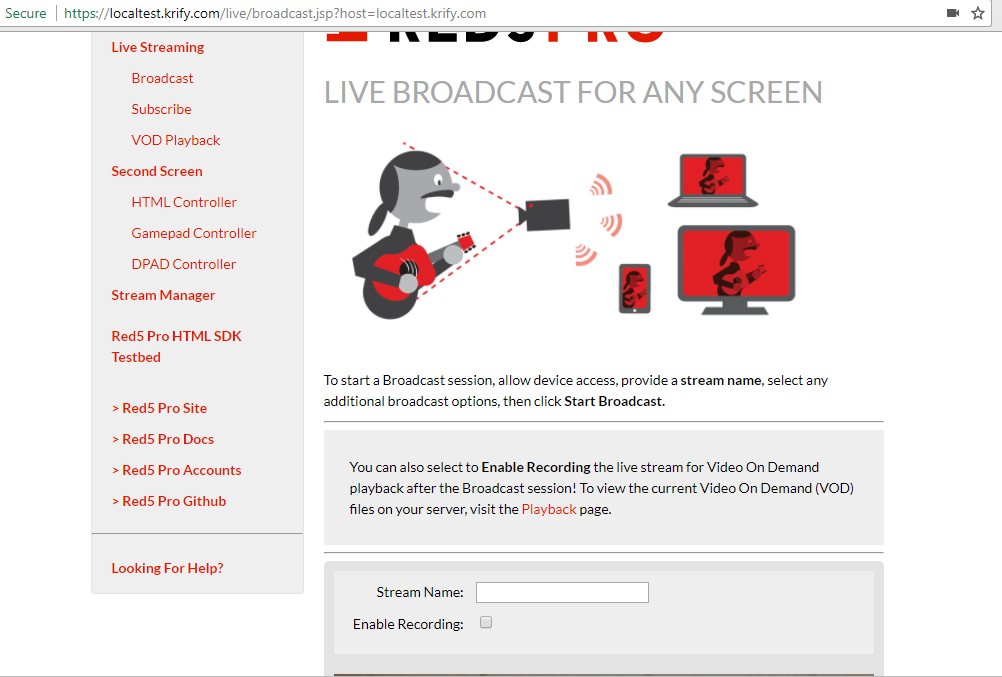 This link will ask for accessing the camera and mic (In case your system consists of it). Please make sure, you allow the access.
Step 2: Click on the Broadcast from the left side menu.
Step 3: From here, scroll down and you can see the video streaming through the accessed camera.
Step 4: Write a test name "on this screen" for an instance Krify and click on Start broadcasting.
Step 5: Open a subscribe page from the side menu.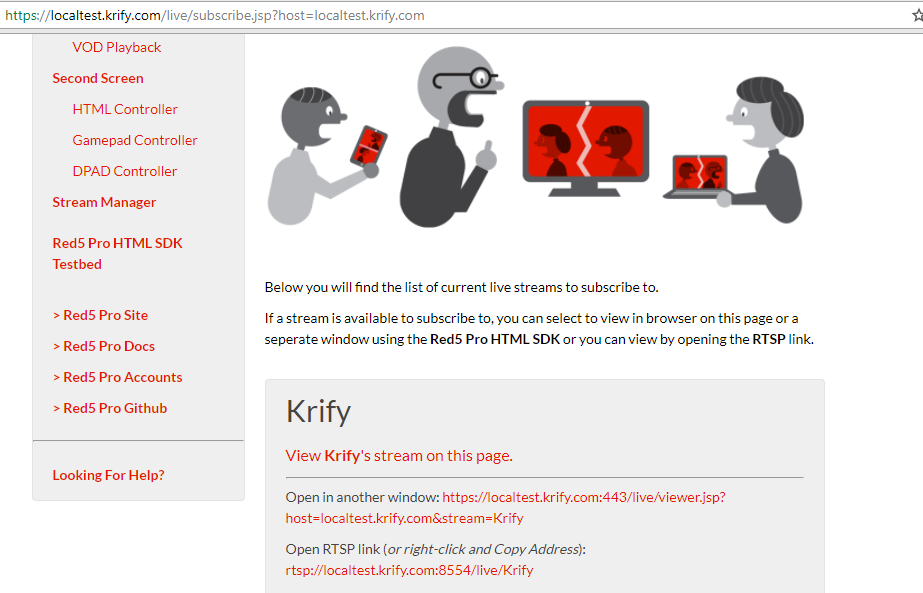 Step 6: Now, you can see the test name on this page (represented in above image).
Step 7: Copy a link and share with any other person, Or open in any other browser. Where you can able to see a live broadcasting from the main screen.
Note: We have implemented for a sample demo to represent the Red5 Pro working on our Krify's own server.
Contact us today and enrich your digital presence. Krify is an IT services provider serving clients based across the world, with core competency in Live Streaming iPhone apps development, Android apps development, and web development technology. To bring your app idea into reality, contact us and discuss with our Business Analyst.
We will help you to provide the best of mobile app development services that suit your need. By carefully strategizing your app and using the right resources we will develop your polished application from scratch.