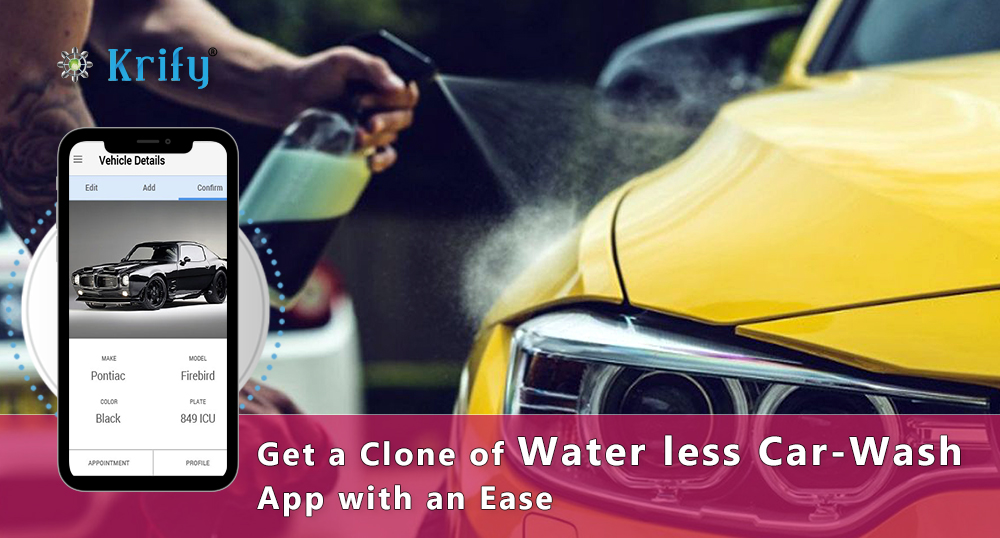 For decades, there has been the only way to wash a car with a mitt and a shampoo by following in a queue for your turn or leaving over the car to a service provider for some-time to provision. Now getting a car wash is simple to every car owner to keep his car clean on. And all these are possible with the mobile apps and innovative brains who can take responsibility to drive the car wash services. Let's know about the trendy waterless car wash now.
The waterless car washing technology comes with no big expectations to go, and the fact is the waterless car washing technology comes manpower enabled with less missionary for a great polish up. The products used for waterless car wash are more detail spray and simply mist the product on the car and just wipe it with a dry towel. It is that convenient with a waterless car wash.
How does the waterless car wash operate?
With the help of digital technology, Waterless car washing becomes one of the on-demand services for car washing in countries like UAE, US and UK. Where with the help of mobile apps most of the bookings for car wash has been shorted over just a finger touch on schedule given by the service providers at his place and in other models as per customer availability at his own place.
Here, in simple steps how a waterless car washing app works:
Register & Login to the app.

Select and schedule the

waterless car wash

order.

Detailer arrives at your address and will take nearly 25-30 min for a

waterless car wash.

Gets payment status done once your done with payment method and gets discount if you have coupon or code.
Features that have made waterless car wash app a big success
Location service and map
People can select the location using GPS, Map and can get the advantage of waterless car wash service at their desired location.
Notification
Whenever a waterless car wash order is placed or canceled technician will be notified through notification.
Place wash order
The customer can select the package for which they want to opt and place an order for a waterless car wash.
Browsing wash-technicians
They can also browse the best available technician surrounding & avail the service from the best technician for a waterless car wash.
Sms
Customers note by SMS for cancellation or confirmation of any order and the payment procedure.
Payment integration
Payment can be done easily through m-wallet by nullifying the need to carry cash.
Quality Assurance
Once the car has benefited the service as per the package they can look at car condition through pictures.
Benefits having a waterless car-wash:
Saves gallons of water
The products used for waterless car wash are Quic Shibe, IBIZ. By using these, even a drop of water for car washing is not required. If required they can use a small amount of water. This will save 20 to 50 gallons of water. It not only conserves water. Indeed, the price of water also.
Cleans in a proper way
Waterless car wash removes not only dirt but cleans the car properly in a simplified manner. It can be used to get rid of tree sap, scuff, road tar, bug marks to make your car looks like a new brand car.
Harmless cleaning
By going through this, it ensures no harm to your vehicles during cleaning as most of the car wash formula contains a mix of special lubricants and cleaning agents that surround with dirt and lift dirt particles. By this, the surface of the vehicle is wiped out and cleans any scratching when occurs.
Saves time
This is the major merit of all the benefits. It will save a lot of time and period. The process of waxing and washing a car with wash less solution takes a maximum of time i.e 30 min which is less than the time taken by traditional way of washing a car.
Ensures a protective finish
It is very simple to wash up the car by providing a protective finish in 3 steps.
In the whole process, the person has to spray the formula, let that soak for a few minutes, wipe it off and then buff it. That the easiest and as simple as the process.
Ease of application
The spray will be in a liquid form, so it is easy to apply when compared to traditional car wax process. So it is easy to keep the car a shiny and new look, without the wastage of water i.e, destruction of the environment by using these waterless car washes so, give it a try.
Long lasting and protection
These waterless cleaning products give your car longlasting protection and shine. Salt and Catalytic converter emissions are the things protect your car from harm. It gives you protection from the water for up to 3 months.
Saves the budget
The budget on purchasing full car care products is reduced when you opt for waterless car cleaning products. Day after day you will realize how much money you saved on these products.
Technology Stack used for On Demand Carwash App Development
Before developing an app, sound technology infrastructure is the first most priority must be given remarkable attention. Thus, analyzing the app specifications, technical domains is important for Car washing mobile app.
Inquire with us to more about Technology Stack used for On Demand Carwash App.
Location Tracking
Based on users proximity sensors mobile app, tracks the current location on a real-time basis of the user. For IOS Apple maps and Android Google maps provides all required functionalities for tracking.
Voice, SMS and Mobile verification
For keeping spam bots at bay and for authenticity the stack app developer can go for google sign in or facebook SDK.
Myths Of waterless car washing
The

waterless car wash

will scratch my car's paint. Make sure to use quality microfiber towels. Either ask the manufacturer for the better quality of towels. You are dealing with a surface that is sandy and muddy. You will literally need a pre-rinse. Many of them argue that pre-rinse defeats the objective of the

waterless car wash. Whatever it is you need to remove heavy contaminants before cleansing the car.

In general, people think that waterless car wash doesn't contain water but basically, it has less water which dips the microfiber towels to clean the car.  

Quick detailing product and

waterless car wash products

are the same. These

waterless car wash products

have greater cleaning power than other detailer products.

Using a

waterless car wash

product does not really help the environment. The best analysis is to compare the

waterless car wash

to other options available in the market.
Solutions by Waterless car wash app
Enhances the efficiency of your business. To lucid the problems of the consumers, it is important to enhance the efficiency of your name, because more efficiency means more productivity. Indeed there is a need to learn how to identify the disorganized process in the current startup business model. As the business must work for both the consumer and businesses. The idea of taking services to forward to the consumer is growing interest in the on-demand world where you can order anything online.

Excludes the inconvenience. By eliminating the inconvenience can customer feels more connected to service or product. Before starting, you required to understand the real-life problems of consumers in a particular location. The main thing that faced by peoples is never ending waiting to get service done. Including conveniences and ease that offer good service for customers which enhances the experience.

Focus on ensuring solutions for both B2C and B2B. The B2B is more flexible by offering opts for packages and prices and for B2C should offer an innovative platform for both consumers and businesses.
There is a rapid increase in the on-demand economy from the past coming years. If you start up an idea of creating an app for a waterless car wash then you need to cross verify your idea with mobile app development company or hire a professional full-stack developer, who has experience in mobile app development and web development.
How Krify can help you develop the waterless car wash Mobile app?
Waterless car wash technology is the future of app technology, Krify is the best Mobile app development company for a car wash. we do have the perfect talented developers and innovative designers that develop your concept into reality.
Krify is one of the best car wash app development company India and also website development company for a car wash. It has successfully made 500+ apps and successfully delivered it to clients. Integrating of SDK, core libraries and social media platforms with an app are the main points we do. Just drop a call we will do the app as per your requirement. Contact us at…..