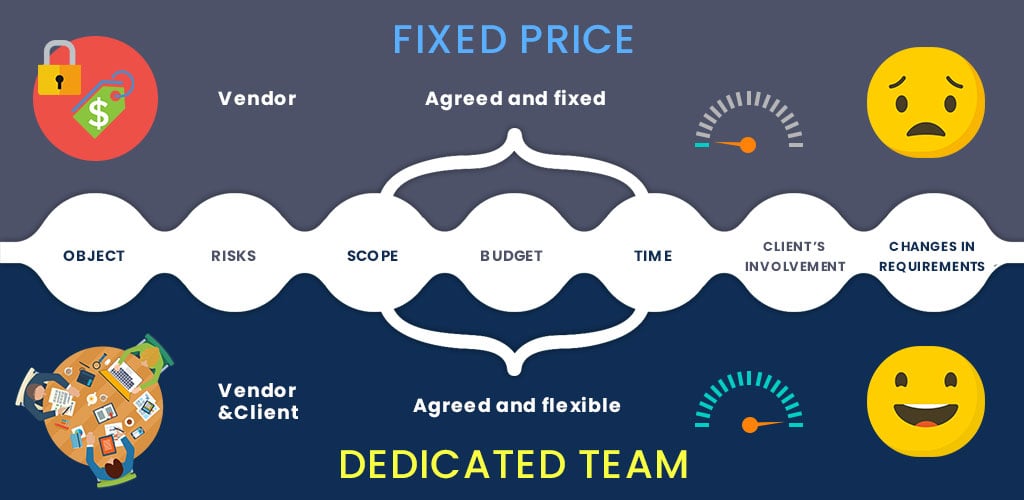 At Krify, we provide our customers different models like fixed price model and the dedicated team model. Hiring these models would be of benefit to those customers who are looking to develop a custom software and those who do not want to hire additional people for their company. Here come the cooperation models which best suits those people in which the above requirements are mentioned.
The cooperation models are as follows Fixed Price or Dedicated team model. Which one best suits you?
Let's get to know
What problems can be solved using Fixed Price?
Customers feel it is easy to control budget by knowing exactly WHEN and WHAT to pay.

There will be fewer project risks as they are transferred to the team.

Factors like fixed budget, deadlines will stimulate the team members.
It is a general fact that exact price is the key to purchase deal of any simple services. For example, if you go to a restaurant, you would like to know the price in advance to make sure what to order and what is the price.
When to use a fixed price model?
When it's a short-term project.

When you have a complete project description with defined goals, working procedures and the final results.

When you are working with a new contractor.
Fixed price model requires documentation prerequisites of which won't change exceptionally quick or won't rely upon the state of mind, in any capacity. Obviously, on the off chance that you've chosen to change a few prerequisites in Fix Price model you can negotiate this with the contractor, yet for this situation, project release can be postponed and Budget can be changed
DEDICATED TEAM MODEL
This model is appropriate for projects where Fixed Price can't be given and for customers who will put resources into a continuous and gradual development of the quality product as they comprehend that making of another new product is an iterative procedure where the development has a large number of rounds. Here the fundamental essential factor is the team that is a transporter of the technologies, engineering, background, and knowledge in project development.
The benefits of Dedicated team model for a customer are as follows
For some small projects you work utilizing the Time and Material model, at that point, you get programming advancement specialists accessible for you a few hours in a month. Development can be planned for several months.

For long projects you need part-time or full-time developers for a year then the best solution is a dedicated team model as you get chosen by you specialists at the least available price.
In the two models, you have a privilege to have your own particular project manager, direct the approach, development practice, technical platform and even corporate culture and arrangements for long-term dedicated teams. A remote team will be the like an extension of your technical local team.
When to use a dedicated model?
Amid long-duration projects when the current plan means the attraction of long-term full-time resources and the usage of new technologies.

When the exact goals and needs are not clear, and you cannot predict the final result (i.e. in case of start-up).

When you priorly knows that requirements or task priorities will be changed
The possible losses of customers in fixed cost model are
Utilizing Fixed Price model a few groups won't do "appropriately" their undertakings, and they will act as indicated by the guideline: if just the Customer acknowledges it. They are not intrigued for their work to be performed well. After the entirety of their interests are constrained to make everything less demanding with a specific end goal to have a spending plan for the dangers, which may happen or they didn't consider.

Because of the main reason, the further item support will be considerably harder. There is no good reason for discussing the proficiency, unwavering quality and strength since it isn't the enthusiasm of such groups.

The tasks, in view of the settled value display frequently cause sick sentiments in help groups. No one composes remarks, structure, and style of code is passed "must have". Clearly, the principal bolster group's longing is to ask: "Who built up this item? It is difficult to help it!".

Once in a while, a few groups won't take care of the issue, however, they will endeavor to work "as indicated by determination". For what reason do they have to attempt to build up a superior item in the event that they don't make a benefit on it or even lessen their salary?

It's in light of a legitimate concern for a few groups to hide the potential issues of the item. In the event that the issues are not clear and there is an opportunity to finish the venture effectively, the Customer will never think about issues.

On the off chance that there are a few issues amid the task execution a considerable measure of time will be spent on a profound examination of correspondence, guarantees, and documentation. At the point when everything that time could be spent on building up the item. At times, even all discourses take additional time than framework update.

In this way, the expense of task possession increments.
IN  DEDICATED TEAM MODELS IT IS GOOD FOR CUSTOMER TO
Utilize short 1-3 weeks discharges amid the arrangement advancement. That will demonstrate the present advancement, help to change the item and invigorate your group to work adequately.

Pay as indicated by short discharges results (some particular Time and Material) – this encourages a client to perceive what he paid for. Source code and program are accessible for the client and accessible as indicated by his needs.

Utilize other great Agile programming advancement standards.
Let's conclude,
Any of the software development models is dependably a parity of money, quality, and timeline. The customer's primary goal is to save money. For this situation, a few groups can offer just a poor quality product or delays in delivery.
In any case, the client is a ruler and he ought to pick the model that suits him better. What's more, it will be extremely awesome if the client considers making a positive and inviting environment for developers taking a shot at his tasks and attempt to temper drawbacks of picked models and work out arrangements if issues emerge. In any case, nobody needs to shoot themselves in the foot and release a product with a terrible quality or create a product, which will be costly to help in the future. In this way, converse with your contractual worker, talk about the points of interest and settle on sound choices.