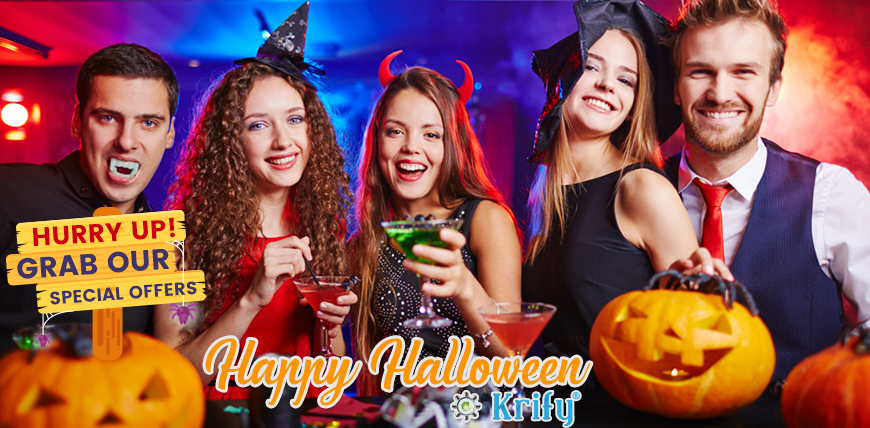 One of the most popular holidays on the calendar is Halloween. It is a time of magic, imagination, and mystery. This is one day each year, everyone get rare and luminous opportunity to wear  transformative magic of Halloween costumes; convene with friends and family members at parties that are scary fun with lots and lots of candy.
Halloween, also known as Allhalloween, All Hallows' Eve or All Saints' Eve is celebrated on 31st October every year in many countries. It symbolizes the time dedicated to remember the dead people. It initiates the triduum of Hallowmas and it is the eve of the Western Christian feast of all Hallows. On this day, costume parties are organized wherein all guests dress as witches, ghosts, monsters, and many other supernatural figures associated with Halloween. People also get dressed as popular characters from fiction, celebrities, and as ninjas and princesses. The day is celebrated with full joy and people play pranks and games like apple bobbing and visiting haunted attractions..
Some of the countries celebrate this day by visiting churches and lighting candles in the graveyard. Halloween is most of the people's  favourite holiday with activities typically involve trick or treating and dressing up in fancy dress.
Krify Wishes Happy Halloween to all our Valuable & Lovely Clients. May your Halloween be filled with Scary times and Wonderful Memories.
We decided to make this festive season even more interesting for our existing & new clients with exciting offers on our various services as below
iOS Application Development
Android Application Development
App UI/UX Designing
Web Application Development
Website development
So don't miss this wonderful opportunity to avail our discount and get your Halloween Mobile  application or Web application or Retouch of your Website. Contact us today and get the opportunity to work with one of the best Web & Mobile app development experts.
Contact us today or Call Back and get the opportunity to work with one of the best Web & Mobile app development experts.