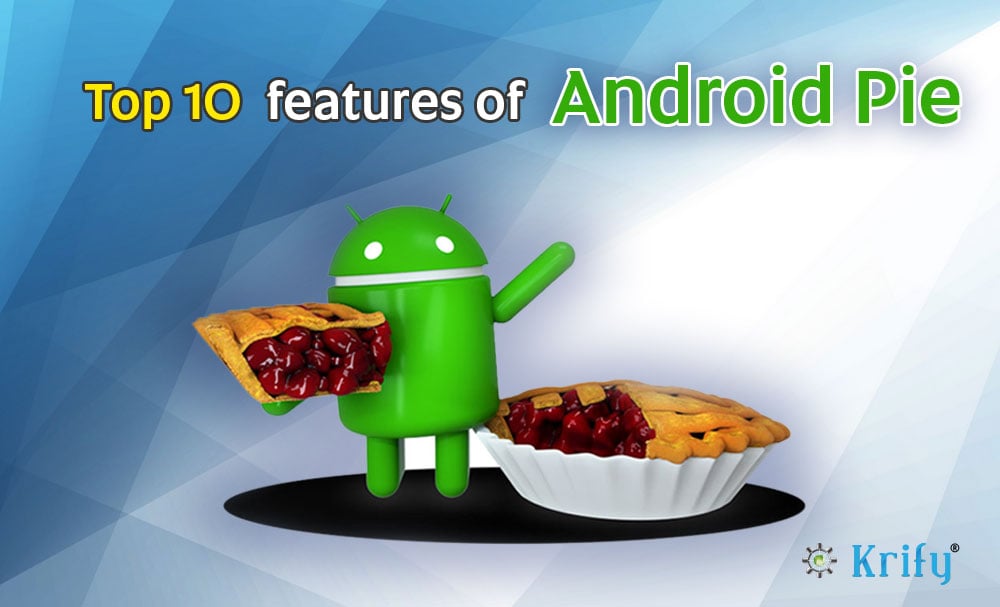 The power of Artificial Intelligence demonstrated by Android 9 Pie
Google announced the release of Android P, officially called as Android Pie for users of its Pixel phones. Coming to other devices it may be released this year or the next. You get more from your phone as Android 9 Pie harnesses the power of artificial intelligence. The beauty of it is smarter, faster and adaptable.
There are plenty of new features and know the reasons what we get from the piece of pie.
You can also go through our podcast channel for the same.

Here are top 10 Features of Android 9 Pie:
1. Fresh new look and notifications
Android Pie enables you to swipe down to view the notifications and quick settings. Google is using rounded corners with Android Pie. The Settings menu is lot more colorful. Android has its own trend in handling the notifications compared to iOS, with Android Pie, it widens the gap adding more features. Smart replies for the messaging apps is more suggestible as it shows more information in each notification. You cannot expand the Bluetooth or Wi-Fi settings as like in Oreo.
2. Dark Mode On
Google added official dark mode option in the Settings. Generally, we rely on the wallpaper to trigger the dark mode, now with the help of Android Pie users can decide whether to use light mode, dark mode or automatic (based on wallpaper). Thanks to Google as this option is being asked by users from years.
3. No stopping the notch
Android phones are adopting a notch at the top of the screen to accommodate sensors as bezels get smaller. As this is a new change, Android Pie gives you a preview of this might look like once you enable the Developer Mode. Scroll down to the Drawing section under developer options, tap "Simulate a display with a cutout," and then choose a size. Voila — you're living the notched life.
4. Edit the Captured screenshot
Capturing screenshot is made very simple. Wondering how? Just by long pressing the power button, you can take the screenshot. The previous method of holding the power and volume button still exists, in addition, Android Pie provides a new edit feature to the captured screenshot. Once the screenshot is saved, an edit button is displayed in the preview notification. Click on the edit button and that will open a markup tool which enables you to crop, draw or highlight the screenshot before sharing.
5. Artificial intelligence to get the right way you want it
This is an interesting feature of Android Pie. App actions predict what you are going to do, by this, you get to know your next task quickly. For example, if you connect your earphones, the playlist you were listening previously is front on the screen.
6. Adaptive battery
Android Pie uses machine learning to predict which apps you will use in the next few hours and which you likely won't, so your phone only spends battery power on the apps you care about.
7. Intuitive Navigation
Switching between the apps got easier. This is done more naturally by using gestures instead of buttons.
8. Dashboard providing where you spend more time
Do you think that you are addicted to the phone? We generally argue No right? Google's Pie is providing you the data of time you spend on the apps and how often you check the phone. You can also see the statistics of the notifications you get. Know where you are spending time with the new feature of Android Pie.
9. Adaptive Brightness
Android Pie with Adaptive Brightness learns how you set your screen's brightness in different lighting environments and automatically does it for you over time.
10. Extra security with lockdown mode
Google is always a step forward in terms of security and privacy. There is a new feature, though, that locks down your device with the push of a button. When this is enabled, you need to ensure a fingerprint sensor or a voice unlock (reverting to your backup unlock methods like PIN or pattern)
Go to Settings > Security and Location > Lock Screen Preferences and toggle the Show lockdown option. After you toggle that on, you can now just press the power button, then tap Lockdown.
Let us wait for the new Pie! to experience these awesome features