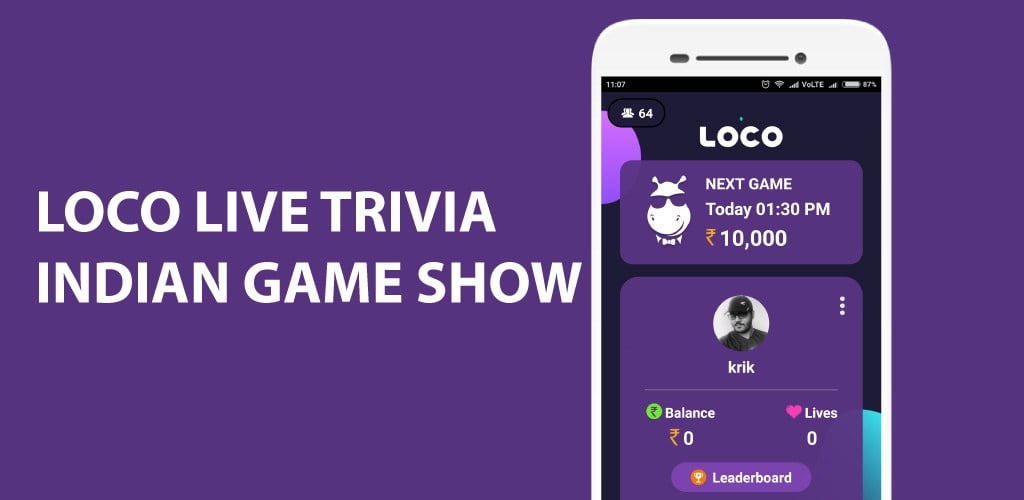 Would like to ask your friend about the recent mobile launch – Xiaomi Mi Mix 2S specifications ? Would like to have a chit chat with with your buddy about these topics like Movies, Pop Music, Geography,  Computers, Science, Literature, Politics and more?
May be this used to happen in middle era, As the Advanced Tech era changed the real world with the puzzles and compositions to win a contest followed by the gift price through trial game concepts, Would you aware of such?
Let me introduce you the modern trivial game trending in INDIA named LOCO – Also called as SHOW TIME, where FIVE MILLION people spending their time on this. Still the user base is growing a day to day just similar to the Pokemon game.
The App named as LOGO, which is the only app offering the real money on playing the Trivial Game. Not only to earn money, Local helps you to gain knowledge with respect to the sports, pop culture, fun facts, and more and more with fun quizzes. Loco sign-up is full free and lets you play the game on time and bombard the brain to find the answers with a KNOW-OUT rule.
Loco Game Show Timings : 1.30 PM and 10.00 PM to win the real money!

Loco Game Show Hosted by Mr. Gaurav Kapur – famous INDIAN anchor
Have a look on a Promotional Video by Loco Team to understand much better.
Krify would like to answer a few of common FAQ's from the business entrepreneur: 
1. Who developed the Loco App?
Loco have an expert internal team, who coordinated with expert mobile, web app developers team and hired them with a in-house to maintain everything.
2. Who are the Loco app developers – team?
Loco was developed by 3 former employees of learning platform Unacademy (names are fortunately hidden) .
3. Who acquired the Loco?
Very Recently, Loco has acquired by the Sequoia Capital-backed digital media company Pocket Aces.
4. How Loco is Making Money?
A through process, Through the user data base, and of course their might be a feature plans as follows.
Third Party Adds
Personal Adds
Third Party App Installs
Notification Adds
Subscriptions
Paid Quiz
and more.
4. Who will develop Loco Similar Apps from INDIA?
Obviously, A company who have an 10+ year domain expert with a great competency in serving LIVE STREAMING APPS DEVELOPMENT and TRIVIAL APPS DEVELOPMENT followed by the continuous support team to maintain in future.
5. What Server Infrastructure Required for Loco similar trivial app development?
It depends on the targeted region, the number of device data base in the region – Android, iOS and other followed by the Best in class and Cloud Server infrastructure using trending live streaming technologies a like Red 5 Pro.
6. What is the price estimated for Loco Similar App Development?
Straight forward answer is, for the Loco App clone development it will decently required an effort estimation of 18,000 USD – In Indian currency Rs. 1,200,000. which covers a iPhone App, Android App followed by the Back-end Admin Panel design, develop and deployment included with full testing.
Note: We must capable to invest more to choose the better server according the user base count.
7. What is the estimated time for Loco Similar App Development?
For Loco Similar, Android App Design & Development, iPhone App Design & Development, HD Live Stream compatible back-end panel Design & Development, API's development and Server Integrations will take 2-3 calendar months with respect to the recourse count involved and resource expertise in developing the Trivial and Live Streaming Apps Design and Development.
Inquire with us for a live streaming app consultation , Our senior technology & software development consultants can better guide you about the app development strategies as per the current market.
Krify has a great competency in providing Mobile App Design Development, Website Design Development and Digital Marketing Services sice 2005 to the Global Clients. Krify team is highly capable to work on the Live Streaming Apps Development and Trivial Apps Development with latest UI/UX designs and technologies.
Reach us for more details @ info@krify.com or fill this contact form so that our business analyst will get in touch with you very soon to help you developing your future business. You can even request a Call back (From right side top corner box).