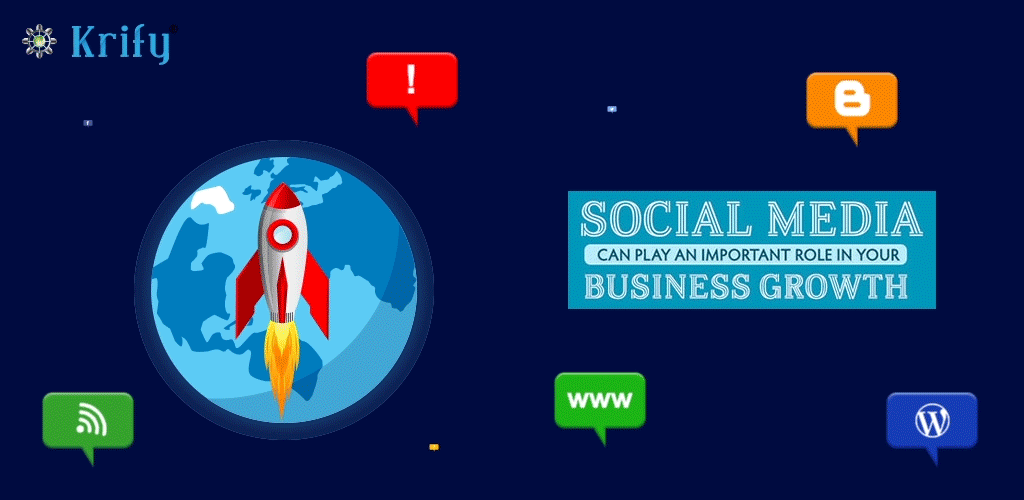 Do you like to improve your social media marketing? Do you have marketers who focus on the updated tips and tricks of Social Media Optimization (SMO)?
Looking Further

Krify builds the engagement between you and your customer by creating a emotional connection. We have expertise marketers to increase your brand  awareness by influencing marketing strategies and executing social media to promote your online presence to the world. Do throw your challenge to our marketing experts to increase your business by SMO.
What is the importance of Social Media Optimization (SMO) for your business?
Most of the marketers are familiar with Search Engine Optimization (SEO) to some extent. The search engines like Google and Bing are providing a supporting hand for marketing campaign which is one of the successful strategies. Social Media Optimization (SMO) is a growing buzzword and considered as the top most strategy by the business to reach maximum number of potential customers. SMO focuses on optimizing your social media presence for optimal traffic.

Getting an Aww feel after knowing the benefits of Social Media Optimisation in taking our business to the next milestone! Right? Let's not forget to be aware of the tips and tricks of SMO
8 Killer tips of Social Media Optimization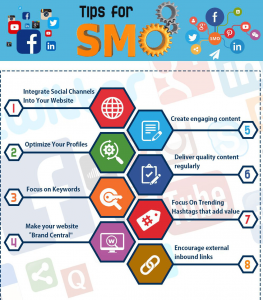 Integrate Social Channels Into Your Website
You need to blend the social media and the website in order to boost your brand and increase your online presence. The easy way of blending social media and website is to integrate social sharing buttons on your website. This can be done even for your individual blog posts to improve the ranking. Linking and back-linking also plays an important role to increase the overall quality.
Optimize your profiles
Creating your social profile seems like a simple task, but optimizing it is something which we     should focus on. Your profile is the first area where the metrics of your business are measured. Do not leave any of the fields while filling the profile because search engines favor profiles which provide 100% information.
Optimize your profile in such a way that it creates more professional experience for the people in your network and therefore all the information on your website and the social profile should be same. In order to optimize your social media profiles you need to have a clearly defined goals and objectives.
Focus on keywords
Keywords are the tools for the marketers which bring maximum exposure of your profiles and reaching the targeted audience. We know the advantages of keywords in website, blogs and social content, in the similar way the trendy and catchy keywords will add value to your social media profile. Remember that if you are not optimizing your social media profiles, you will be definitely leaving your business to drop.

So take care of structuring the keywords and target key phrases into your social media profiles. In order to gain visibility in keyword searches on search engines like Google add foundation-level keywords into your page.
Make your website brand central
Your website should be the index for every information related to your brand on the net. When a user visits your website he / she will first see the cover image. First impression is the best impression so utilize cover image opportunity to show your brand. Always use the professional images which are relevant.
Create engaging content
The best way to grow in social media is to create an engaging content by posting various forms of content like tips and tricks, fun facts, informative articles, videos, and more. This strategy will help you to grow your network of followers. Update your users regularly with your unique brand which gives more visibility on the search engines.
Deliver quality content
Quality is important to boost your website rankings. Your users cannot spend ample amount of time to read what you posted unless it is worth reading. So while posting content make sure that it is targeting the audience and deliver what they exactly expecting for.
Focus on trending hashtags that add value
When sharing content on social platforms focus on the hashtags. Use selected keywords to increase the ranking in social search results. Believe the fact that a carefully selected hashtags acts like a magic in making your post more searchable.
Using trending hashtags will increase the visibility of your brand to a great extent and help a follower to find your profile. So do not ignore the hashtags when creating a social content.
Encourage external inbound links
Use your social media to gain increased ranking by Google by encouraging external inbound links. To make it happen you need to post quality content engage it among vast number of audience by promoting rigorously in discussion forms or any network.
Conclusion
Finally, there is no doubt that SMO helps in increasing the rankings of your website. Arise Awake and Stop not till your business reaches new heights. Contact us now to make your social media channels SMO specific.
Read Trending Article: Top Mobile App Development Languages of 2018!