Getting bored using routine social apps. Want to try something new and fun ????
Here comes Huuzzin Mobile App,  Social App with difference, it is a social networking app which causes users to interface with the people having same interests. Users can post and join the occasions whenever in the app. They can even share their experiences to others and furthermore can rate others with whom they went for the occasion.
Concept of HUÜZZIN went to the client, when he turned into a single parent and found himself needing to share things in life with others, but without the desires and pressures of dating. Can't he just enjoy time with someone, or many, that share the same interests as he without having to date others?
Which platforms are compatible?
Users can install this app in any platform, either Android or iOS and with latest version.
Features of the app:
By after signing up or Login
-User can pick their favorite category like Outdoors, Indoors, Foodie, Entertainment, Groups and Family.
-User can invite their contacts, what are already stored in mobile, it will sync automatically.
-User can create a venture, and can share that to all, who're in app, or favorite's contacts, and friends also. As well as, interested one's can join in that venture also.
-User can give reviews and rating after completion of venture.
-Usually, user can chat by sharing images and location with their friends, favorites and as well as with their venture partners also, whether it is not in their friends list.
-User can upload their profile picture and also update profile with set of preferences like categories, venture proximity.
-User can also share the app with other by using other social apps, which like Whatsapp, Facebook, and Instagram etc.
Apps Screens: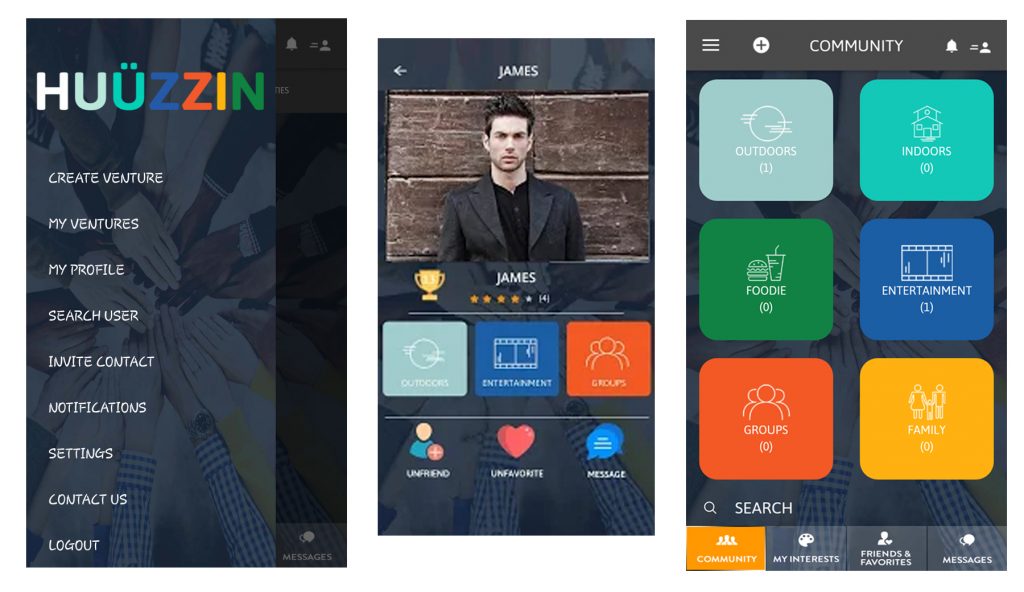 Having more features and interesting things inside the app.Try this Huuzzin app to get more fun with your new friends.
This advanced social networking app was developed by Krify. We are very happy to part of this success, by giving our best technology and designing. We realize that our customer's time is valuable thus we strive the progress toward them to make use of their time in the most effective way. So do you have idea to create a social app similar Huuzzin. Get in touch with us on krify.co
Taking the imaginative strategy to change your thoughts into reality, you simply need to relax and let our Professionals clear the way towards the realization of your thoughts into reality!