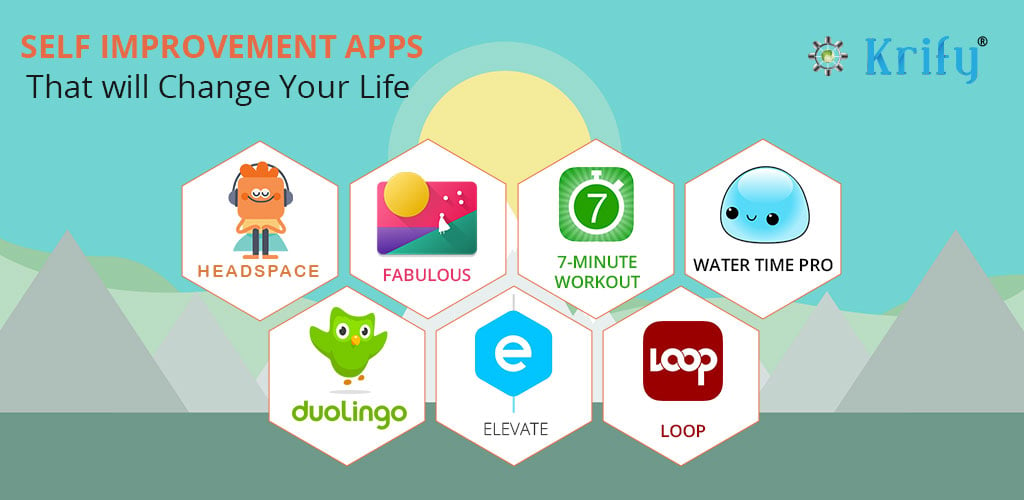 Android apps are available in plenty topping in the race of technology. Basically, there are millions of apps available in the google store, focusing on gaming, fun, food, movies, music, travel, going out and many more. Among all these let us consider Apps based on Self- Improvement that majorly enhance and improve the way you live.
Nobody is perfect, and with this in mind, everyone could do a handful of self-improvement apps to make our lives more efficient with a less tiring affair. This includes apps that remind you to take a short walk every now and then, making correct with your sitting posture, remind to have the glass of water to stay hydrated in your routine day and many more.
Since we are constantly surrounded by smartphones, and it makes sense to leave it to these apps and make sure our health is taken care. Here we are going to talk about a bunch of SELF – IMPROVEMENT apps that will greatly useful for our daily life.
The Best Self-improvement apps in Android are as follows
Headspace

Duolingo

Fabulous

Elevate

7-minute workout

Loop

Water time Pro
Headspace
Want to learn how to train your mind and body for a healthier and happier life. Get HEADSPACE app in your smartphone. Headspace App(Meditation App) is a tool for your mind to come out of stress which is developed by ex- Buddhist monk and TED Talk alum Andy Puddicombe. It uses a series of cartoons to illustrate meditation principles. A user can have the ability to choose lessons like focus, health, creativity, and advanced meditation tactics. If you want to get started you need to subscribe, it offers 10-days guided lesson pack. Headspace app is completely uninitiated.

Duolingo
Duolingo app is a language learning app with the unique experience. Using this app learning becomes synonymous with entertainment by a variety of gamification features. It aims to ensure the unique experience in learning the language with fun and entertainment and can be accessible to all ages. It is a free app using this you can learn languages like Spanish, French, German, Portuguese, Italian and many more.

Fabulous – Motivate Me!
Fabulous – Motivate Me app is a science-based app that will help you to maintain healthy, positive, and routines in your daily life. It is incubated from the duke's behavioral economics lab. This app is not just a habit tracker with this we can improve our fitness, achieve our weight loss, recover our sleep cycle and reduce the anxiety. We can have life-changing habits like meditation and yoga.

Elevate
Elevate app is a gaming app(Brain training program) designed to improve attention processing speed memory, math skills and many more. Using this app everyone can improve their cognitive skills. Every individual is provided with their own personalized training program that will be adjusted over time to get maximum results.

7 Minute Workout
7 Minute workout app is based on high-intensity circuit training(HICT), this app is proved to be the safest, most efficient and effective way to improve your muscular, fitness and makes you healthier. It suggests the exercise for 30 seconds, with 10 seconds break between each exercise. This app is very useful for getting the results in a very short span of the workout.

Loop
Loop app is a habit tracking app which will allow you to build a steady habit, It will send notifications for that habits you select at one time. The major goal of the app is beneficial to set habits. It will remind your daily habits and also sets a reminder to wake up. It has a dedicated home screen widget with a calendar to ensure your daily habits correctly.

Water time
Water Time app is very helpful for everyone. This app helps to remember to drink sufficient water that is required for a healthy body. You can track the amount of water that you have over a period of time. You can make a note each time you had water. It is a free app.

You can get this app at google play store as we mentioned the link to get the download.
 Krify is a mobile app development company and is our great client. Look at our portfolio. We analyze the customer requirements, highlight the features and selecting the best technology stack to develop the layout of the site as per the requirements you mention.